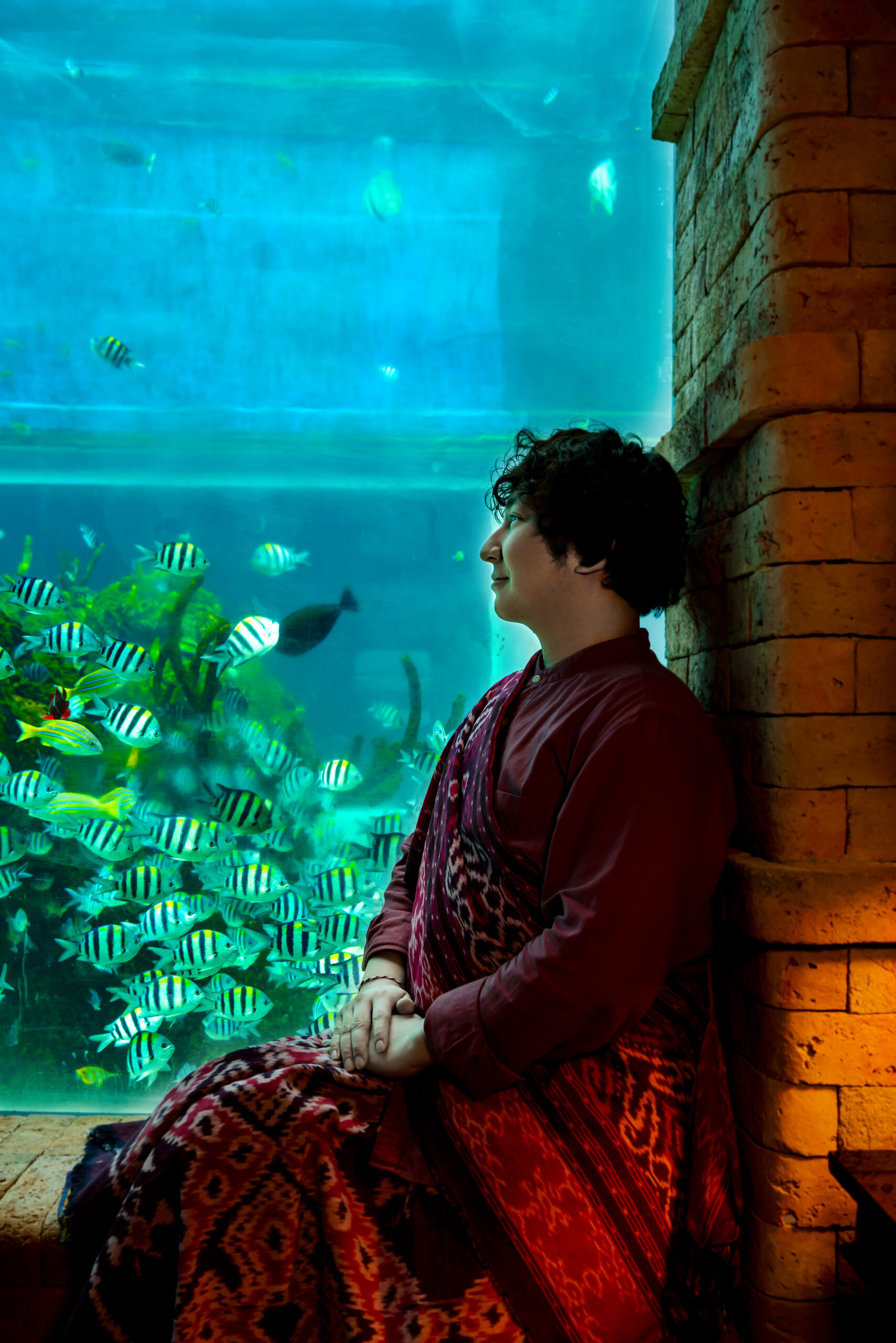 I'd been waiting to experience this place since last year! Opening its door for the first time on 14th November 2019, by that time I was still in the UK. And yes those two months waiting was worth it. I was lucky this was pre-booked by Koral Restaurant's team as I saw lots of people weren't able to walk in. My first impression is splendid! Like literally from the entrance, I was escorted to go down into the basement and it's like a true hidden gem. From the entrance I could see beautiful fish everywhere, and sharks! (wait for it). This restaurant offers a full Bistronomic experience, delicious menu and amazing aquarium atmosphere. Every corner is for the Gram!
"With a growing collection of outstanding restaurants, bars and lounges spread across the resort, The Apurva Kempinski Bali is quickly cementing its reputation as one of the leading culinary destinations on the Island of the Gods." said Vincent Guironnet, General Manager, The Apurva Kempinski Bali.
As you can see the walls are made from traditional red clay bricks, which symbolize the building blocks of the Majapahit Empire.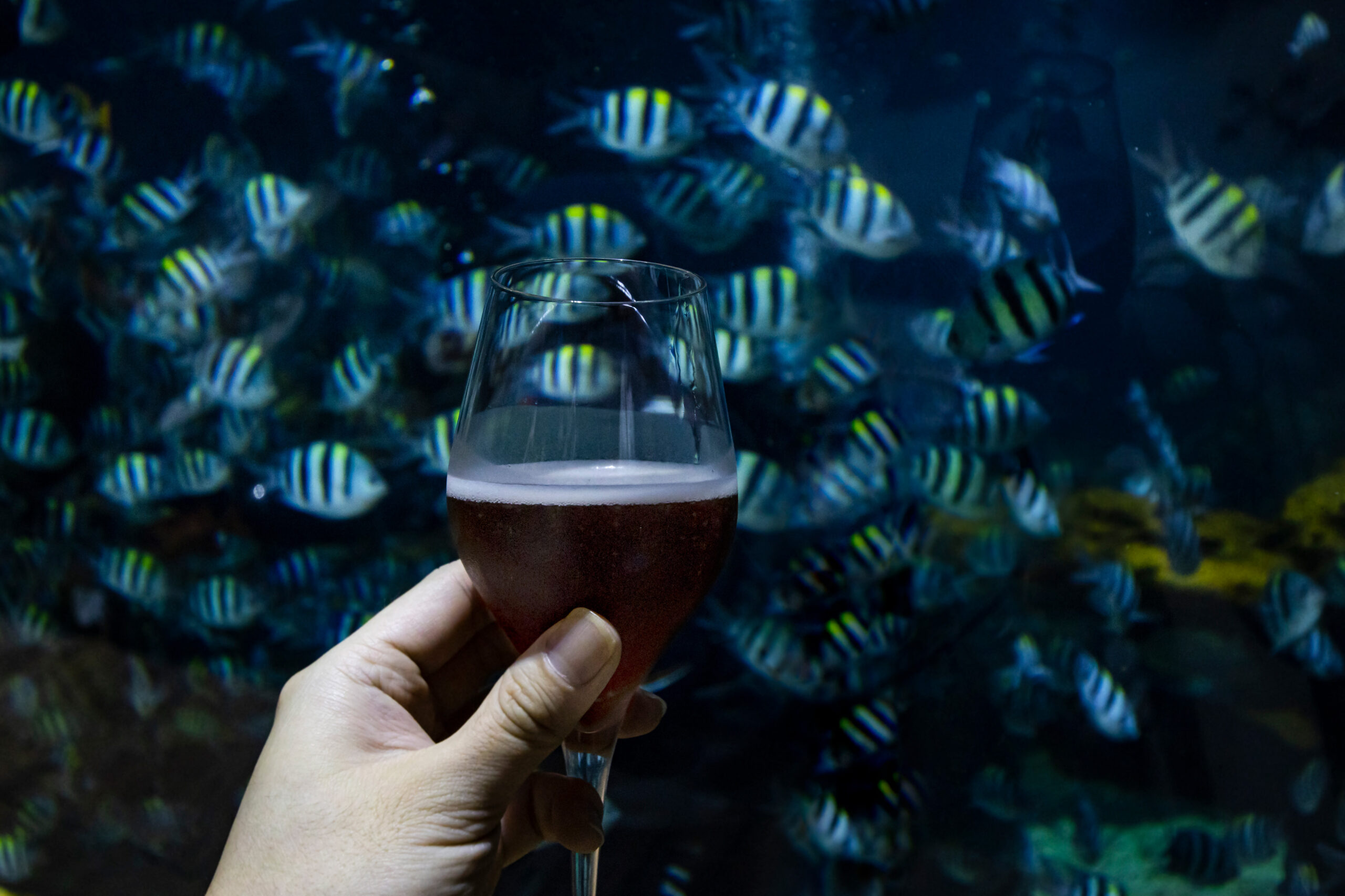 Taste of the Tropics
Koral has a menu inspired by the seafood available within the Indonesian coast, well known for its fresh produce of the wealth archipelago. Its elegant fine-dining style menu is handled by Executive Sous Chef Imam Fayumi.
Koral's complete sommelier suggestion is also available, alongside with its creative cocktails. It has a unique concept of Bubble Cocktail on Trolley which you can order their signature cocktails whenever as they will stroll around you. This time I have refreshing Koral 75 with this beautiful aquarium background, like for real!
For the menu, Koral has both set menu and A La Carte, this time around I was lucky to experience their A La Carte menu which I will share with you guys what I had and how they taste (and look). Oh, as am a sweet-tooth, I did choose to have more desserts and only one starter 🙂 You can find my tips here #dinewithmalachi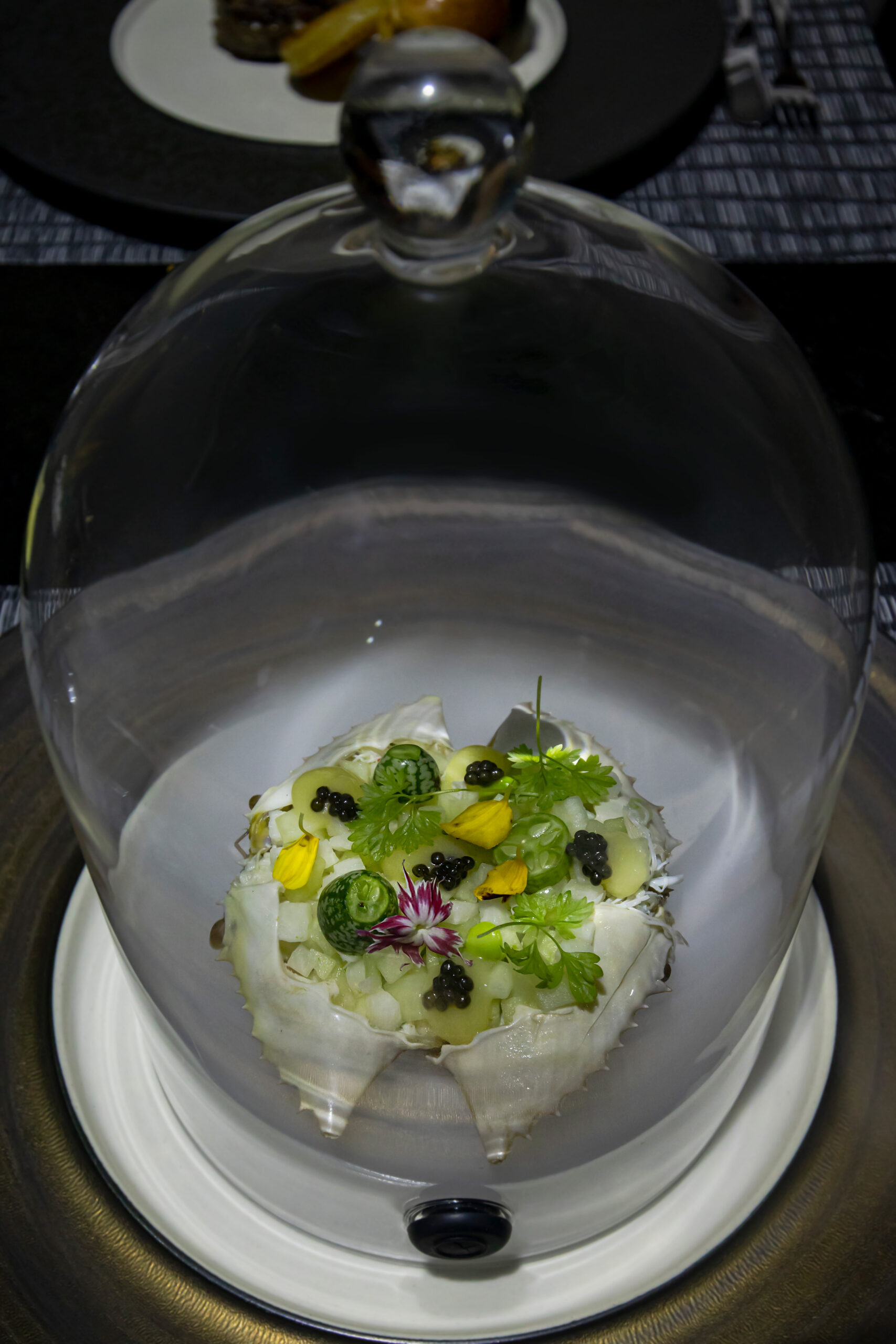 Blue Crab
When it came to my table I was like outstanding! Beautifully served inside this crystal clear glass with smoke inside the food and I was like "maybe I should prepare my camera now!". Ok hang on, I might be too excited but yes! It's just amazing when you open this and the smoke just comes out, what an experience to start!
This Blue Crab Lump meat with macédoine of jicama, mix with cucumber, granny smith, ginger torch, chervil and chili, green apple jelly, to balance the flavour. It's fresh and one of the best crab I've ever had! Oh and it comes with sturia French caviar.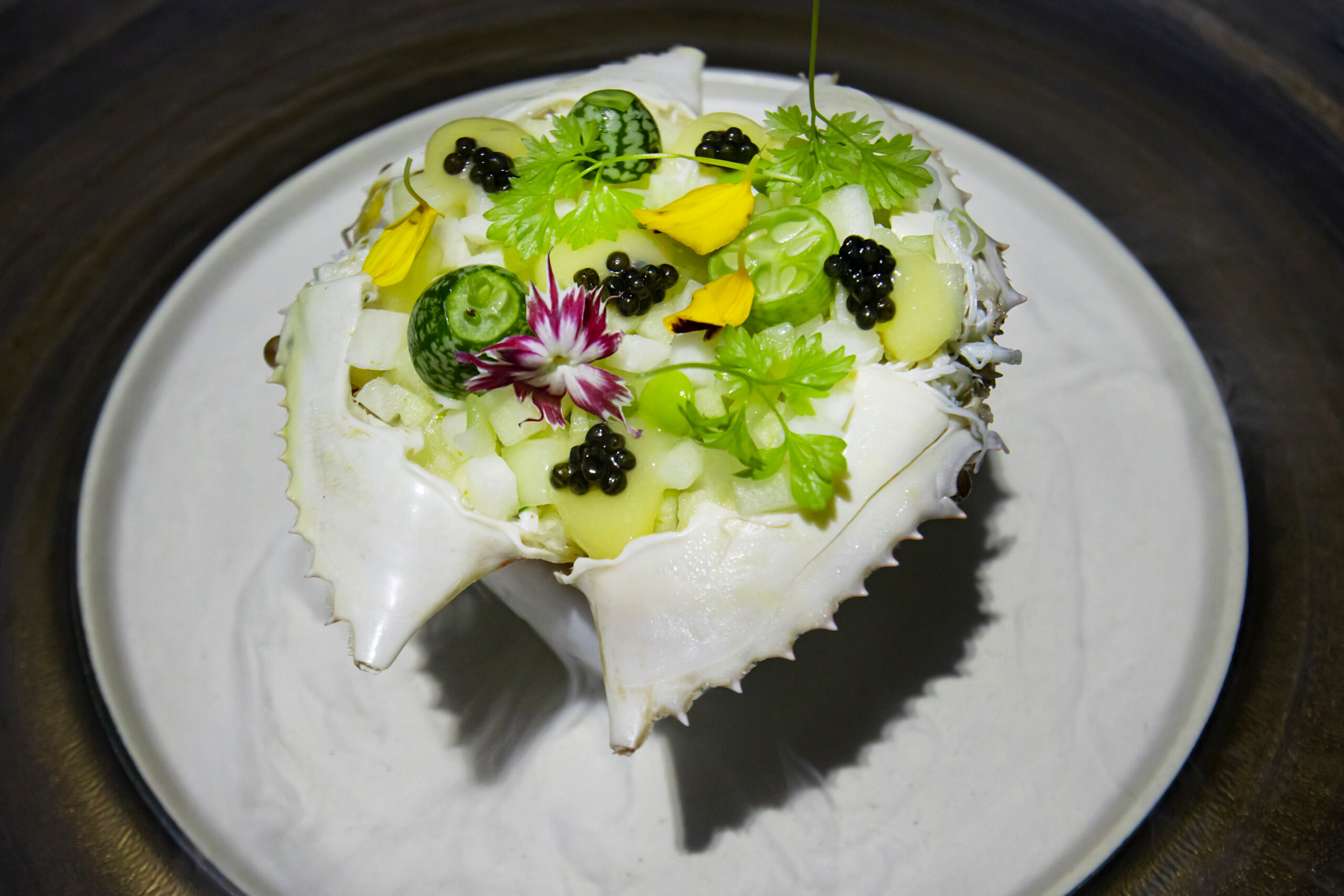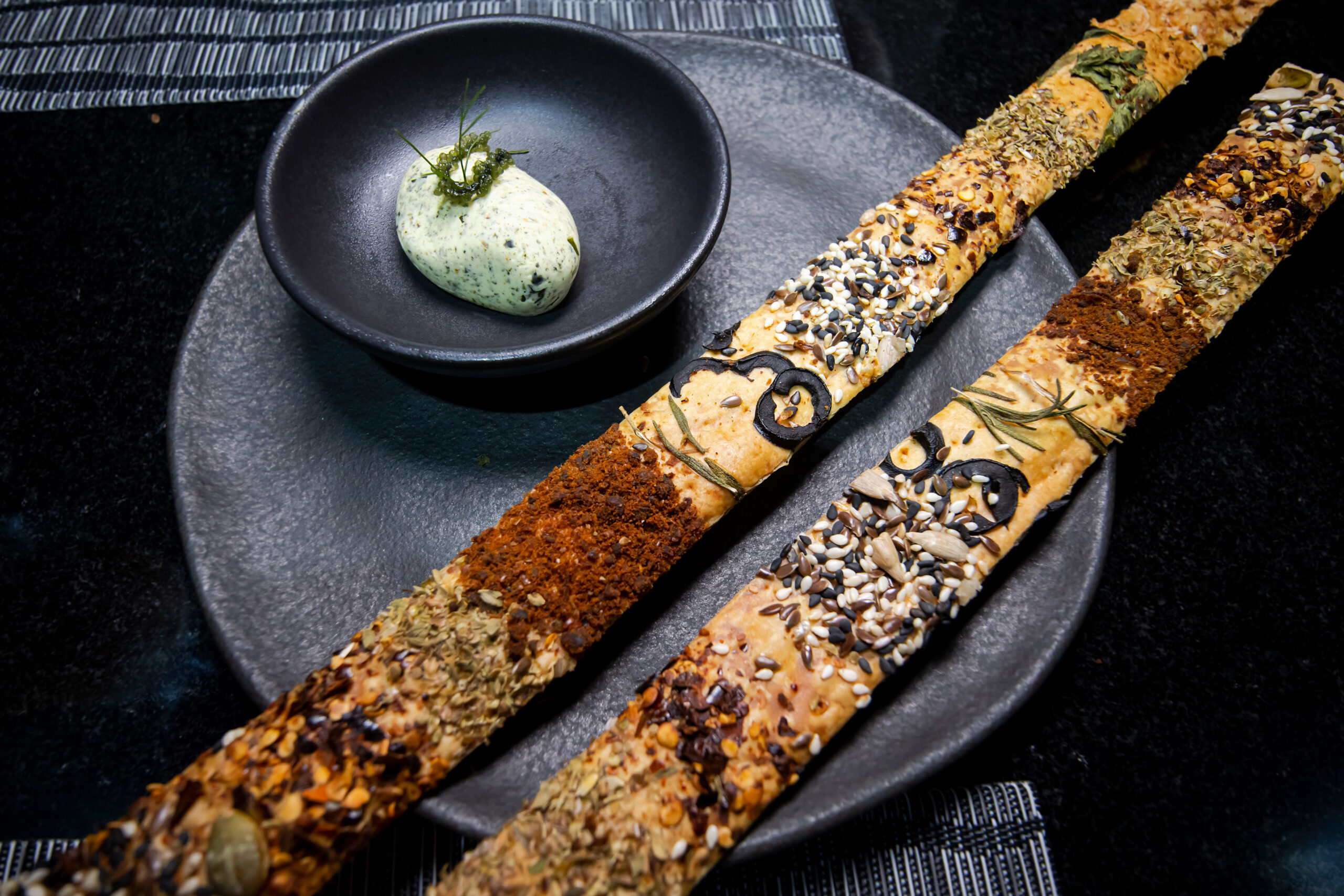 Thai Lobster
This is Thai Lobster, one of their signature dish. A slow poached spiny lobsters cooked in curry sauce and black agnolottis. The texture is a bit soft, creamy and moist aka lush! If you like something exotic, then this is it! Served in a perfect warm temperature with cassava and local vegetables, onsen egg.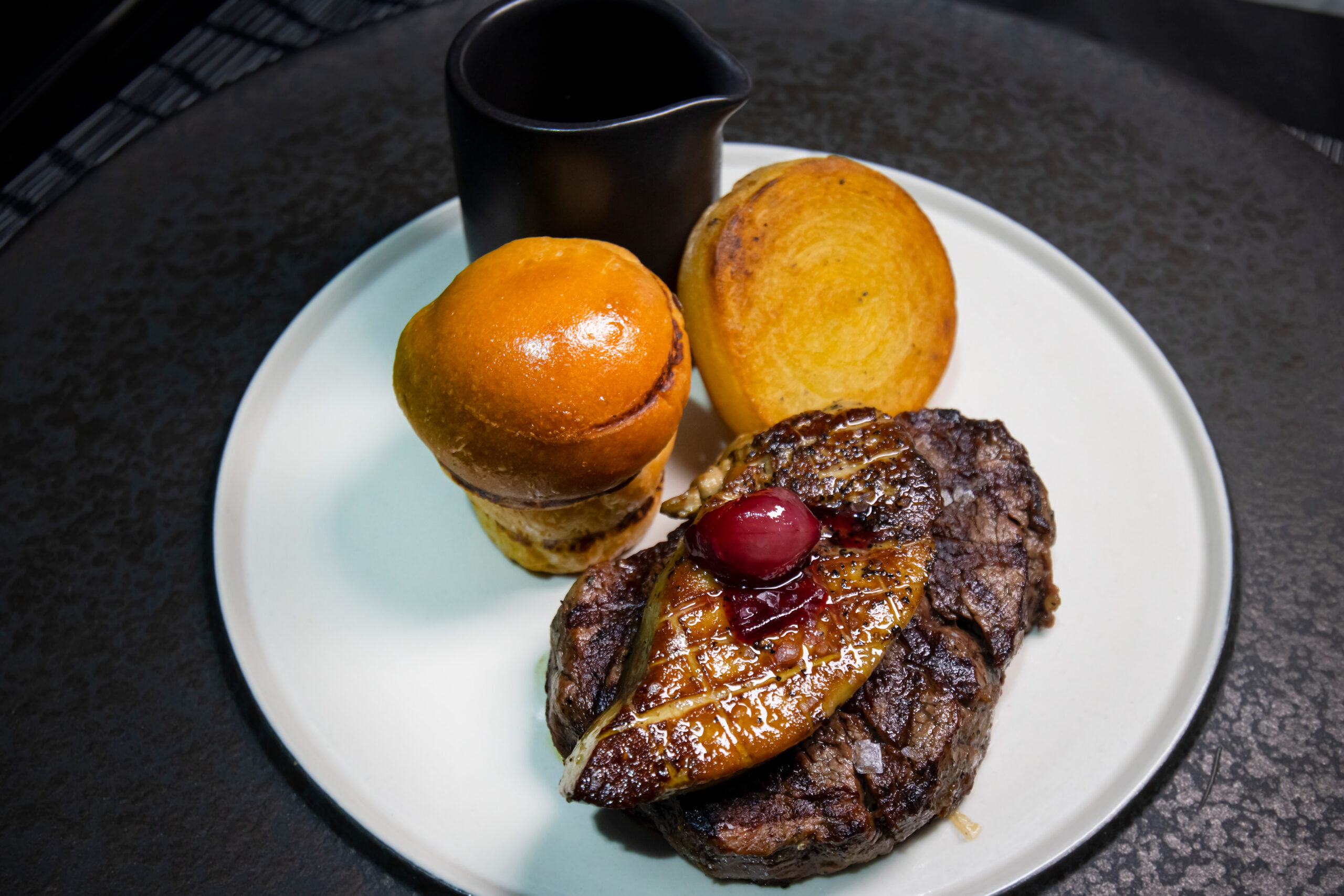 Beef "Rossini
This is Beef "Rossini". Rossini is a French style of cooking steak, where the fillet steak is served with a pan-seared slice of foie gras, classicly served with fresh truffle and a Madeira glaze. Well, this one is with a twist. Using a high-quality Wagyu tenderloin marbling 9+, Rougié" foie gras, truffle beef sauce," suprême chicken veloute brioche and braiséed shallot. It's a first-class, well fine-dining after all!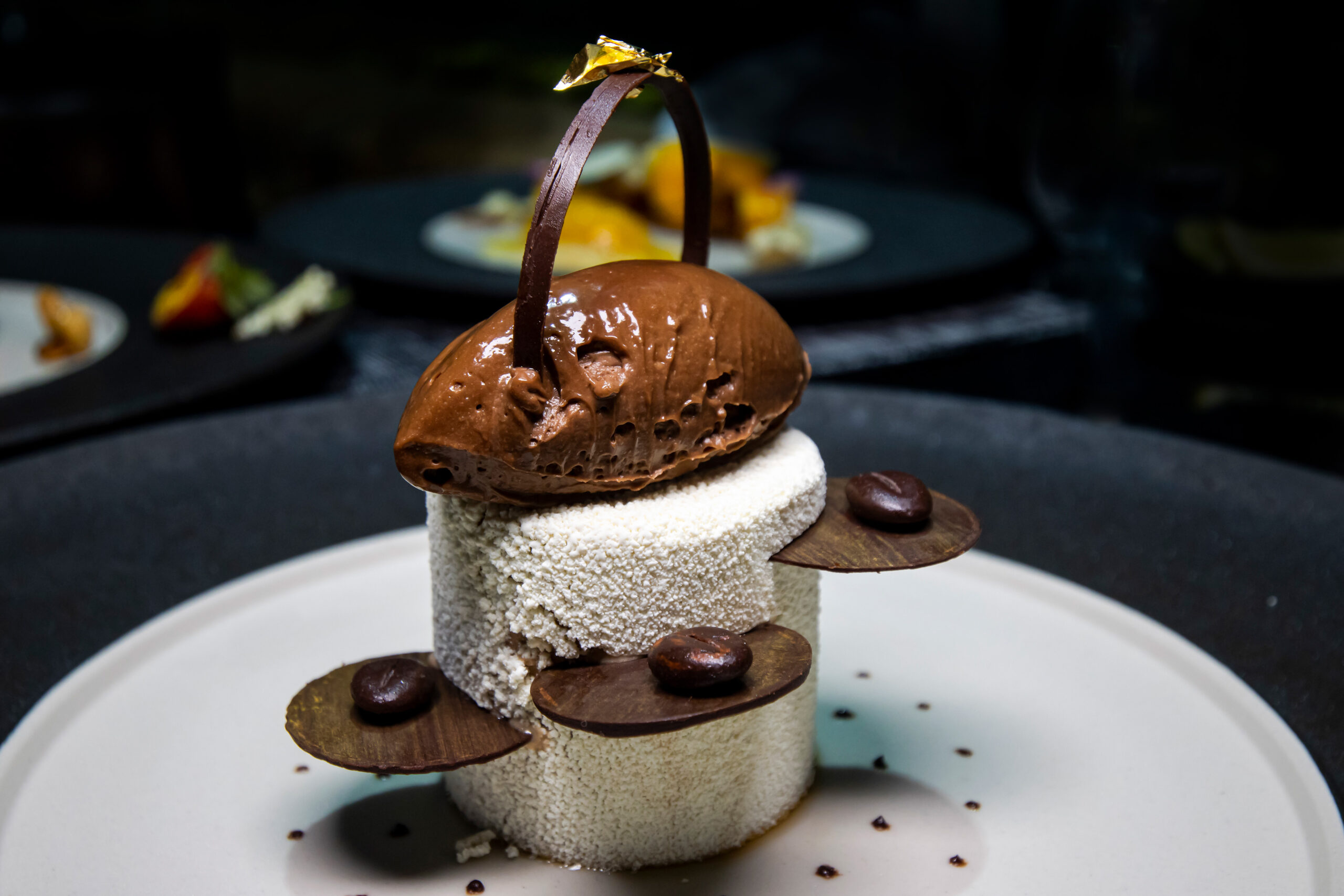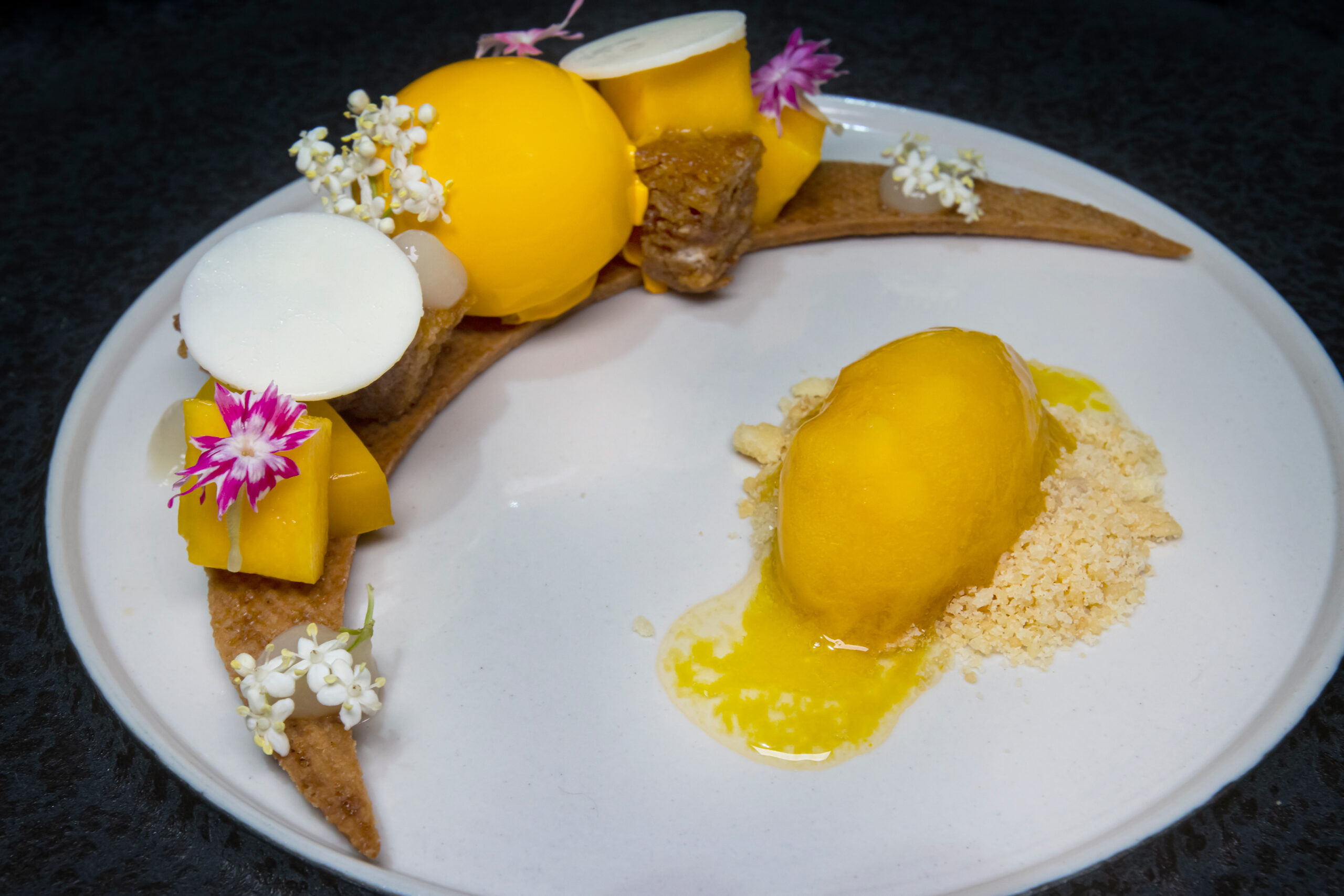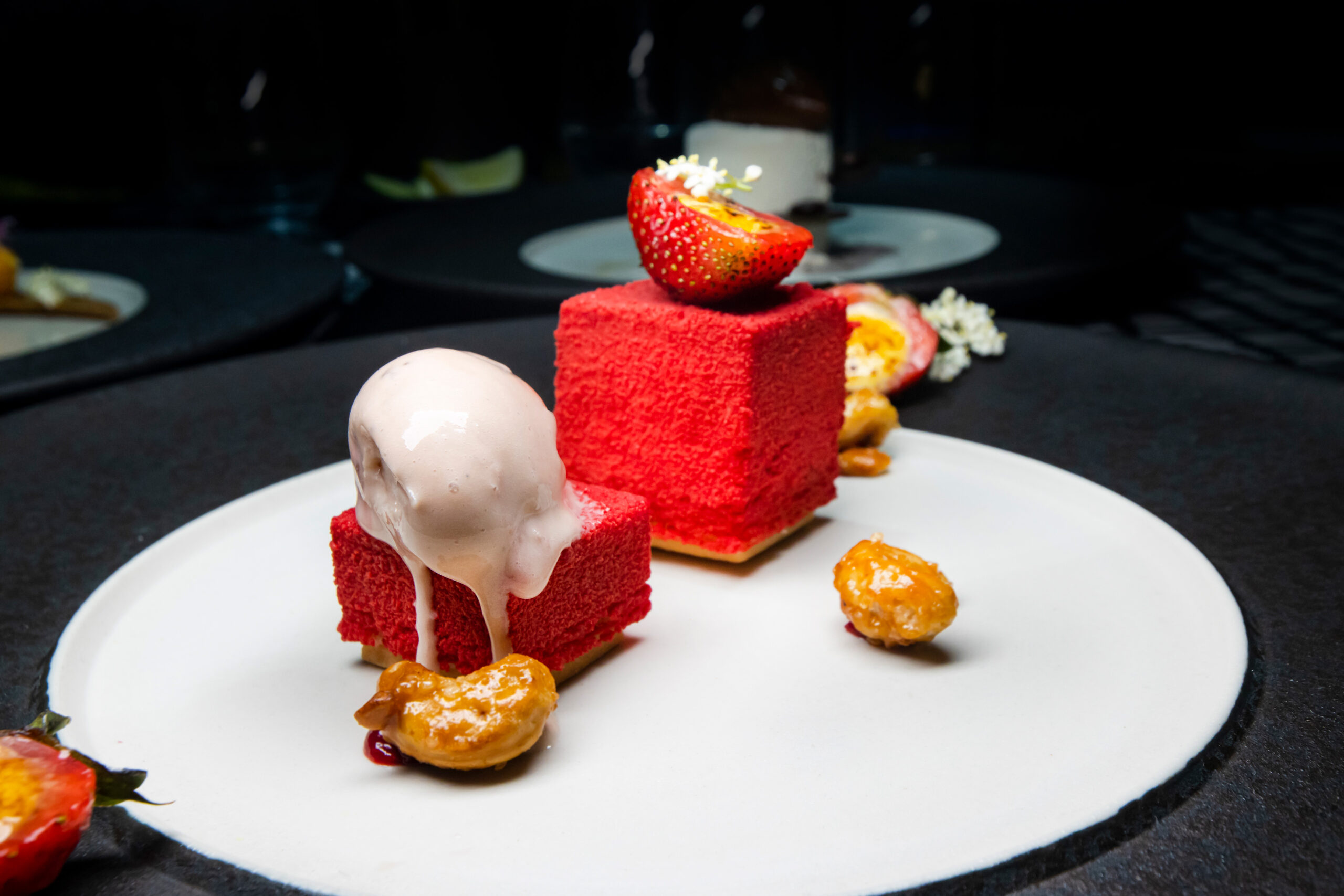 When it comes to dessert, if you are a massive sweet-tooth, well, I should say it is worth! Those three desserts are smashing it! Let's go one by one, shall we?
Banoffee "Valrhôna"
The first dessert is Banoffee "Valrhôna". What is "Valrhôna"? It's a French premium chocolate manufacturer. This dessert has a creamy texture with this perfect caramelized banana and coffee mousse. The praline and dark chocolate whipped ganache has a bitter after-taste that perfectly blends! The presentation was excellent!
Mango Yuzu
The second dessert is Mango Yuzu. Beautifully presented like a crescent moon is the panko cake. Complemented with mango mousse and pudding, mandarin gel, white chocolate and mango passion fruit on the side. The taste is fresh and not too sweet, I love it!
Bedugul Strawberry Crème Brulee
Last but not least is the infamous Bedugul Strawberry Crème Brulee. Adorable red look, with sable, vanilla cream and strawberry mousse. Good idea having strawberry guava ice cream on the side to make it not too dry. Oh also comes with caramelized Munti Gunung Walnut, which ain't so sure, but overall is amazing!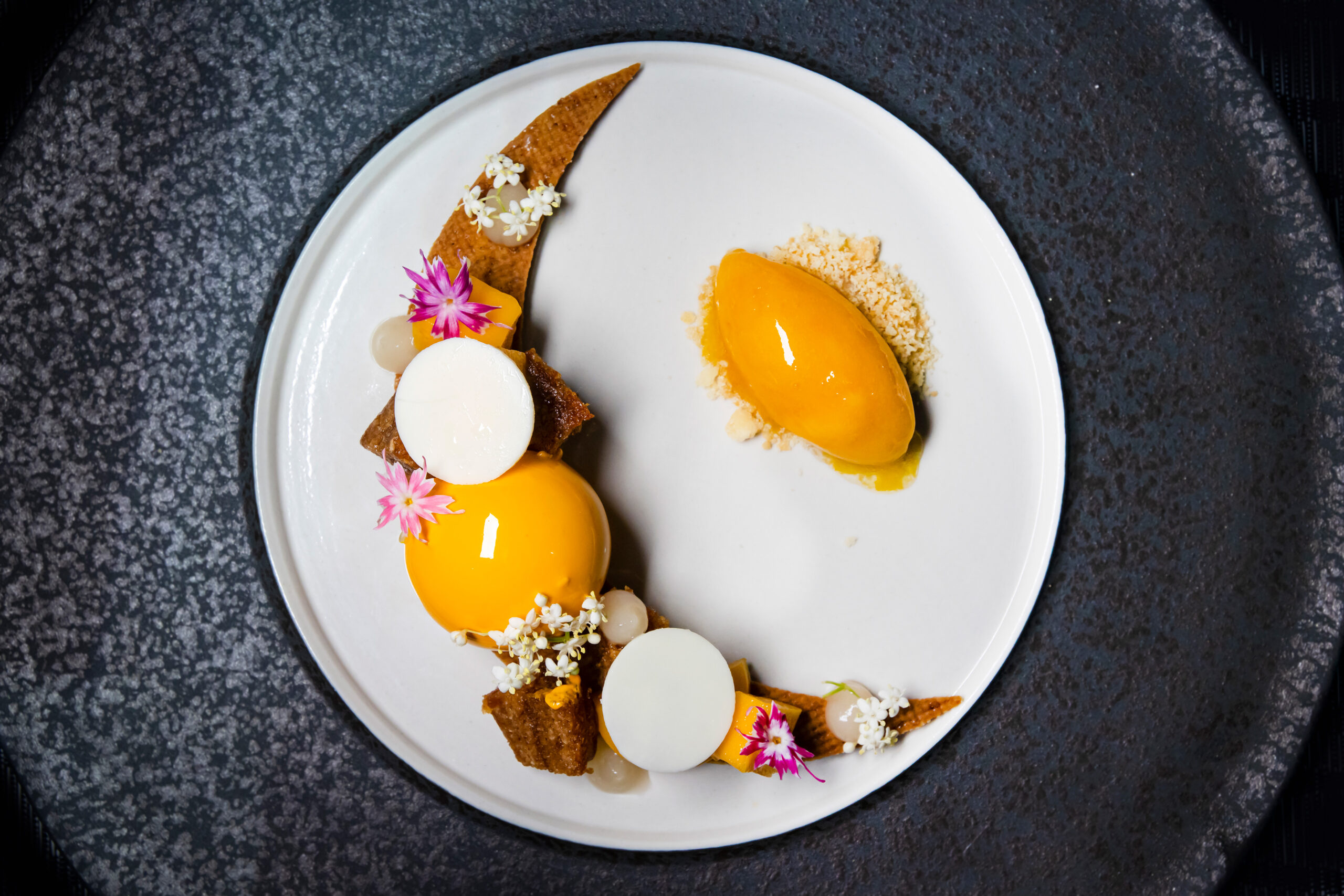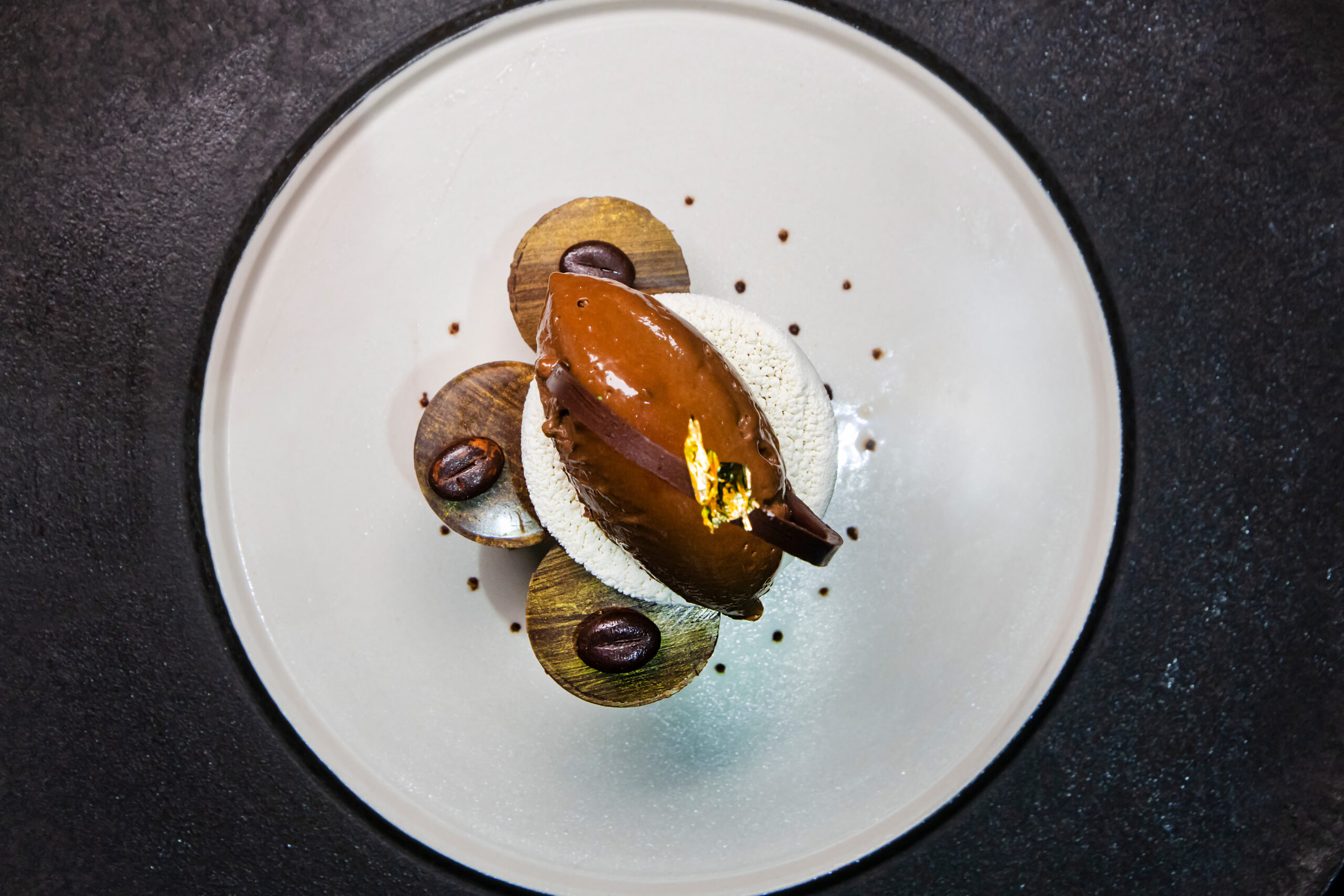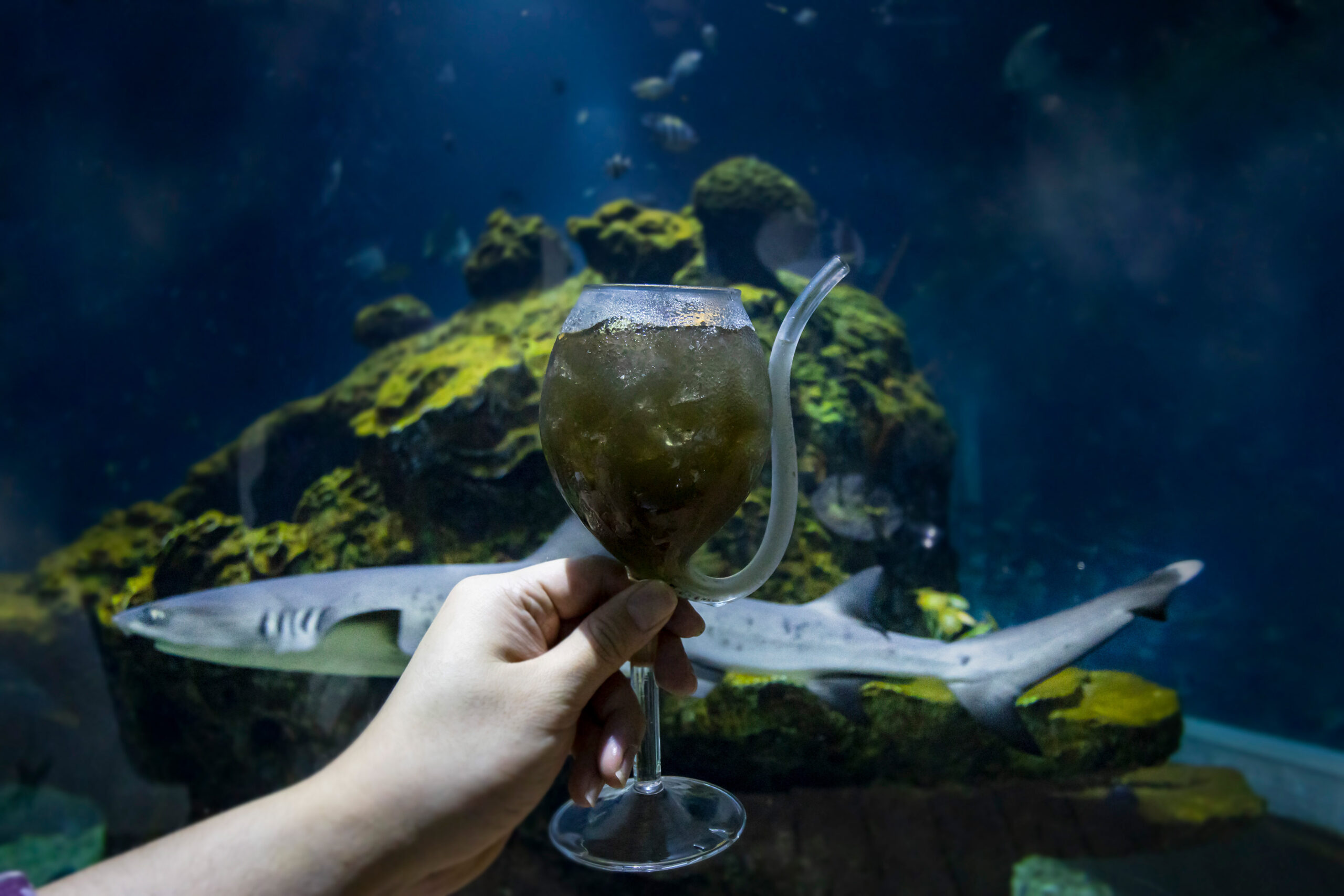 SPECTACULAR KORAL'S AQUARIUM DINING EXPERIENCE
I am thrilled, like totally, just truly a hidden gem! Once enter the venue, everyone was so friendly. I am mesmerised with its unique interior design, with an aquarium concept, bravo! I just love the fact that I am dining inside an aquarium, with this shark just literally next to me! My cocktail was Seahorse Neck, just like its name, the glass is giving you a drink experience! It's a mix of whiskey, brandy, apple juice, lemon juice and spice syrup, hands down to Koral's mixologist!
The entire food a 100% perfect for me. The palette suits me, and I am pretty sure all of you will say the same! Not just it's delicious but also the presentation is just adorable. Each dish from start to dessert is totally like handcrafted for me, with a surprise!
Come and experience Koral, I truly recommend this whenever and wherever you are in Bali!
Besides of A La Carte menu above, I'll recommend you to experience their Koral Degustation. It's a set menu which has been hand picked by their chef and best reflect Koral Culinary Creation. Here's their menu below: