The first step at the reception, I was excited when they handed over me the master room key. The reception was so welcoming, and she was asking to confirm our supper and gin experience (details read further down). As soon as I stepped into the room, I saw a spacious emperor bed with a luxurious interior. From ruched velvet throws, walls adorned with botanical artwork and Bang Olufsen Speaker. It's like modern vintage with luxury and digital features, I love it!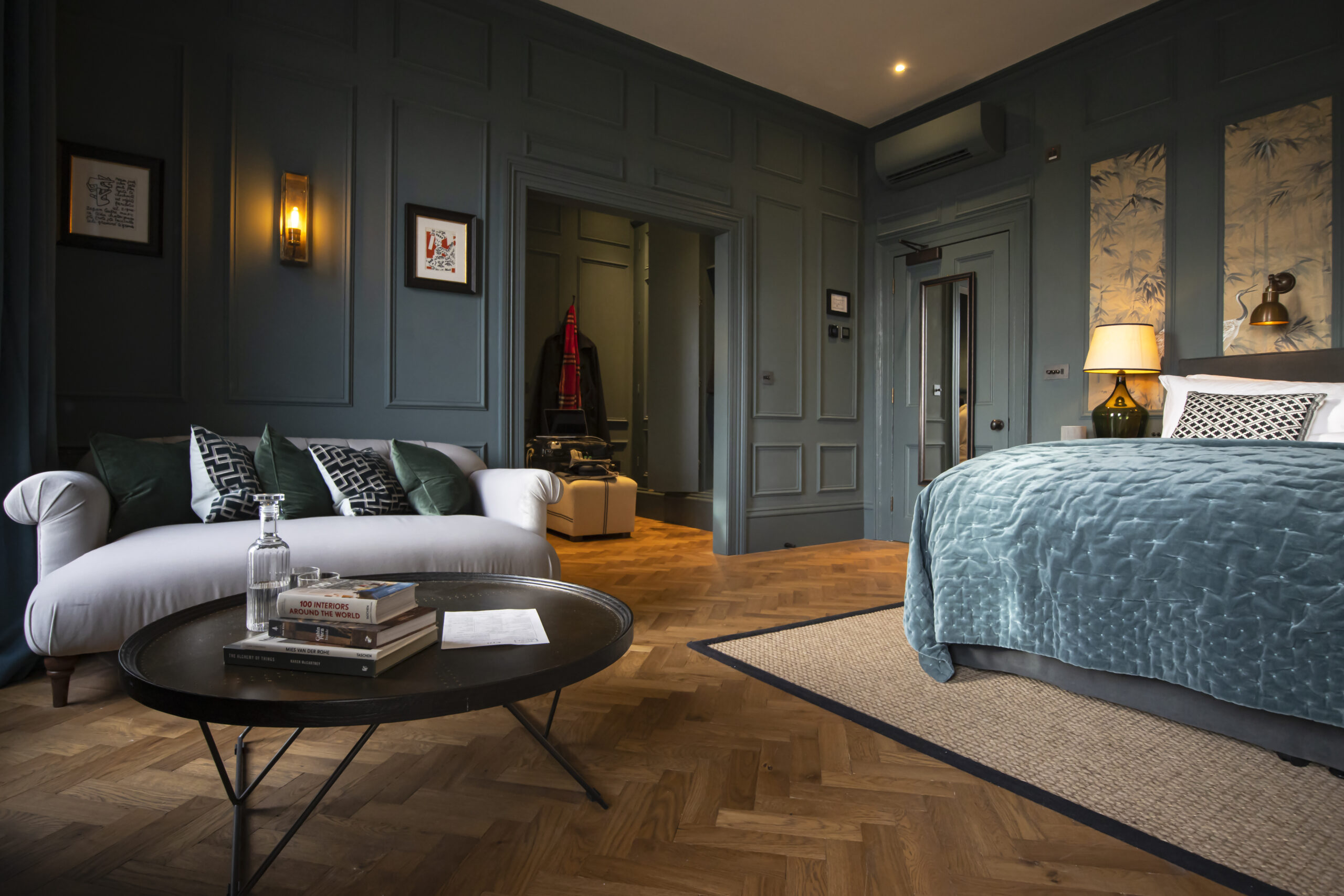 Outstanding Room
This room has an emperor size bed, and unique finishing touches including exquisitely embroidered throws and Eastern-inspired pottery.
The deep Chesterfield sofas is a perfect time to relax in while watching Smart TV from Bang & Olufsen, that you could connect with Apple devices or even BBC iPlayer. The reclaimed wood coffee tables and floor to ceiling window, are just complimenting each other.
It has a walk-in closet with a dressing table and spacious beautiful bathrooms that combine polished brass with bright patterned tiling.
Other amenities including mini-bar, with lots of snacks available just for your stay.
Bathroom
The bathroom has double showers, and a freestanding bath plus two individual basins for your convenience. It is perfect for couples, and this could be a perfect getaway for you Valentine's Day! Link here
The luxurious toiletries from Acqua di Parma will make your bath perfect at any time!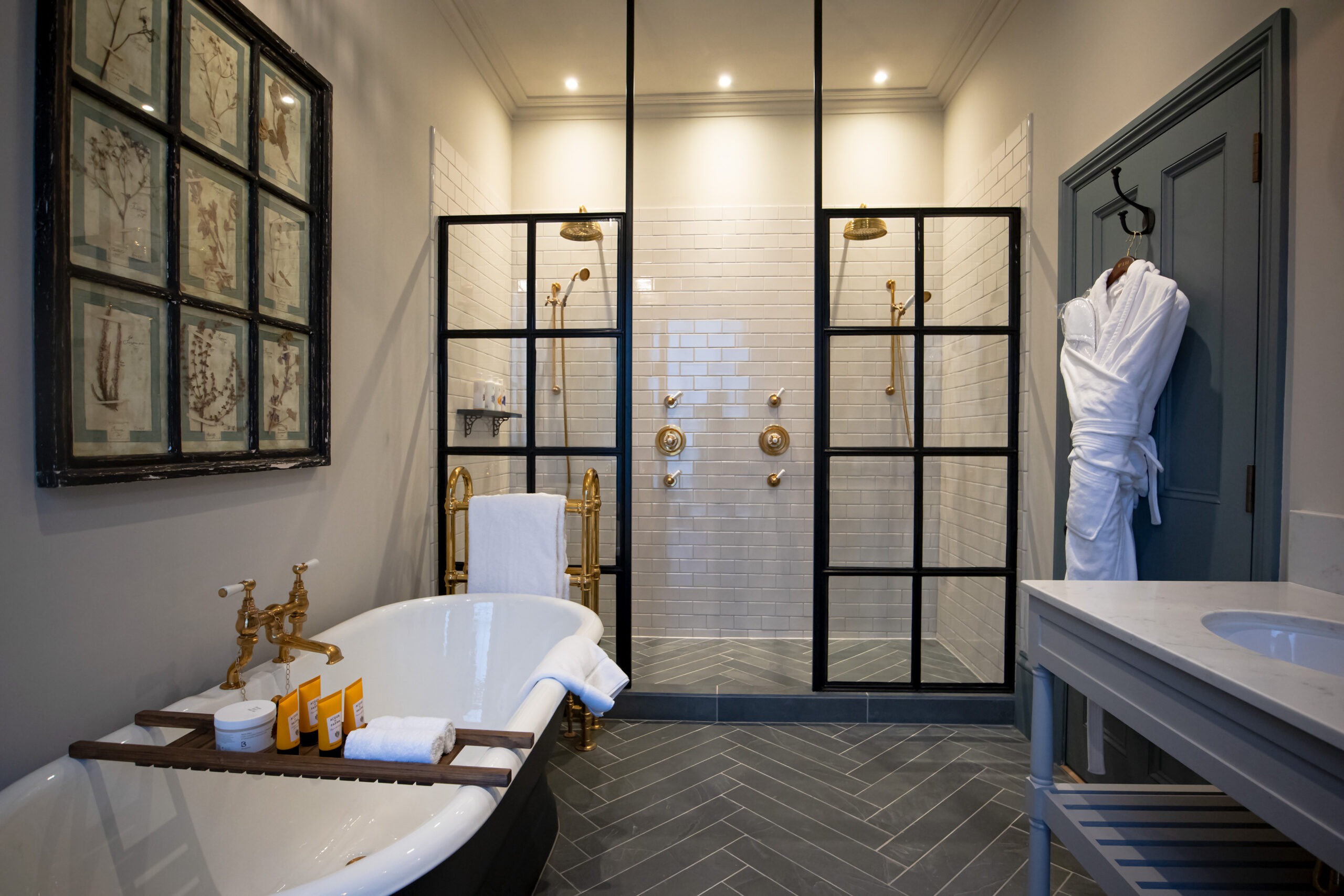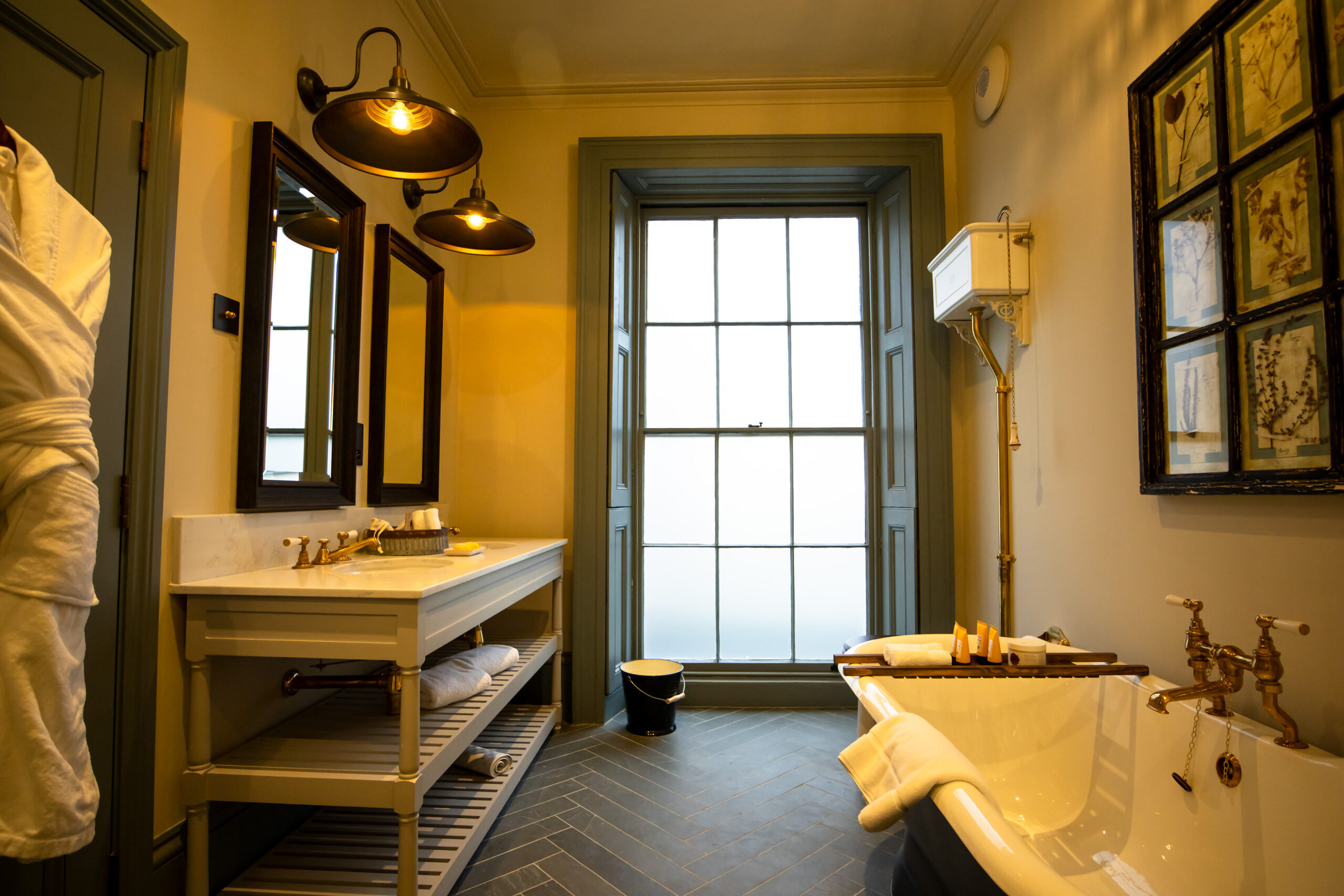 In-Room Breakfast
Whether you fancy Champagne on arrival, need to arrange a cut and blow-dry or have forgotten anything from mascara to phone chargers, nothing could beat their delicious in-room breakfast!
You could pre-order your breakfast by filling a very simple form dedicated at your convenience (I will recommend by the time you check-in). The team will deliver this amazing breakfast tray to your room, with all the drinks and cutleries. Amazing! I'll recommend this to you all 🙂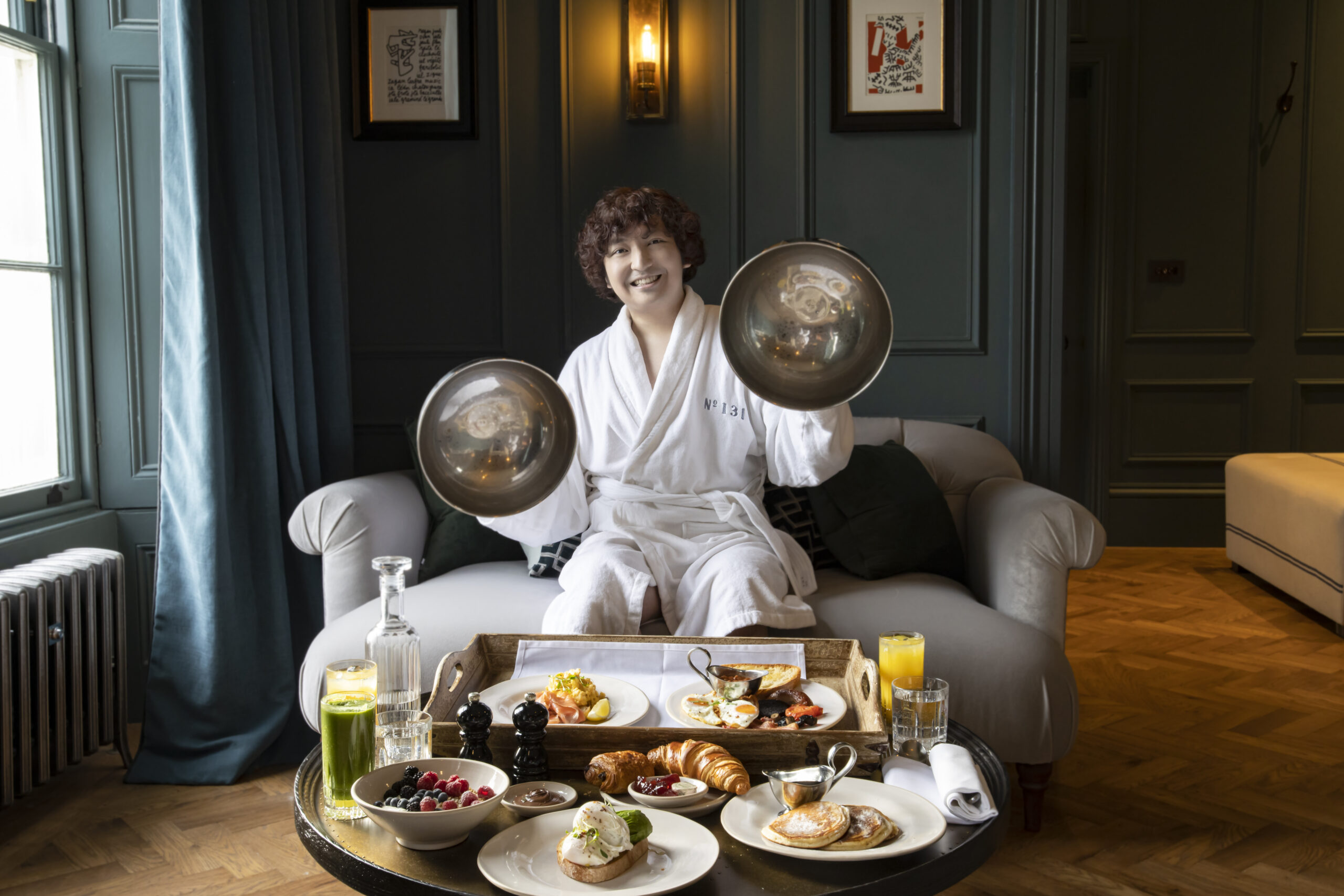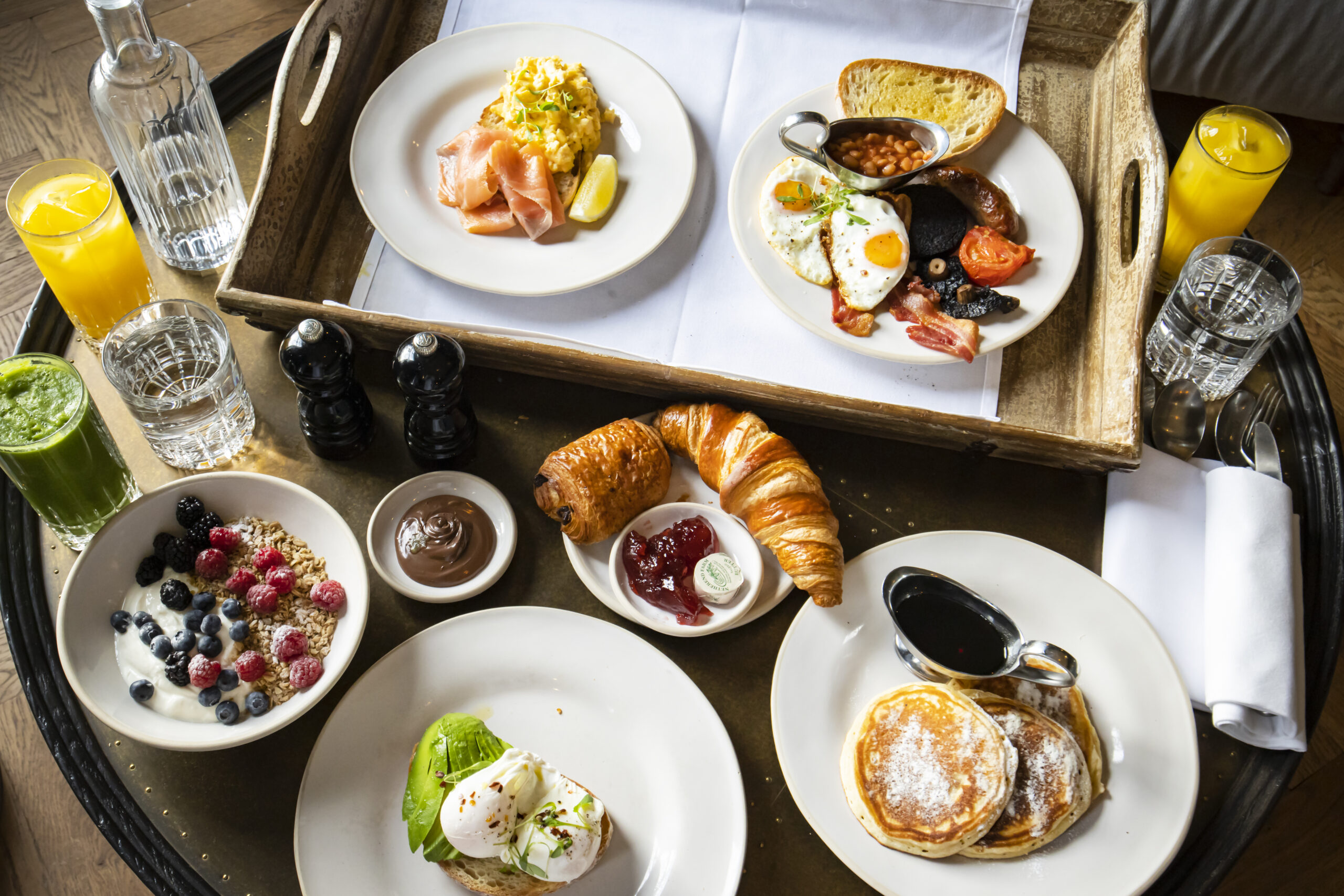 Fancy Anything Gin?
Gin & Juice is next door if you fancy some Gin Experience, lucky you! With over 400+ Gins, you could have this Gins neat or perhaps a mixer with either lemonade or tonic. The ambience is very cosy, with the nature-inspired interior, it's the perfect place to chill before supper, or just a casual catch up with your friends. They have two bars available, a Gin Bar and a Cocktail Bar. I will recommend their Gins (obviously) but if you fancy classic cocktails then Yes!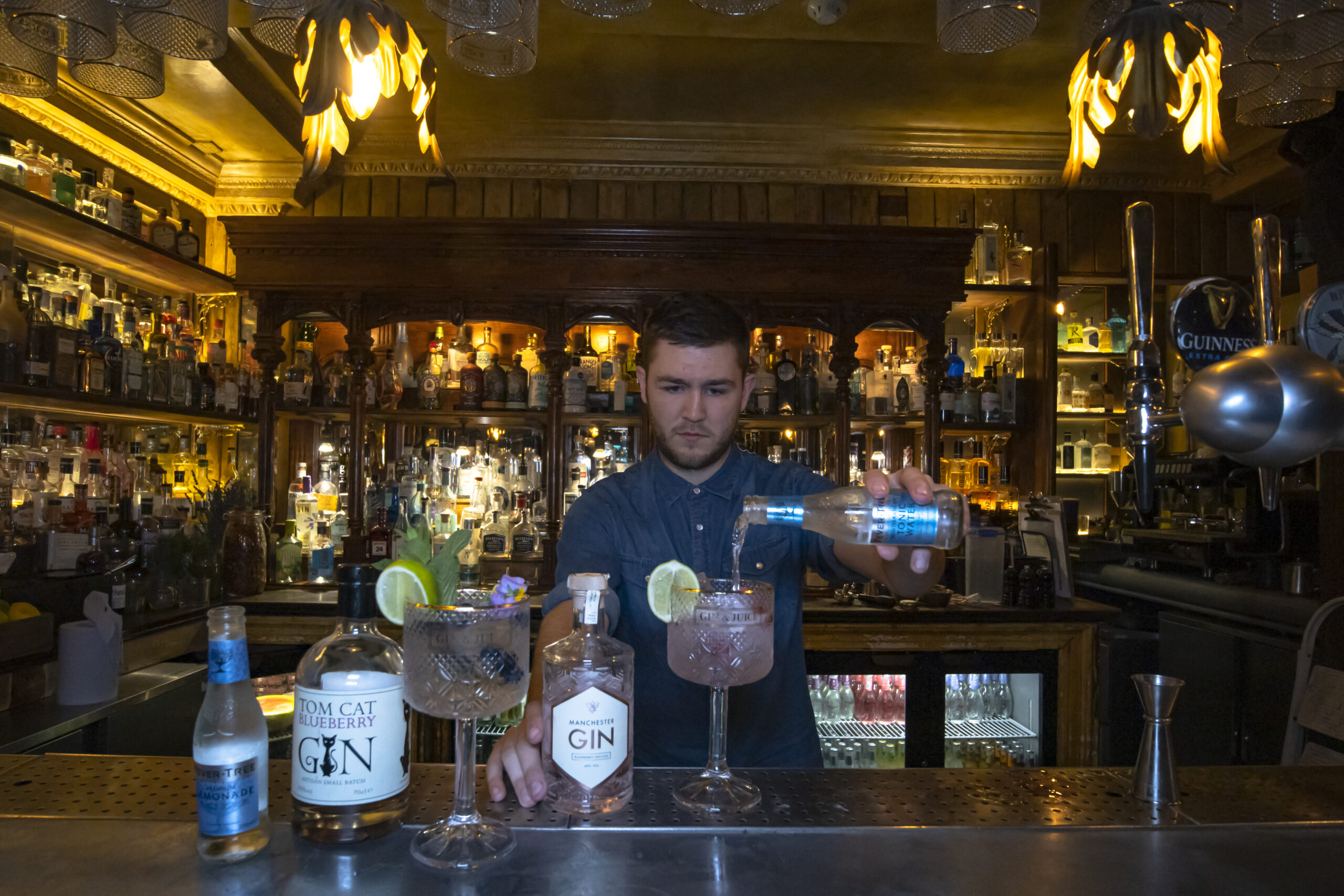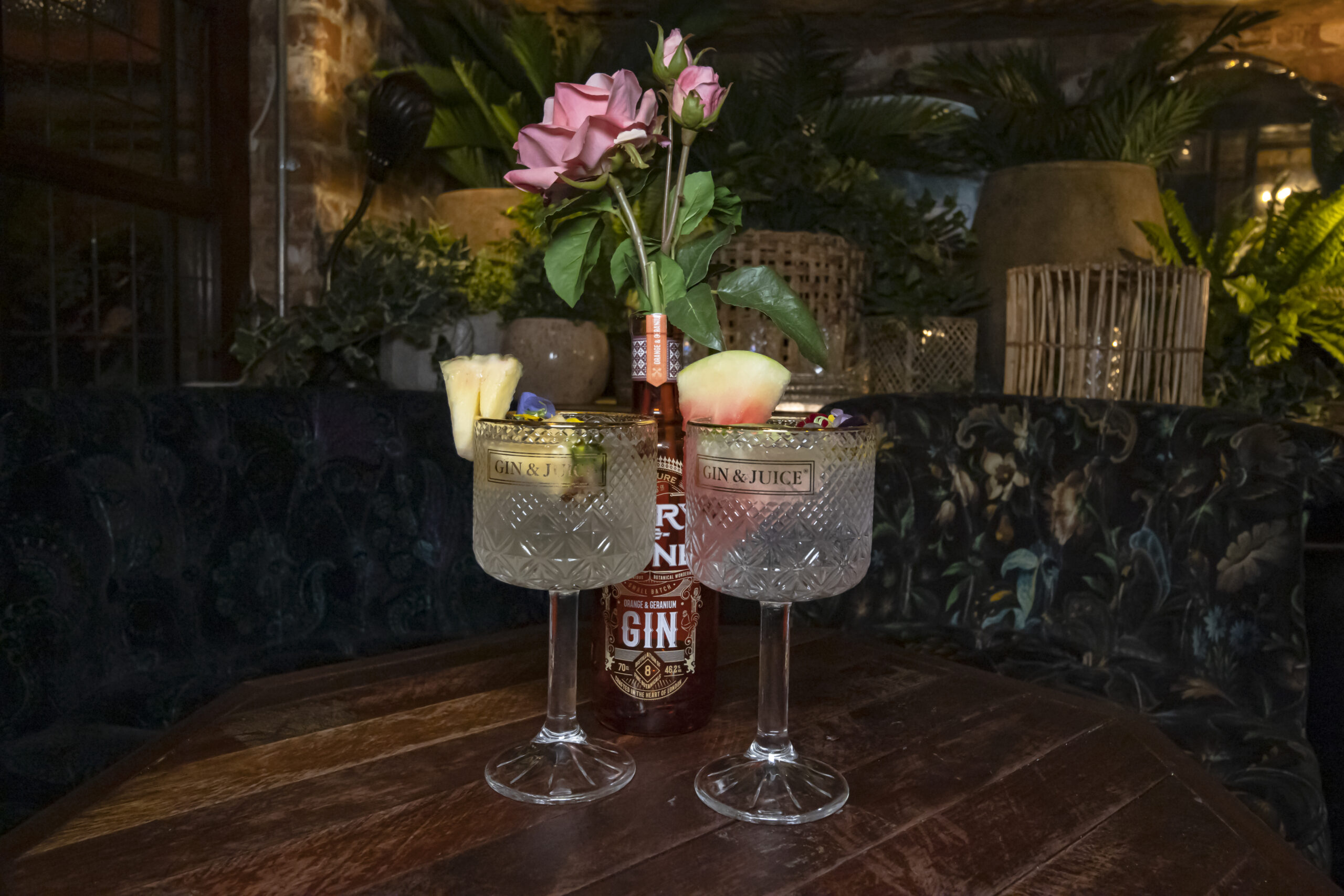 Once you got lucky with Gins, why not having supper just next door? It's recommended to have a full experience within No 131 Cheltenham, from luxurious stay to adventurous Gin tasting, and an intimate supper. I was lucky to have supper here as the menu is tailored for supper specifically and the taste just mamma mia! From start to finish #dinewithmalachi recommend
To Start
????? ?????????  with White wine, Shallots, Cream & Parsley
?????
???? ?????? & ???? ??????? with Beetroot, Toasted Sourdough, Parsley & Shallot Salad
Mains
???? ????????? ????? ???  with Ginger, Par Choi, Sweet Chili, Cucumber
Dessert
??????? ????? ??????????
?????? & ?????? ????  with Honeycomb Ice Cream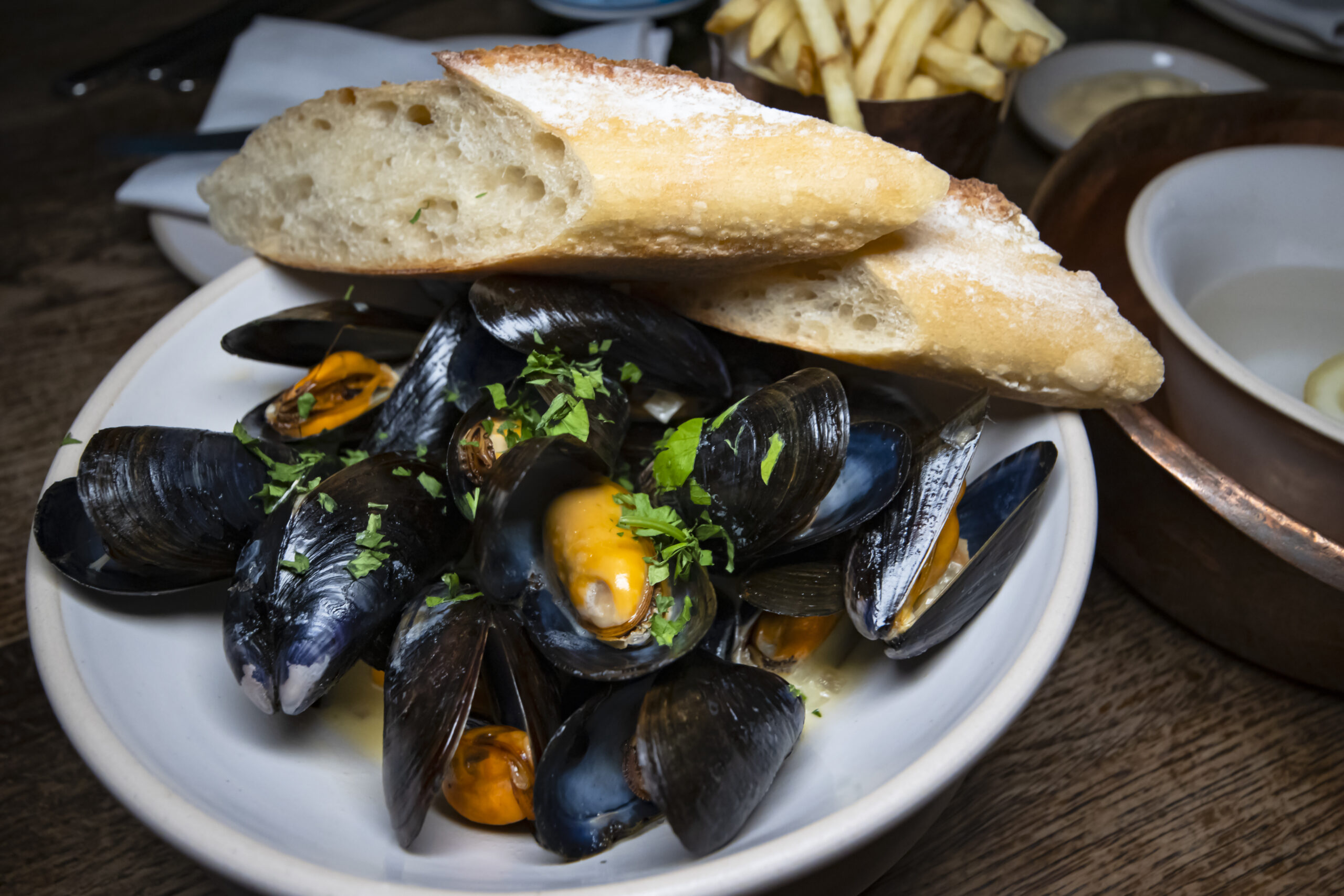 ????? ????????? with White wine, Shallots, Cream & Parsley
If you a fan of mussels, then have this as a start! The white wine sauce is just perfect, with its soft texture from the mussels. Oh, don't forget the fries!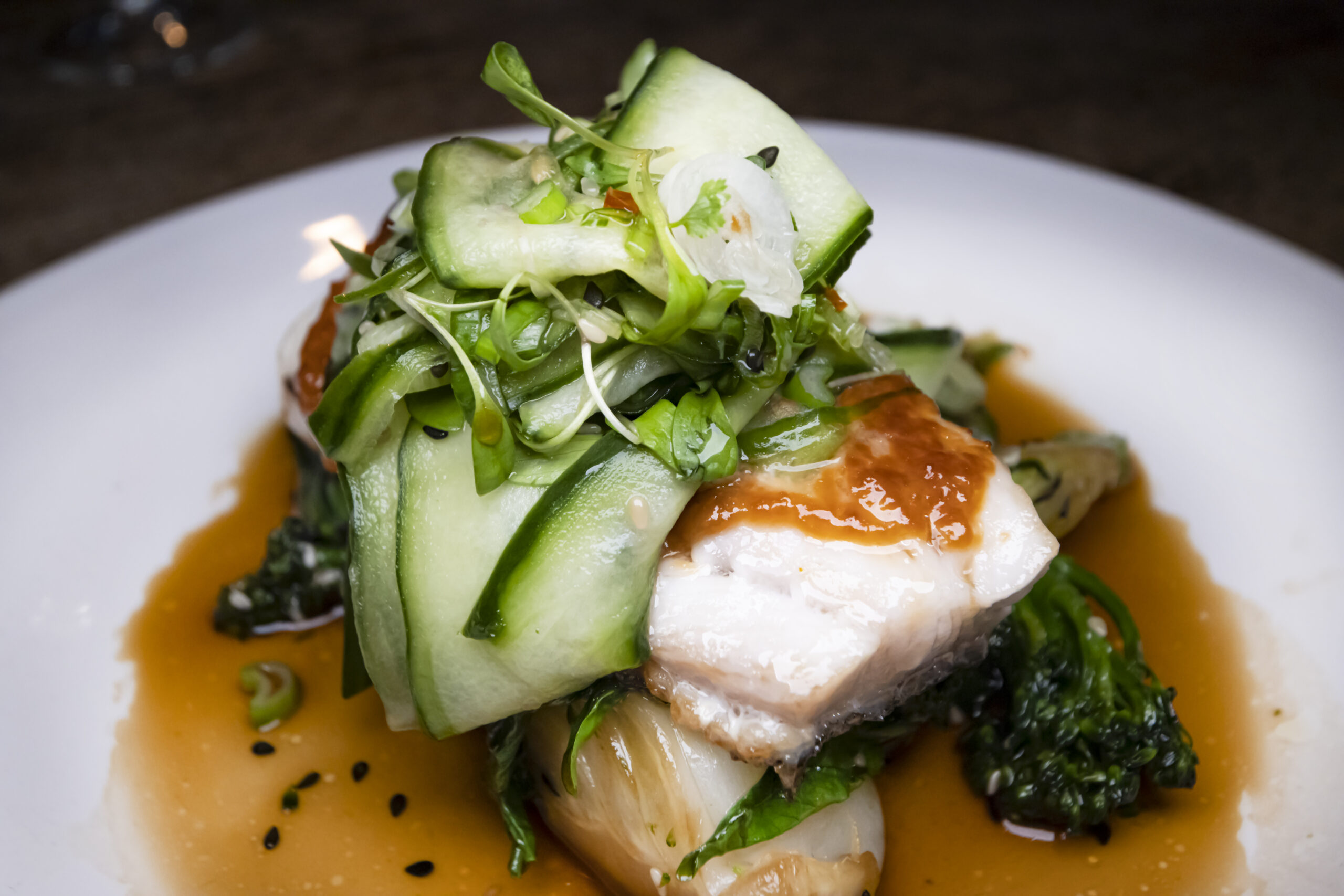 ???? ????????? ????? ??? with Ginger, Par Choi, Sweet Chili, Cucumber
Yas I will recommend this as your main! Why? It's not many out there could do such a delicious perfectly cooked Black Cod, and I found it here has the unique taste! The perfect texture from the fish complemented with Sweet Chilli – a well-balanced taste. The Ginger and cucumber give the black cod a nice palette, a bit fresh, a bit of spice, a bit of everything!
?????? & ?????? ????  with Honeycomb Ice Cream
My first impression when seeing this served was Wow! A thick slice of cake, with gorgeous ice cream at the top. The food plating is excellent! and taste? yummm
??????? ????? ??????????
Another dessert, another happiness! First impression I was like "wow this might not be a cheesecake? The shape is a bit different". Yes, it could be presented uniquely with this, but hold on, the taste is divine! Literally you will feel the perfect cheese and cake, with this great food plating. Another round of applause!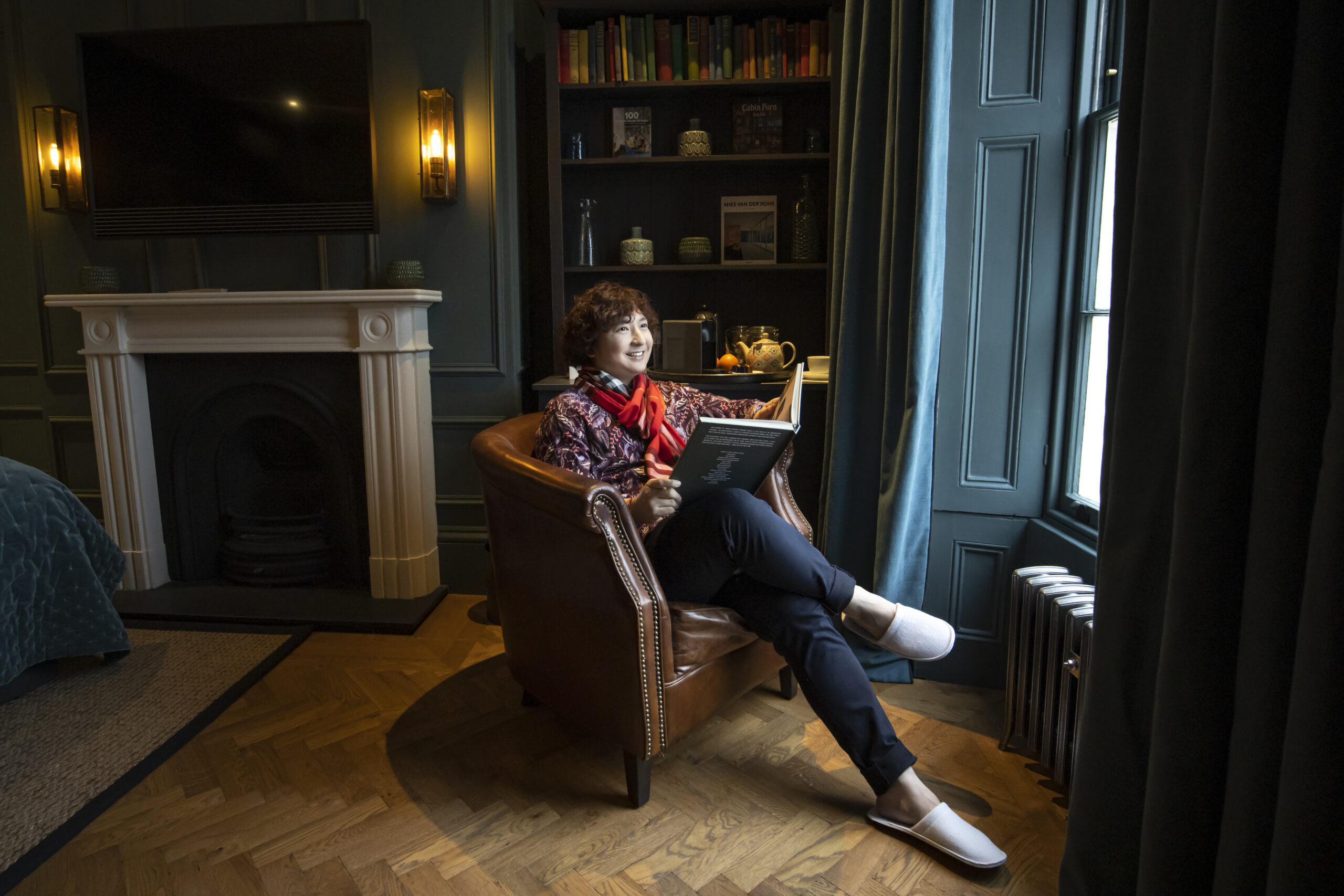 My first time here staying at King's House since their opening last year, and it was amazing! From the warmest welcome during check-in to smooth check-out, I will say it's one of the best service that I've ever had! The luxurious bed and top notch design of the interior are my highlights! Not forget to mention their supper experience with delicious black cod and gin experience at Gin & Juice. Hope you guys enjoy your upcoming stay soon! P.S Highly recommended for this Valentine package, check out their package here
Architecture & Design
90%
Gastronomy & Mixology
95%