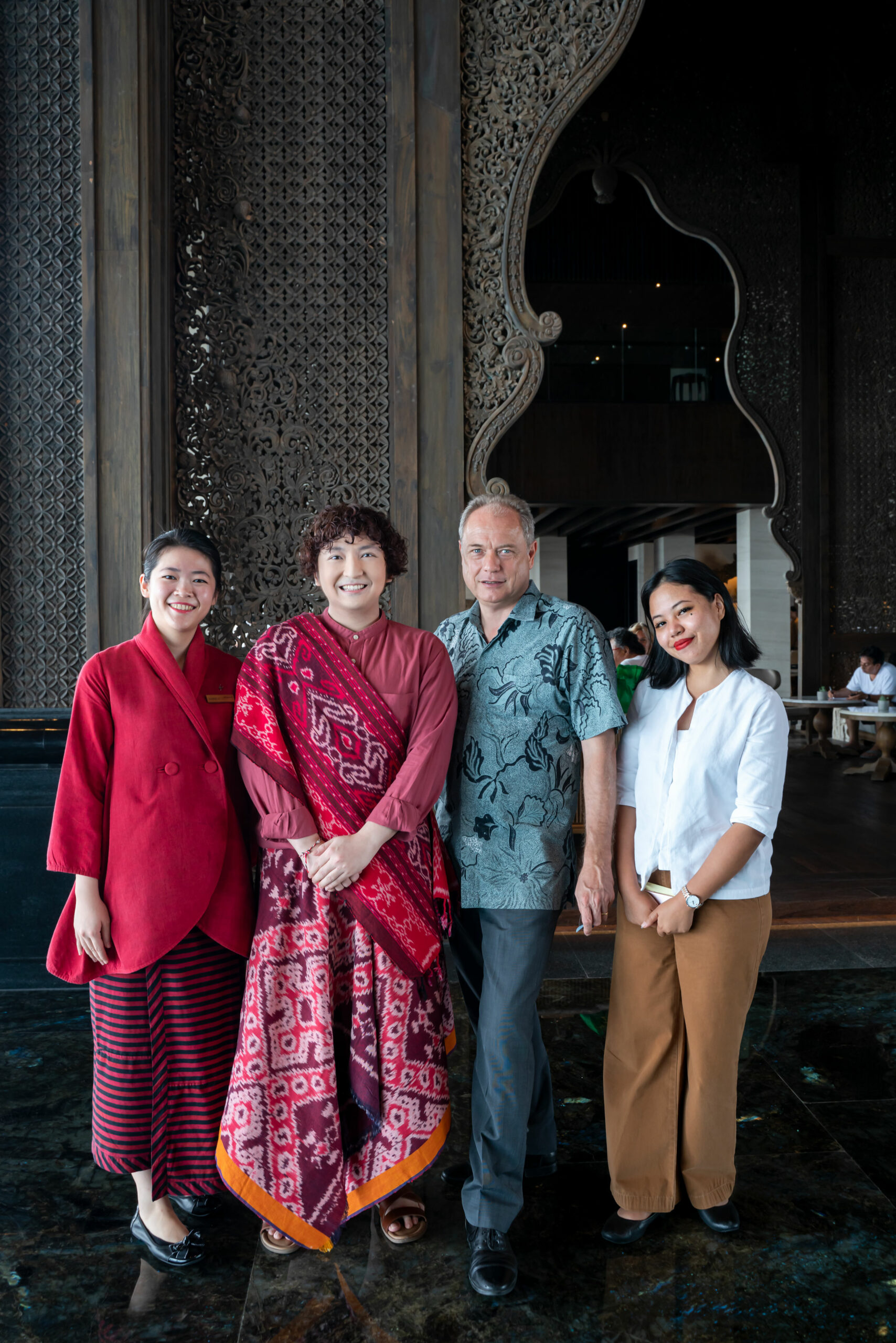 Ciao a tutti! Come state?
Such a very warm welcome from General Manager and everyone once I arrived at the hotel! I am very pleased with their meet and greet service plus everyone's smiley face, none single of them fail to greet you, and I feel like wow!
Vincent Guironnet, the General Manager was very down to earth, and he shared the ethos of this Apurva as new addition to Kempinski Hotel, known remarkably since 1897 (yes that long!). "I have called this beautiful country home for the past 12 years, and The Apurva Kempinski Bali is truly an embodiment of Indonesian culture and craftsmanship," says General Manager Vincent Guironnet. "Apurva means 'unique and magnificent' in Sanskrit: it's a fitting title for a resort that's like no other."
What makes it unique also is its iconic Lady In Red which they brand her as "Your Art de Vivre Ambassador." With her stand out dress (the lady on the left), she will help to personalise your check-in process and any enquiry during your stay.
The Architecture & Interior Design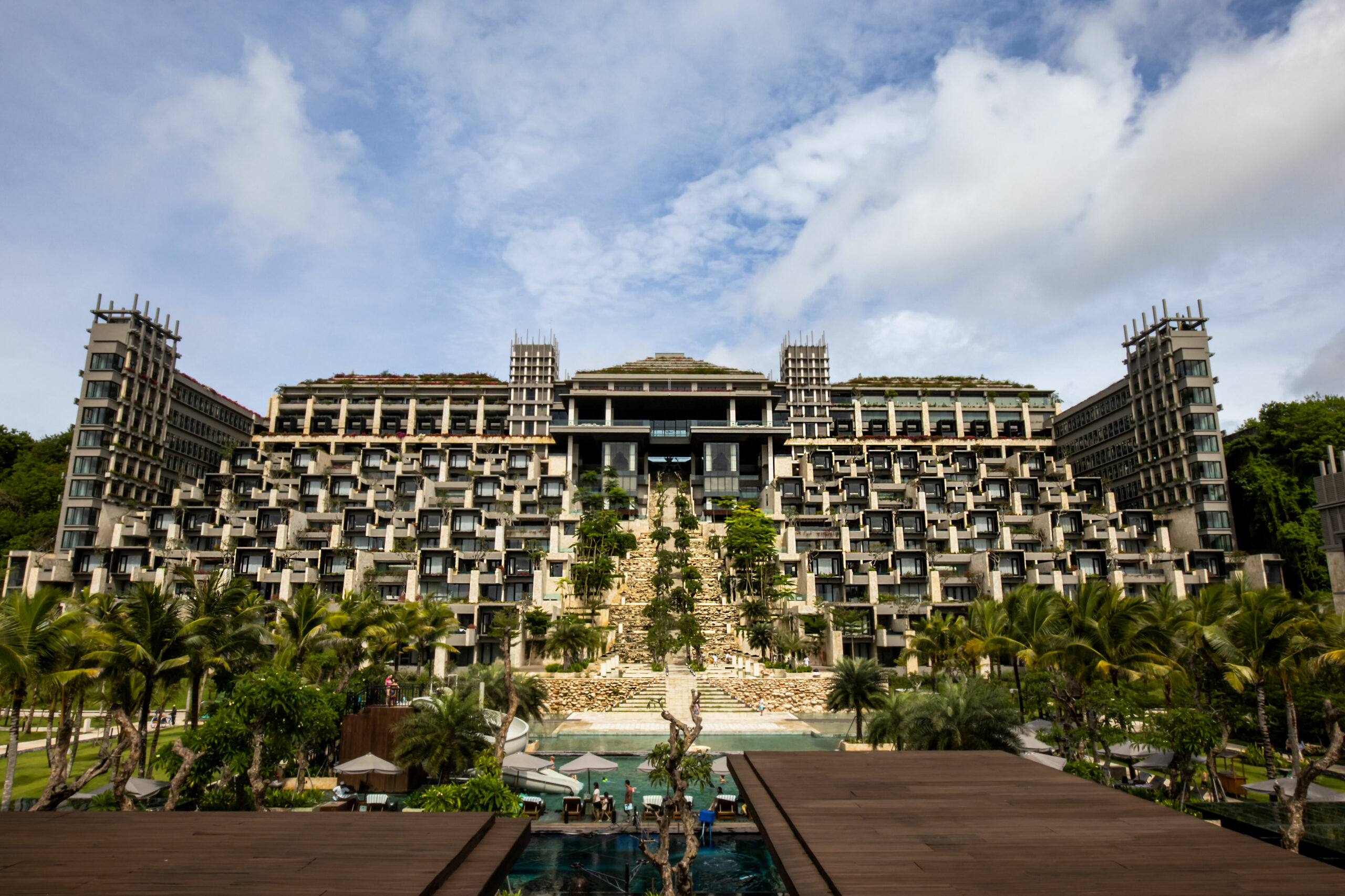 Inspired By Besakih Temple
Since opening its door on February 1, 2019 in the upmarket Nusa Dua area of Bali, This five-star resort in Bali presents itself as a majestic open-air theatre, an embodiment of Indonesian elegance. A collection of 475 iconic rooms, suites and villas are showcased, with 60% of the accommodation featuring its own private plunge pools. Apurva Kempinski Bali has the most breathtaking views of the Indian Ocean and its tropical garden, which I feel it's The true modern beachfront luxury!  Its modern Balinese architecture has beautifully crafted with additions of bougainvillaea-covered terraces and shimmering pools.
"Award-winning architect Budiman Hendropurnomo of UK-based Denton Corker Marshall drew inspiration from the rice terraces and their centuries-old 'subak' irrigation system to create the concept for the property."
The architecture itself is inspired by Pura Besakih Temple, known as the mother temple of Bali as it is regarded as the most sacred temple on the whole island. Its 250-step walkway, inspired by Bali's most important temple where it regularly holds religious ceremonies which gather people from all around the island.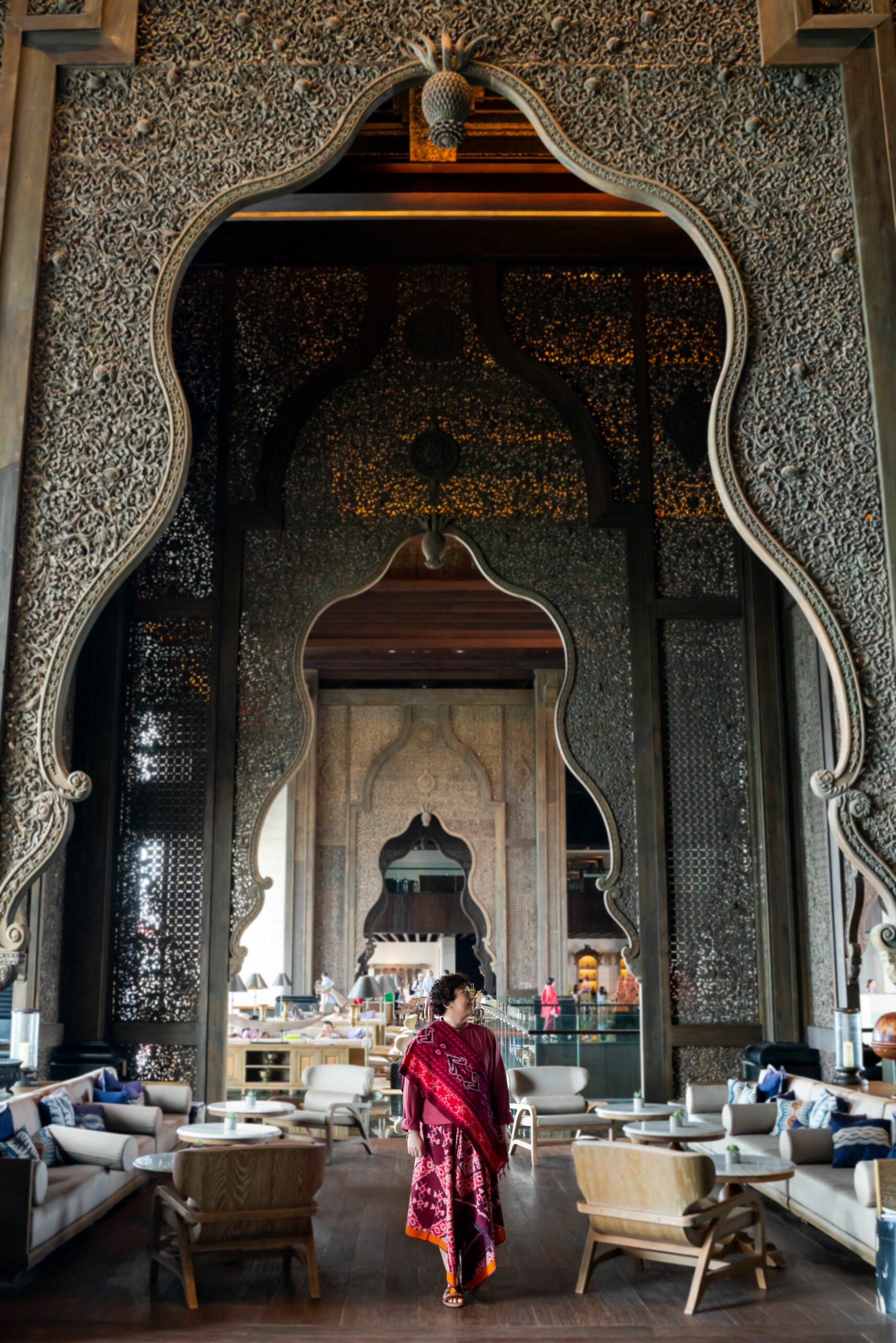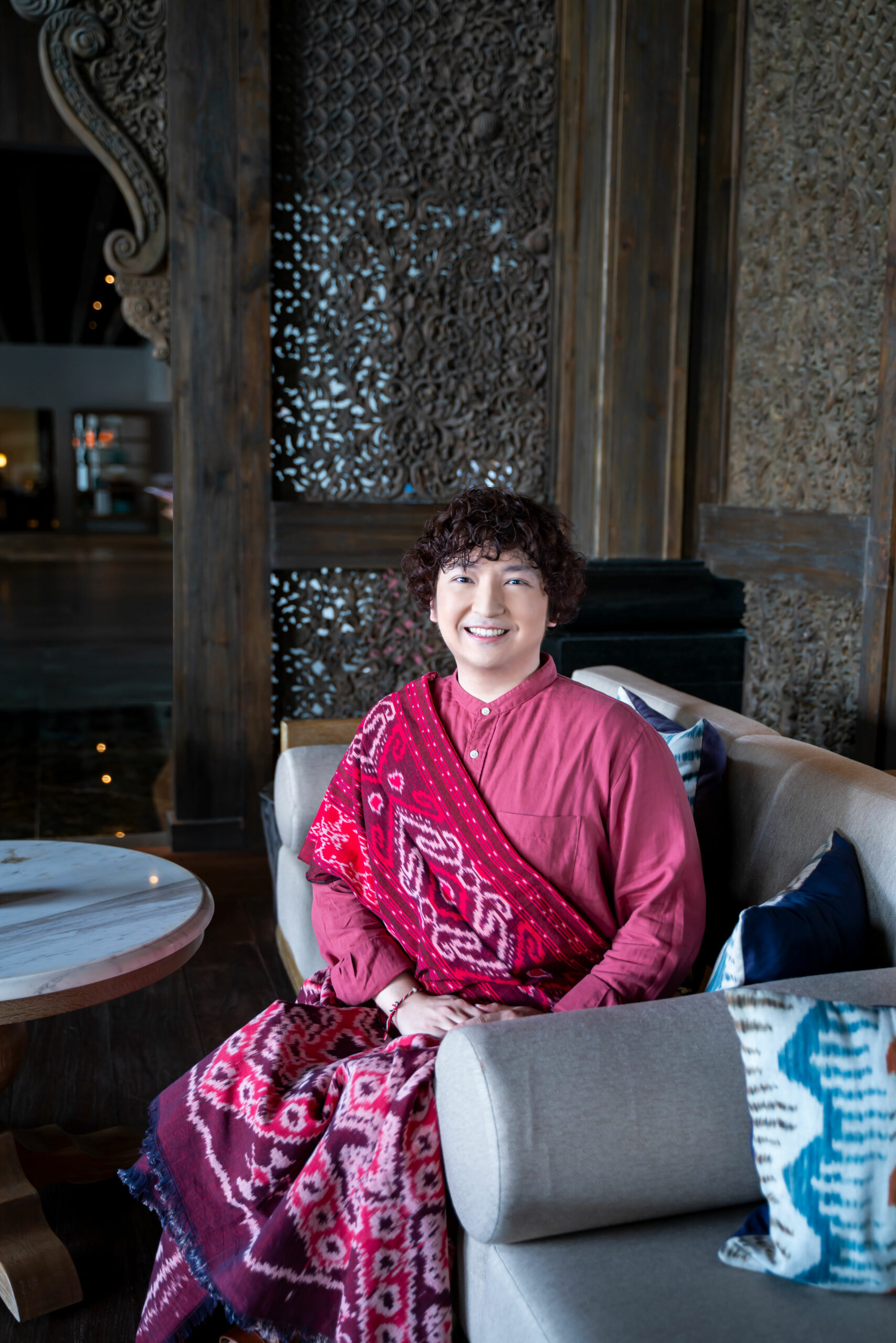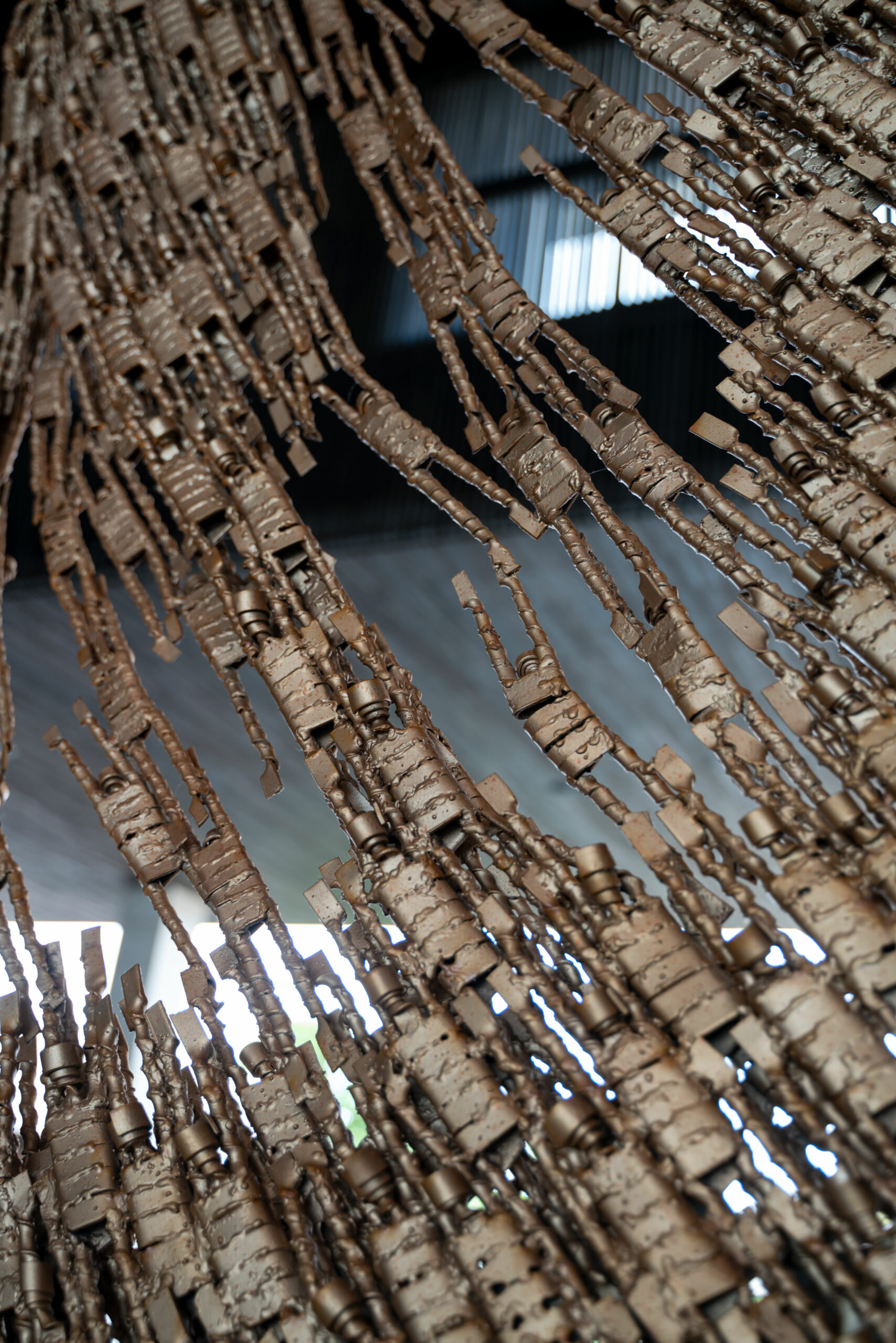 Interior designer Rudi Dodo of Trivium Design Group has taken Traditional Indonesian interior to another level. I am so mesmerised with its lobby which has a pendopo-style a wide-open and welcoming space with a soaring tiered roof that draws the eye up to the cosmos. Each pendopo has Gebyok which made from more than 300,000 artisans (yes three hundred thousands of them!), to reflect the luxury of Javanese art as a symbol of Indonesia's prosperous Majapahit Kingdom. Although this hotel is located at Bali, it has a beautiful twist of its interior by having this Javenese typical carving furniture, Gebyok is made by high quality teak wood to show its high aesthetic value.
Each pendopo is surrounded by Chandrasengkala known as chronograms from Majapahit Kingdom. This Chandrasengkala is believed as a symbol of protection, which will keep the hotel safe and sound.
Another iconic interior is Terbang Tinggi  statue which means "fly high". It's standing tall at the entrance of Apurva Kempinski with the shape of wings made from human holding each other. Terbang Tinggi is a symbol of together reaching the new height, which reflects the ethos of Apurva Kempinski Bali.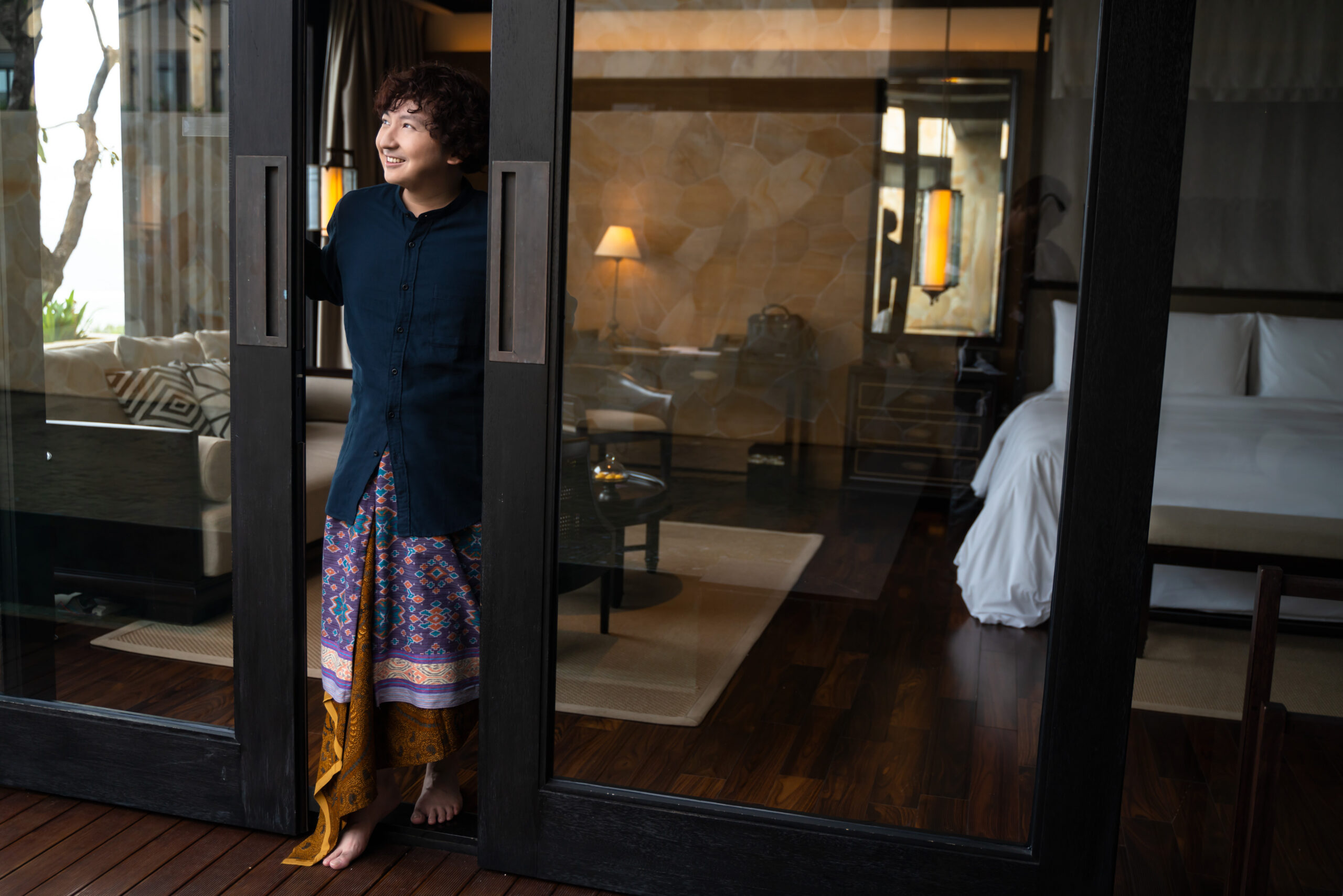 Cliff Private Pool Ocean Junior Suite
I was lucky to experience this Cliff Private Pool Ocean Junior Suites which is located at the highest floor, level 12. It offer 100 sq m of premium accommodation with a magnificent view of the Indian Ocean. The suite is fitted with refined furnishings and Indonesia's tropical decor characteristics and offers the ultimate in luxurious resort-style living. It will also allow me to enjoy exclusive access to the Cliff Lounge and Cliff Lounge pools.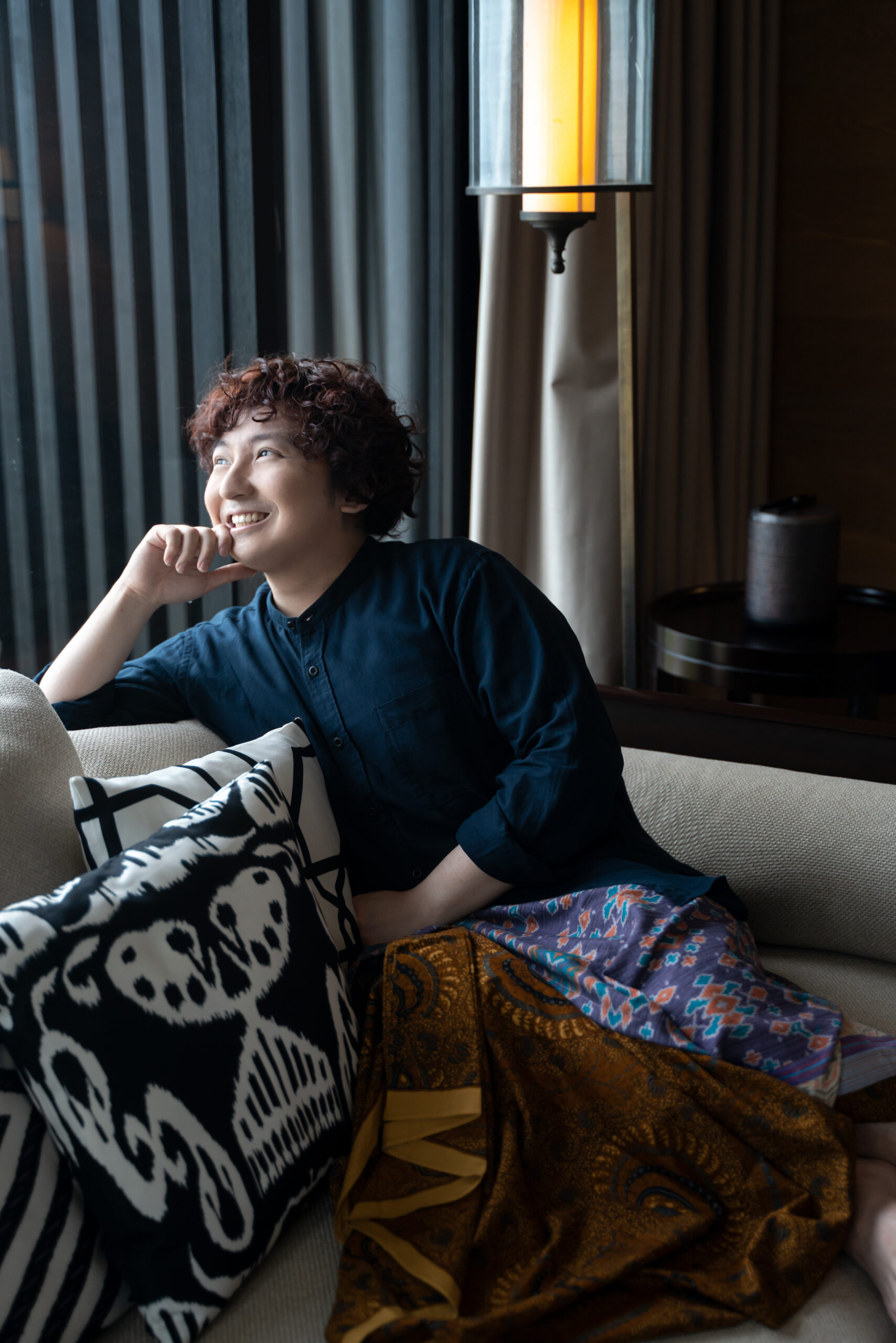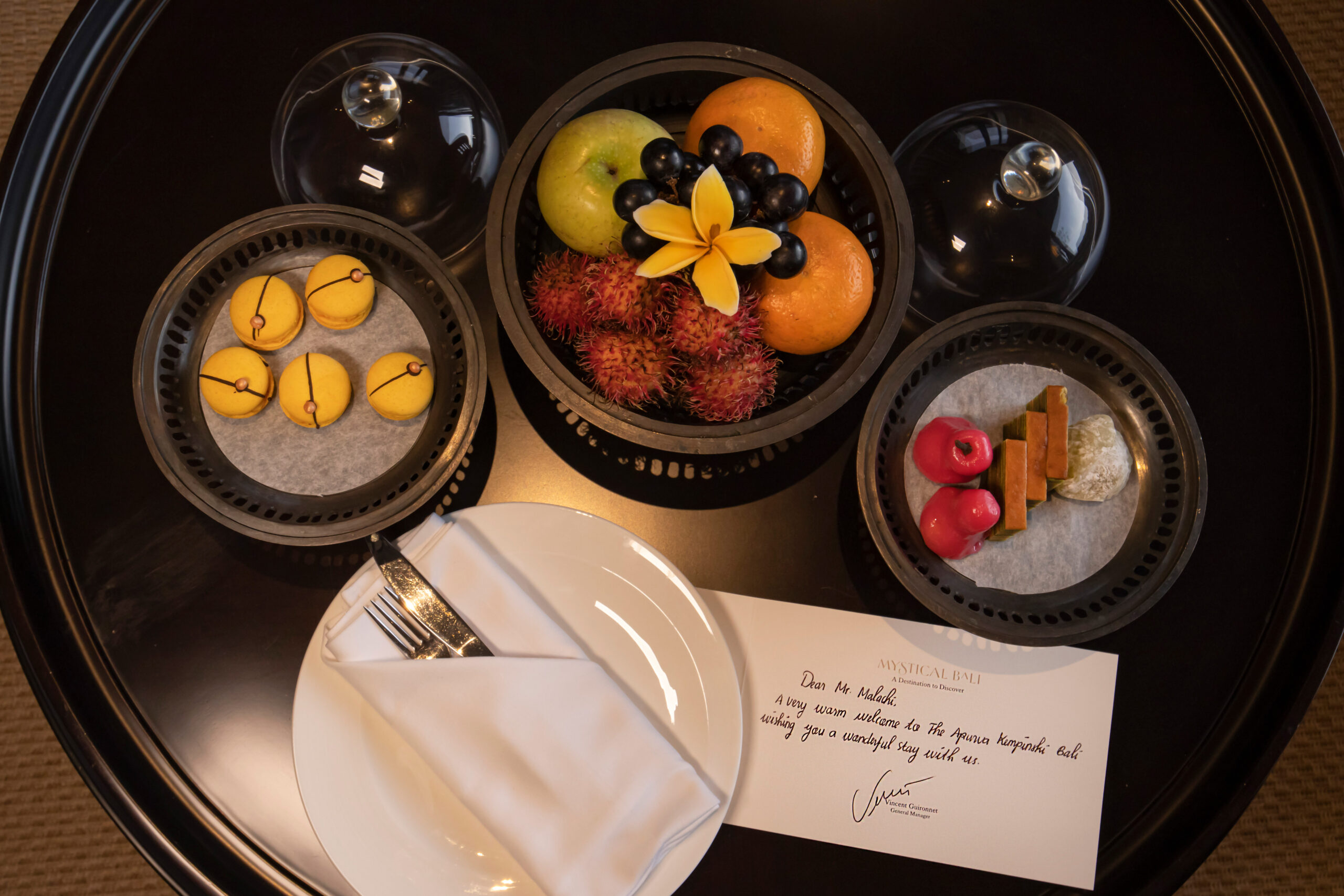 Traditional Flower Bath
As Indonesian myself, I am mesmerised with this flower bath becoming the most Instagrammable bath! It is know in Indonesia with warm water bathtub beneath layers of velvety floral softness (perhaps like two pounds of rose petals), this will help you relax, rejuvenate and refreshed. (I legit felt like royalty for 30 minutes).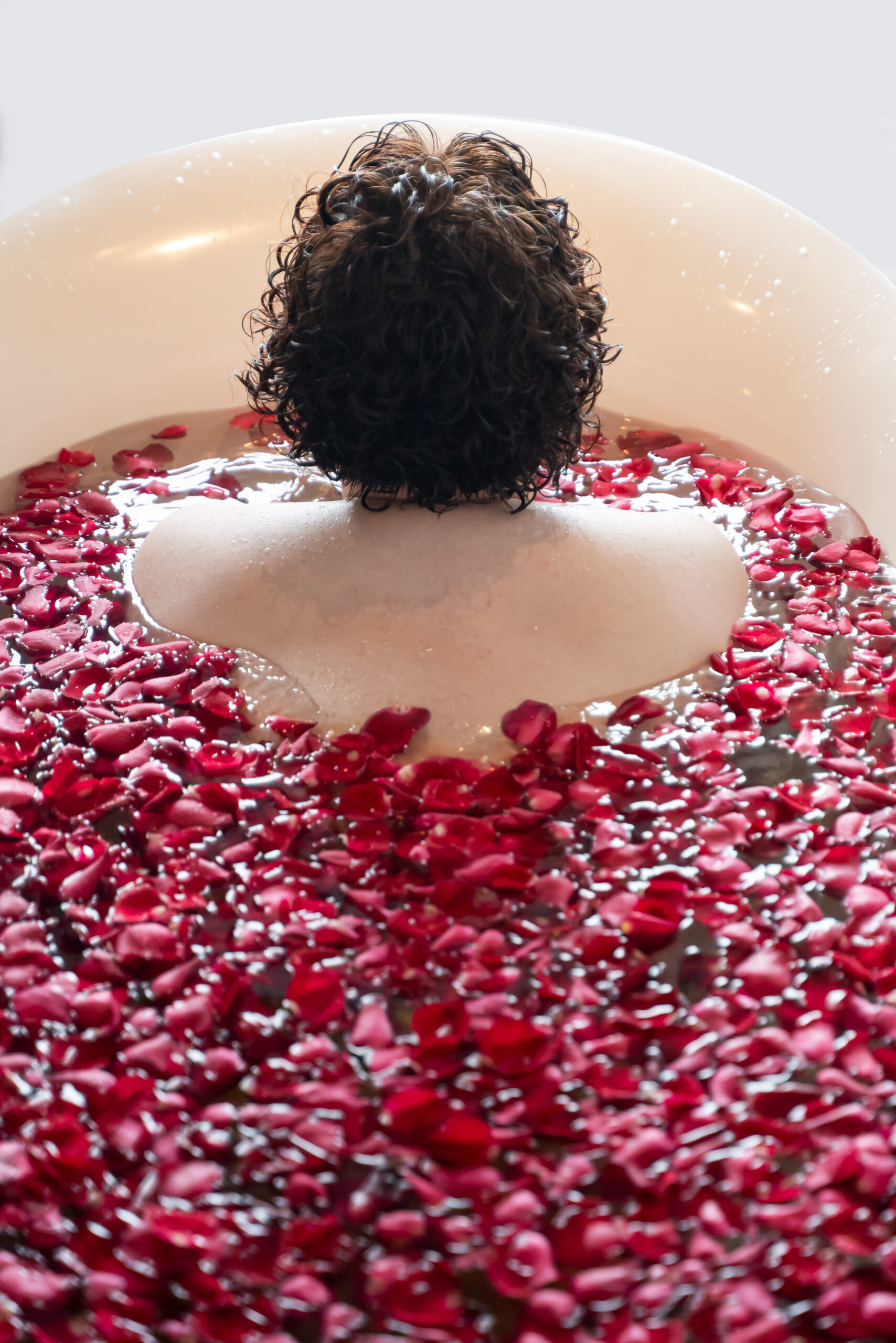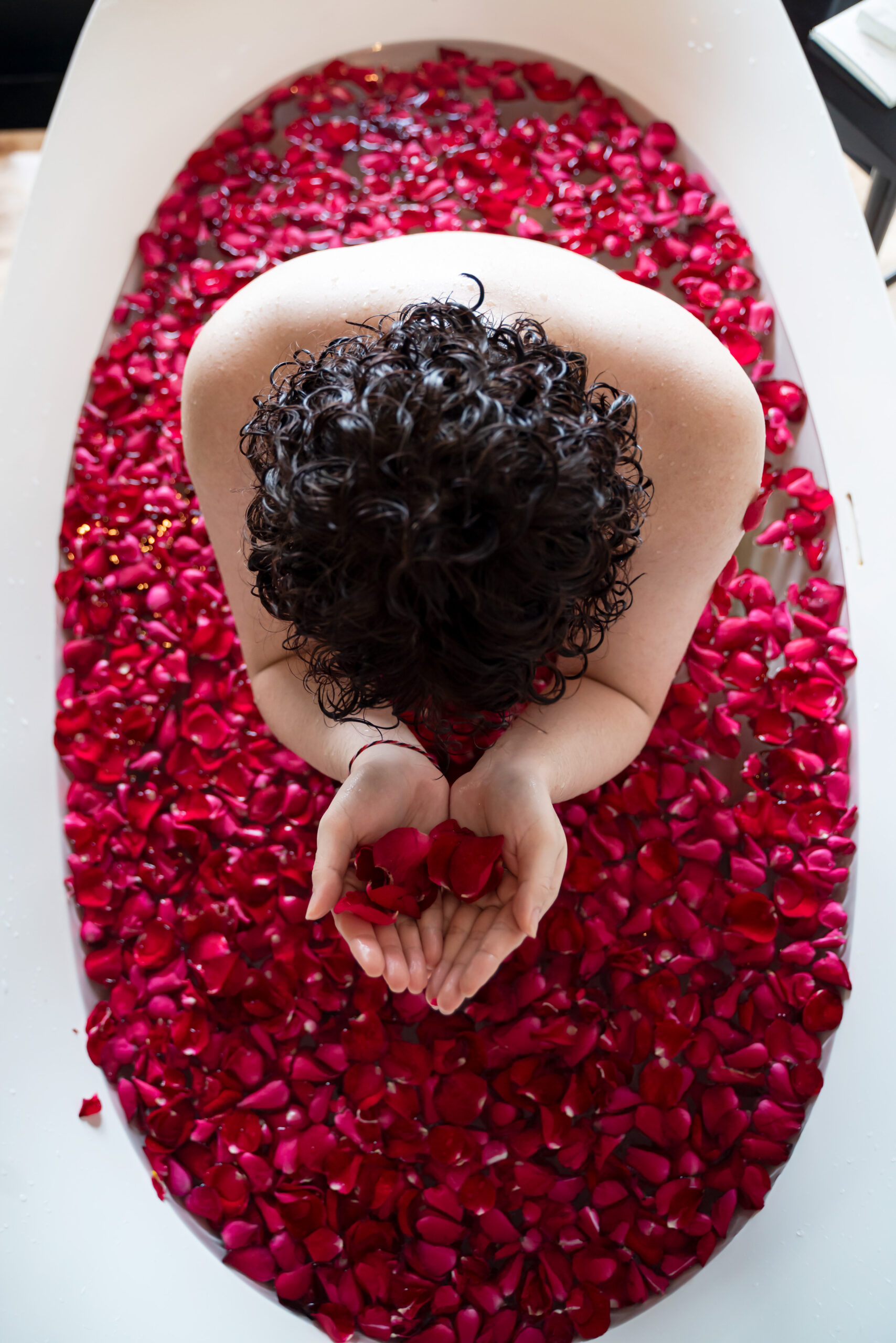 Floating Breakfast & In-Room Dining
It's Floating Breakfast by the private pool is a must to experience. I truly recommend this (not just for your Instagram) but you can choose range of pastry, tea, coffee and juice to be brought with the comfort and privacy of your suite. Once breakfast done? No worries as its In-Room Dining offers a relaxed and cosy dining experience, whether it is a snack for yourself or hors d'oeuvres for a dozen, In-Room Dining is available 24 hours a day to cater to your every need.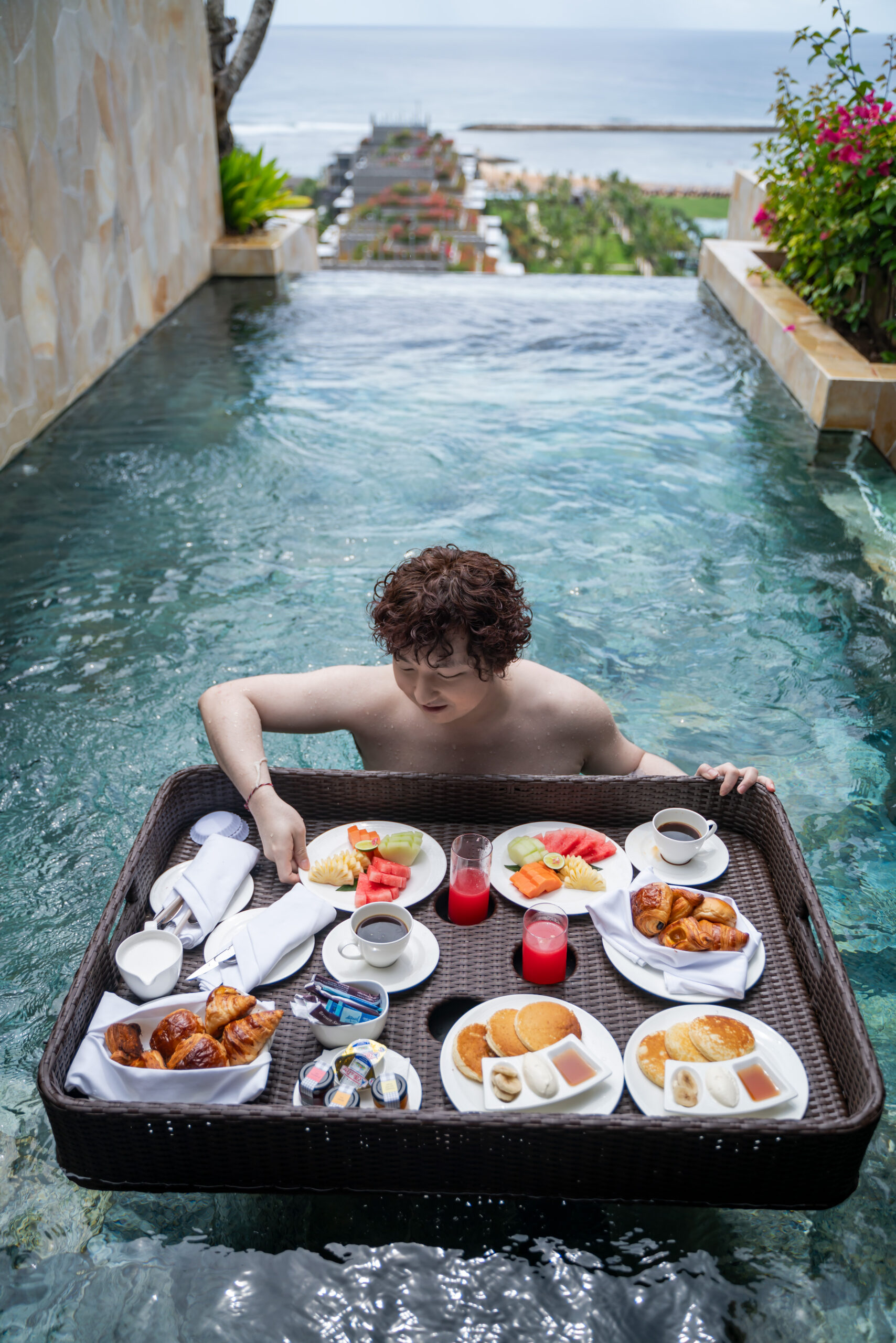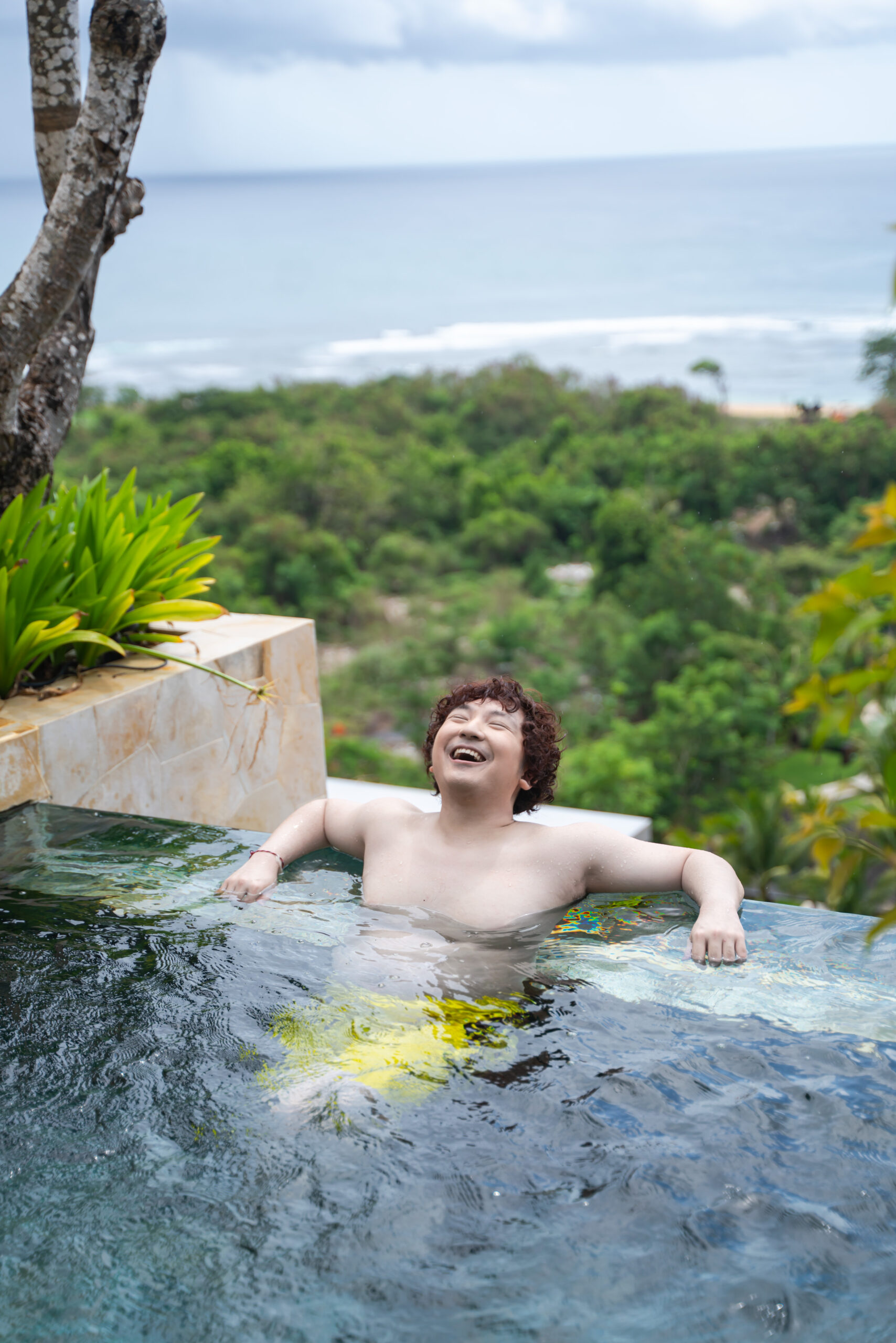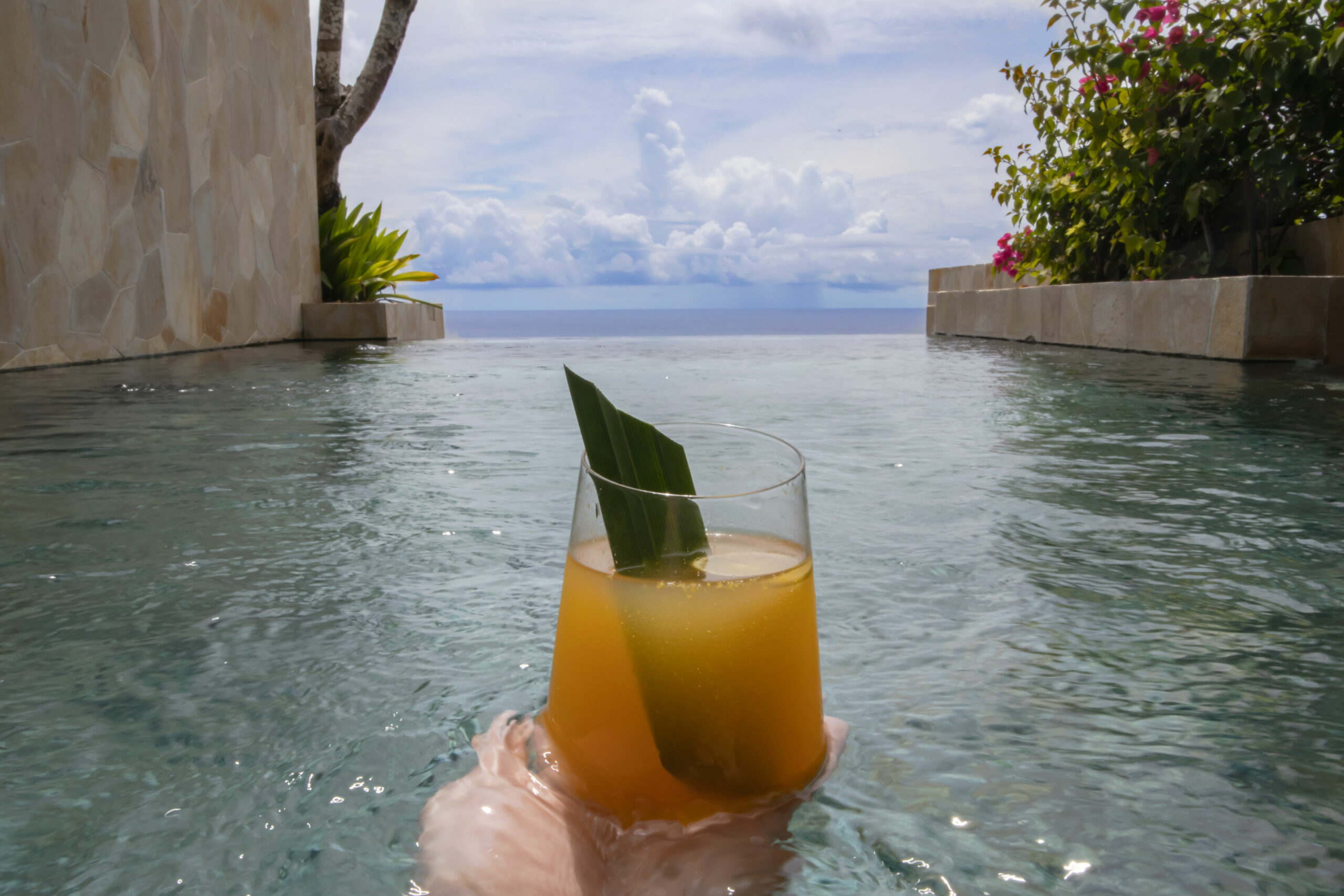 A C A R A K I
"Acaraki is a refreshing cocktails based on pandan-infused arak, rosella tea, tumeric extract, lime juice and galangal cordial."
Apurva Kempinski's mixologist has done such a fantastic creation to develop this modern cocktail with traditional Indonesian Jamu ?? You can enjoy this at their Pala Rooftop Bar or in-room dining ? P. S I'd love it with this private pool view of Indian ocean.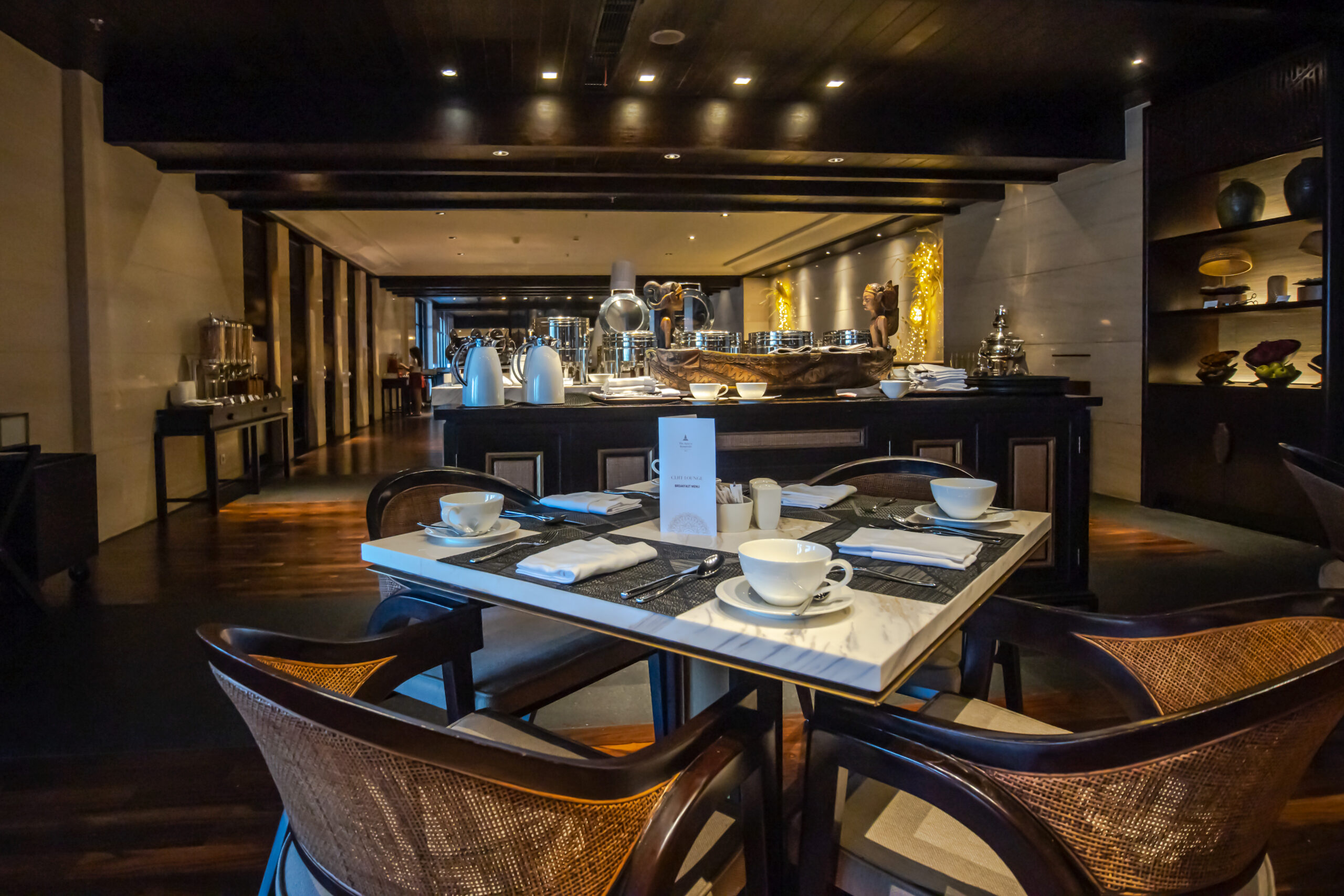 Exclusive For Suite Guest
Opening from 6 am to 9 pm with uninterrupted views of the Indian Ocean and situated against the cliff, the Cliff Lounge offers privacy and exclusivity for suite guests. This intimate lounge features two floors; the upper level serves as a dedicated breakfast venue, while the ground floor features a generous lounge area for leisure and business purpose, infinity pool, and hydro jet pool.
Exceptional Benefits & Finest Personalised Service:
Heritage Traditional Beverage
"Jamu is a traditional medicinal beverage from Indonesia, particularly a herbal drink made from natural ingredients such as roots, bark, flower, seeds, leaves and fruits."
In this Jamu tasting, you can experience 5 types of Jamu which are Sinom, Kunyit Asam, Kunyit Asam Sirih, Temulawak, Beras Kencur. My favourite one is temulawak because it has simple ingredients with ginger, turmeric and tamarind (somehow I think it's sweet taste make me love it!). During this time, I also met Bu Danti, the Marketing Director of Apurva Kempinski. She is very nice, down to earth and she help explain some of hotel's features, we had a good chat!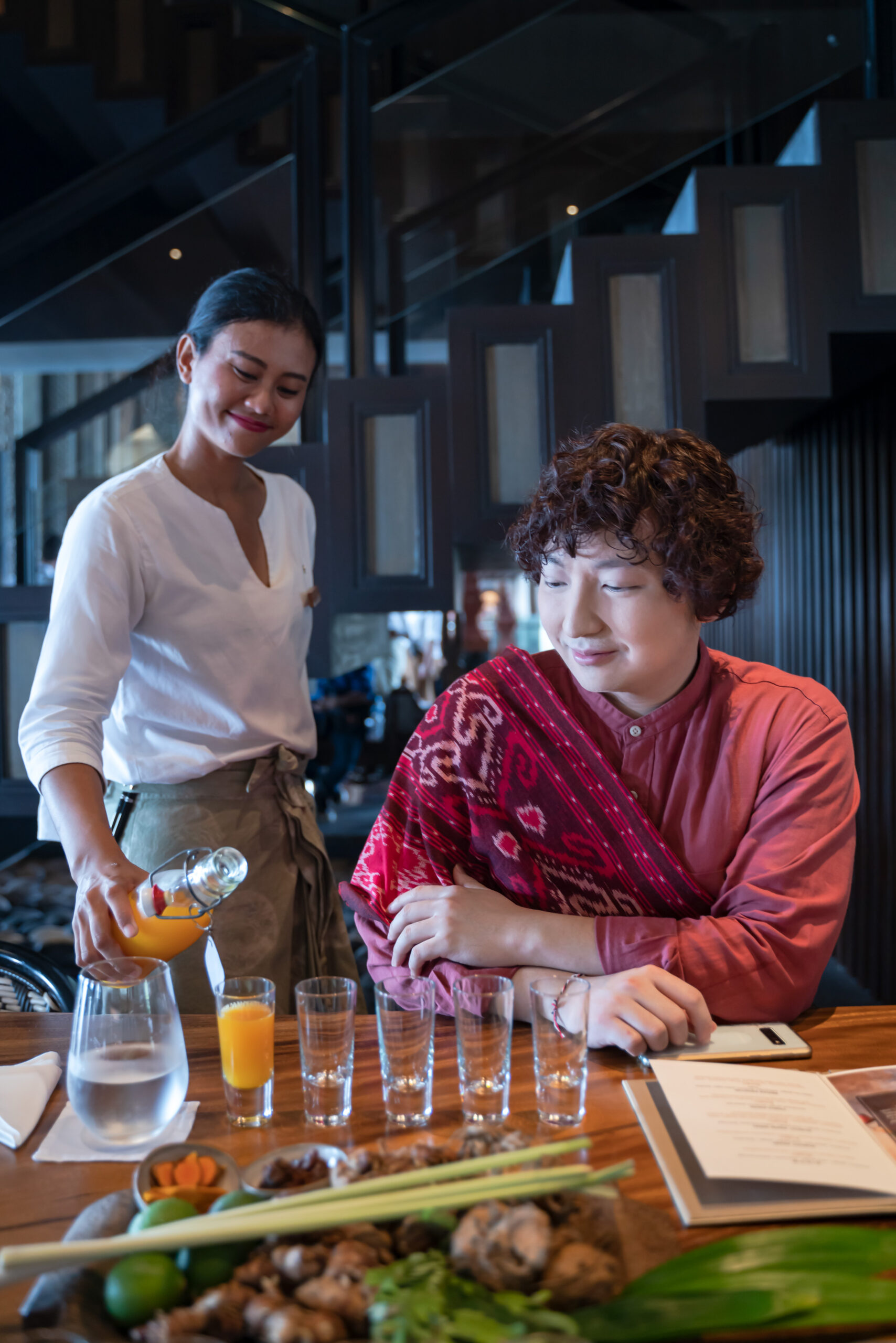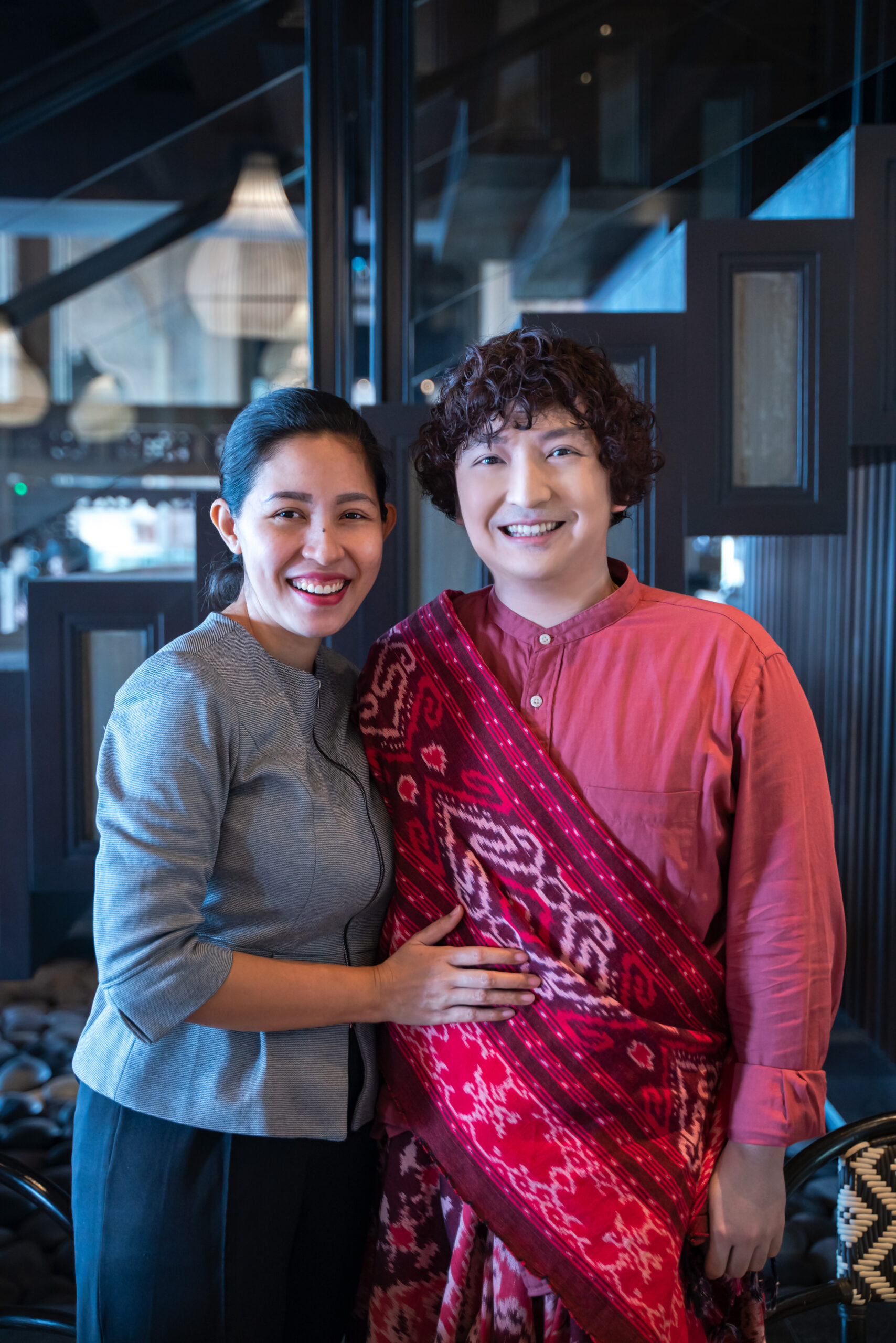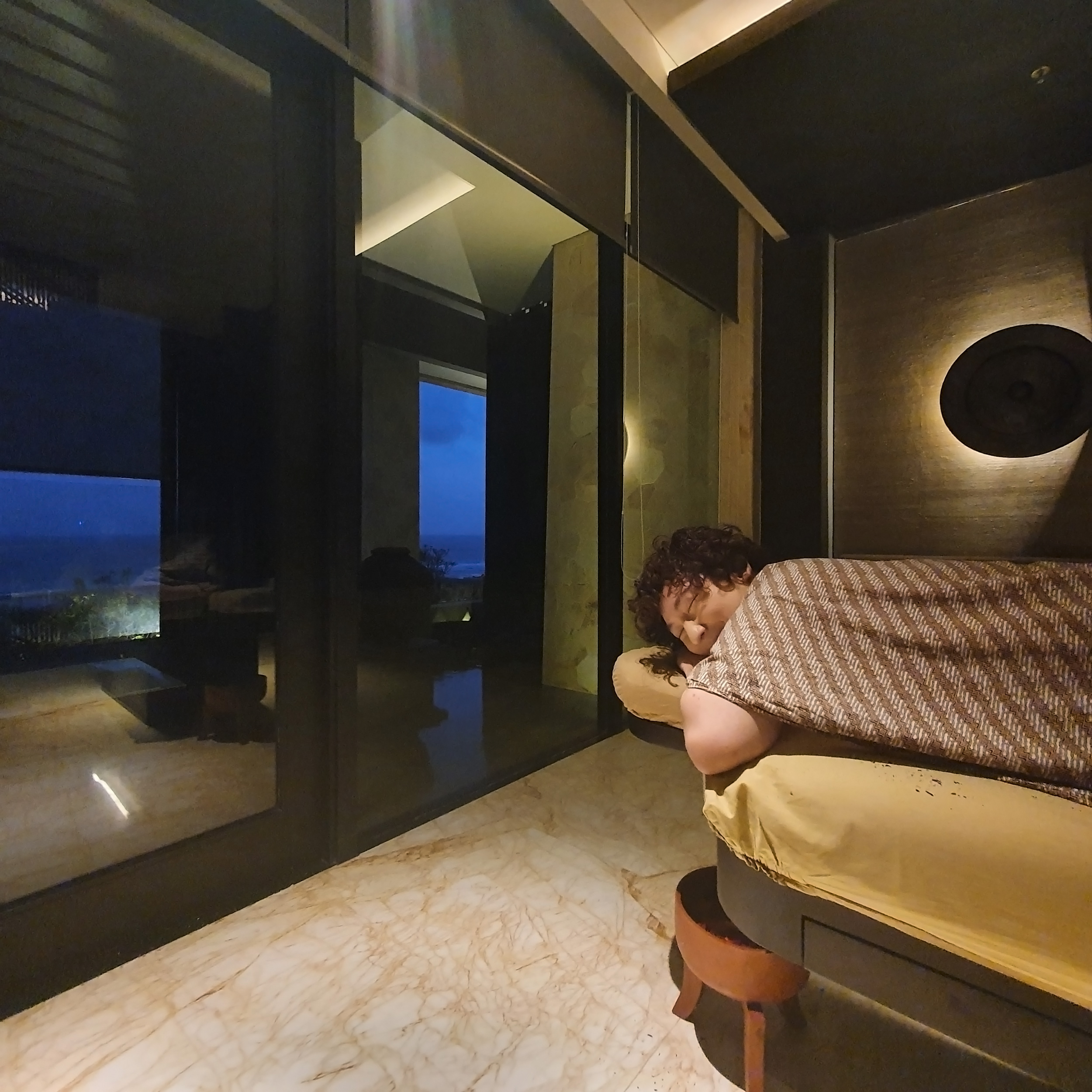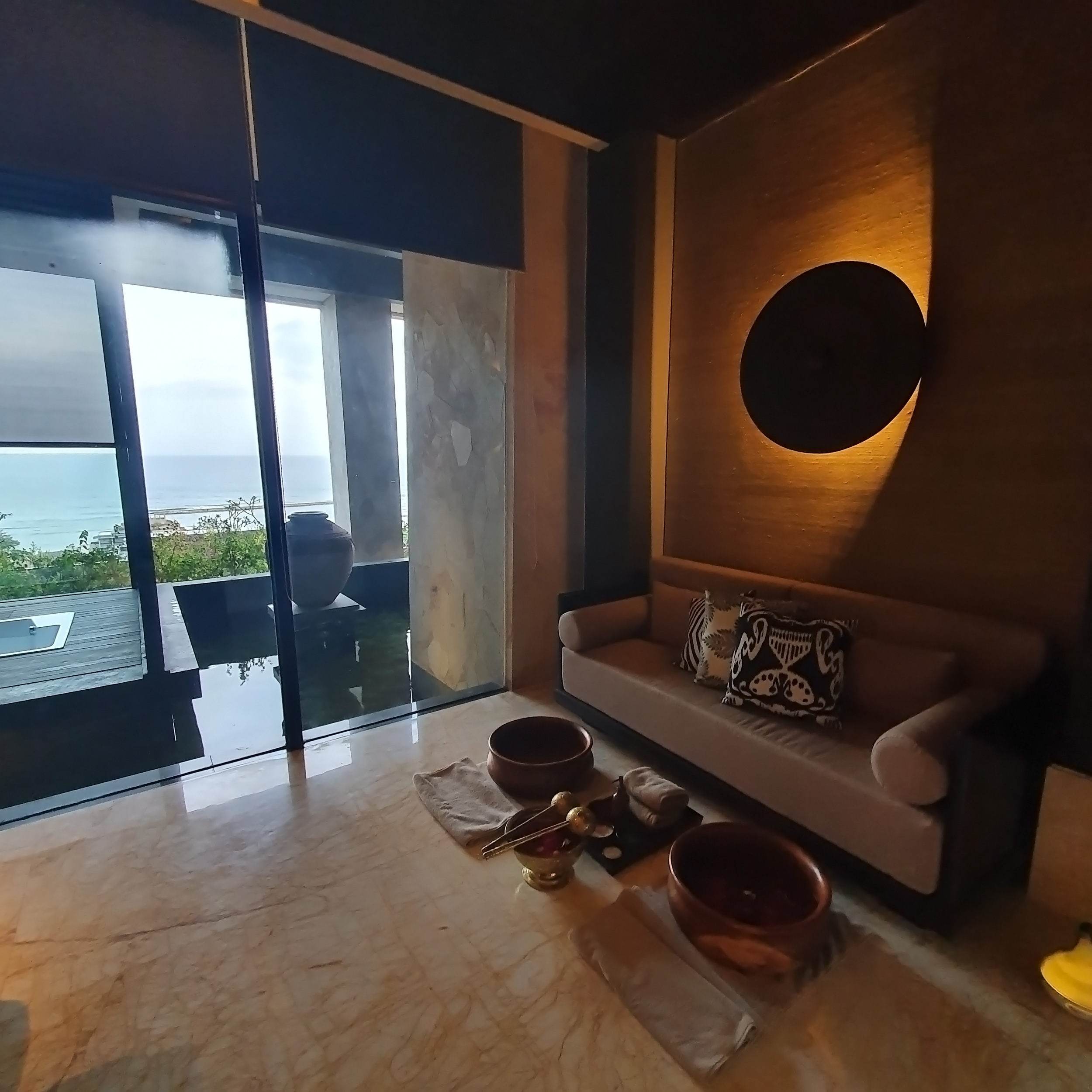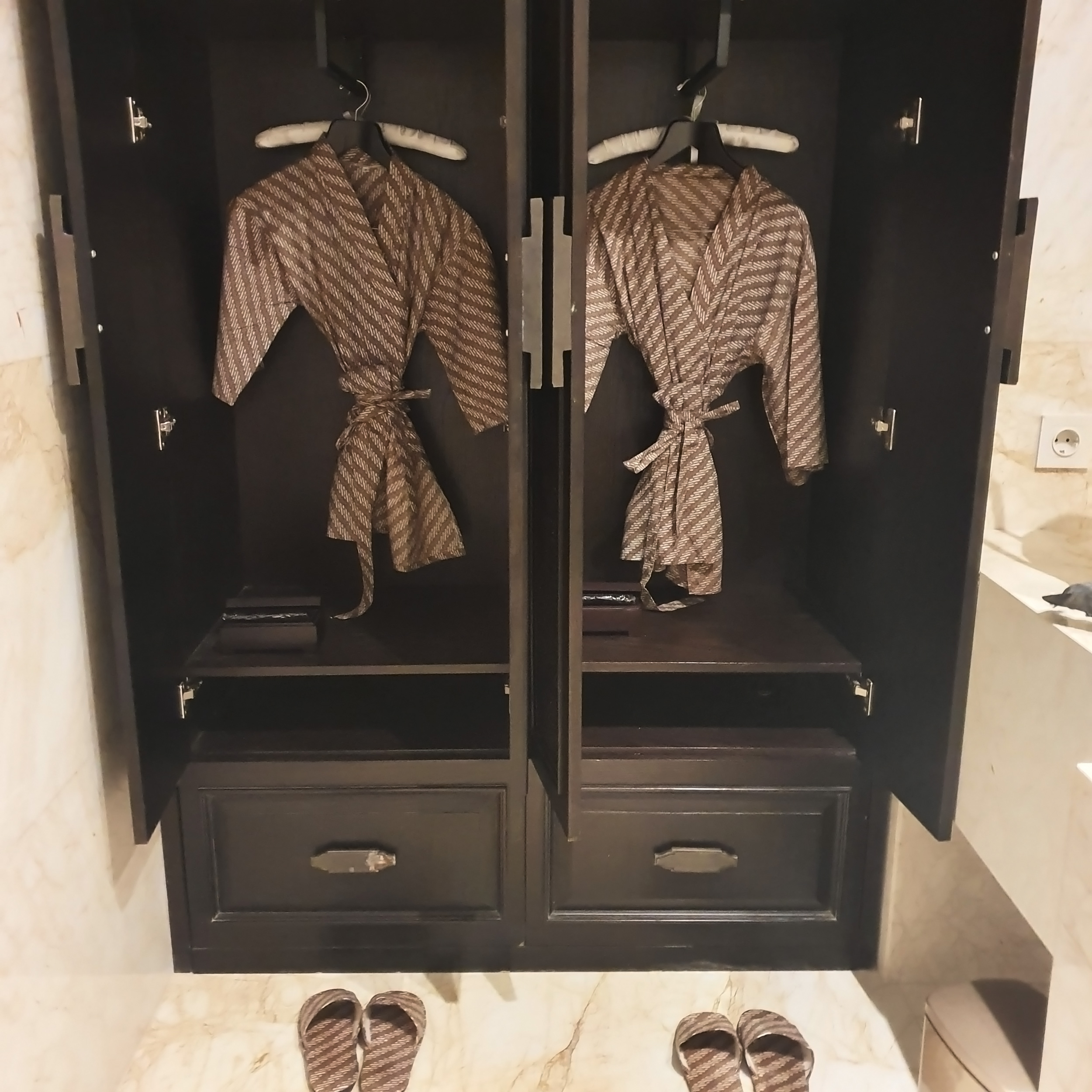 Ultimate Relaxation in Javanese Healing Traditions
For two days stay I will recommend their Surowono Homage as it's Re-energising and revitalising (and dedicated to active men). Active bamboo charcoal, cajeput and warming spices such as ginger, clove, and nutmeg are combined with therapeutic techniques to release muscle tension, ease strain and reduce stress. The Healing treatments are based on the Javanese philosophy Rupasampat Wahyabiantara, which means "true beauty is achieved when the outer beauty is in harmony with inner beauty". Establishing itself as a luxury spa in Bali, The Apurva Spa applies the traditional wellness techniques using the application of traditional Lulur and Jamu.
On this treatment, you will experience:
Your Sunny Escapade
The beach is located within this huge resort, thanks to its complimentary buggy service, I truly enjoy it! The buggy is available for you to commute around the resort. The beach is located on the southern slopes of Nusa Due with with incredible oceanfront. This is very special to me as The Apurva Kempinski Bali provides a spectacular seaside escape with a mesmerising view of the sunrise everyday. I will recommend you to go for sunset as well as the golden hour will make your instagram picture perfect!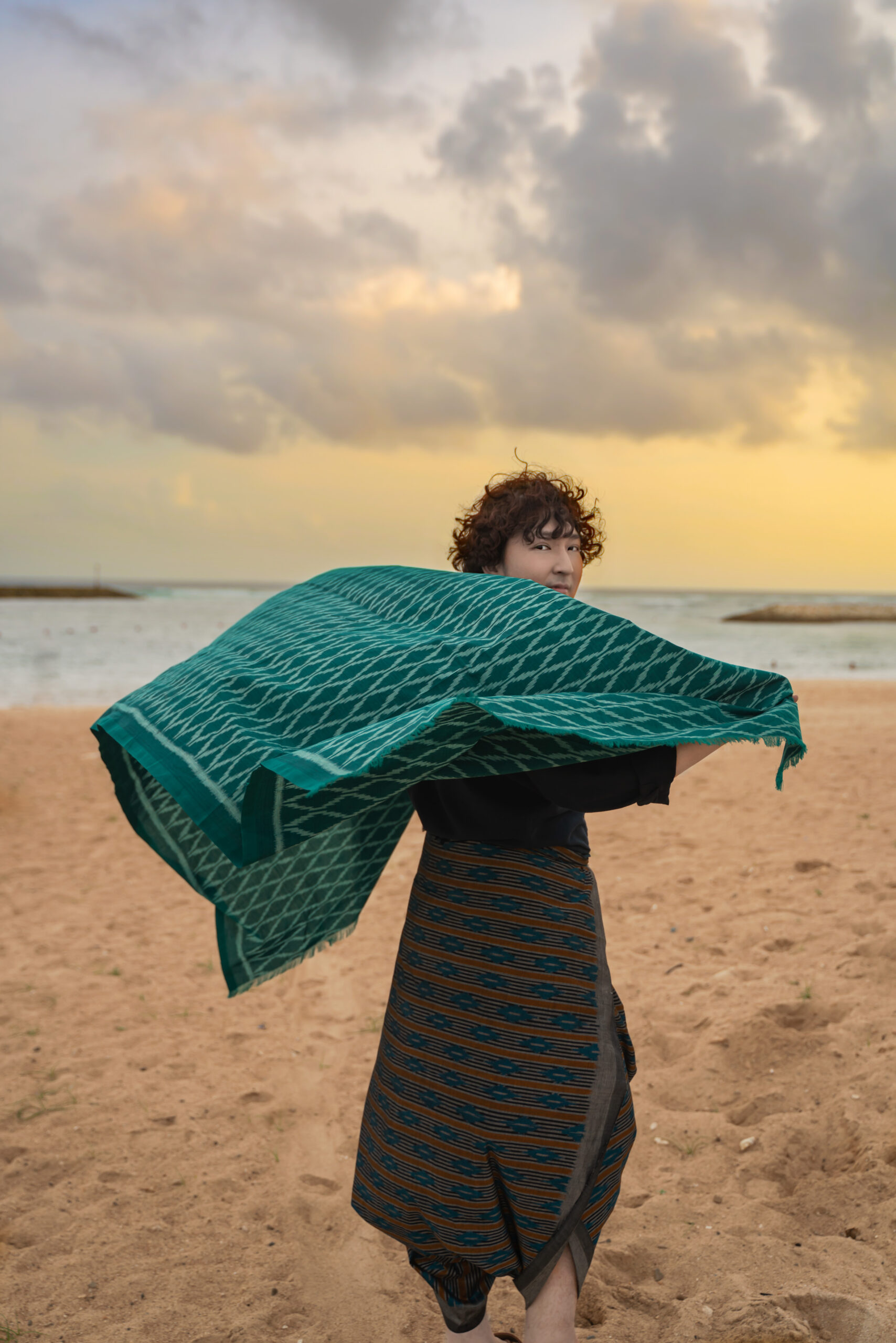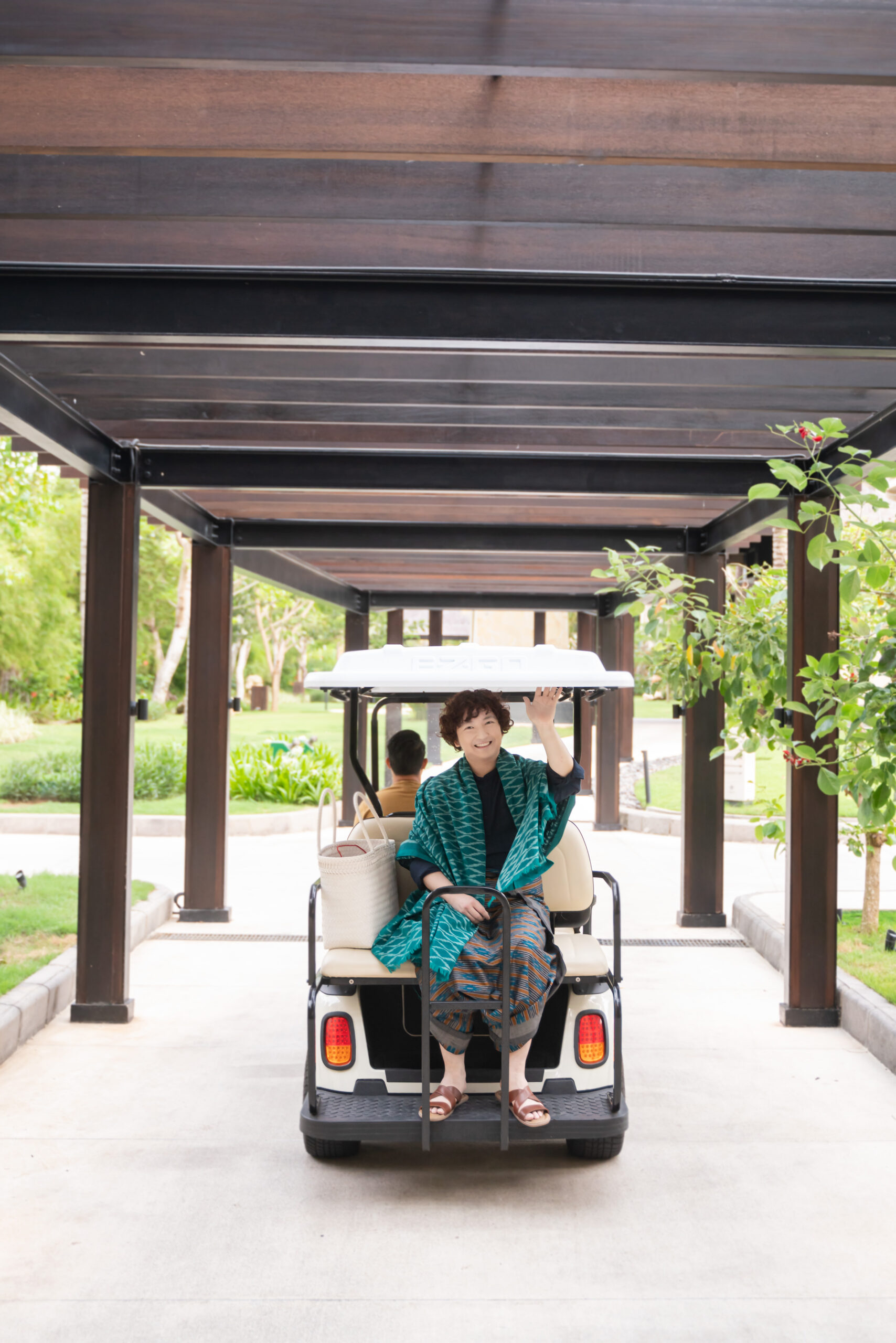 From Dawn to Dusk
I really love this beach club as its architecture unique shape is inspired by the traditional house of Kudus, a regency in Central Java. Known locally as Rumah Joglo Kudus, the distinctive architecture is easily recognised from its high soaring roof. Probably I should say the only beach club in Bali that has this idea of using traditional Indonesian culture into modern days.
It is not just featuring fun and relaxed beachfront experience, Reef Beach Club also has a 42-metre infinity swimming pool and an eclectic mix of Asian and international dishes, complete with an exotic list of tempting cocktail creations, making it an energetic beach club in Bali. I will cover this on my other article, so stay tuned!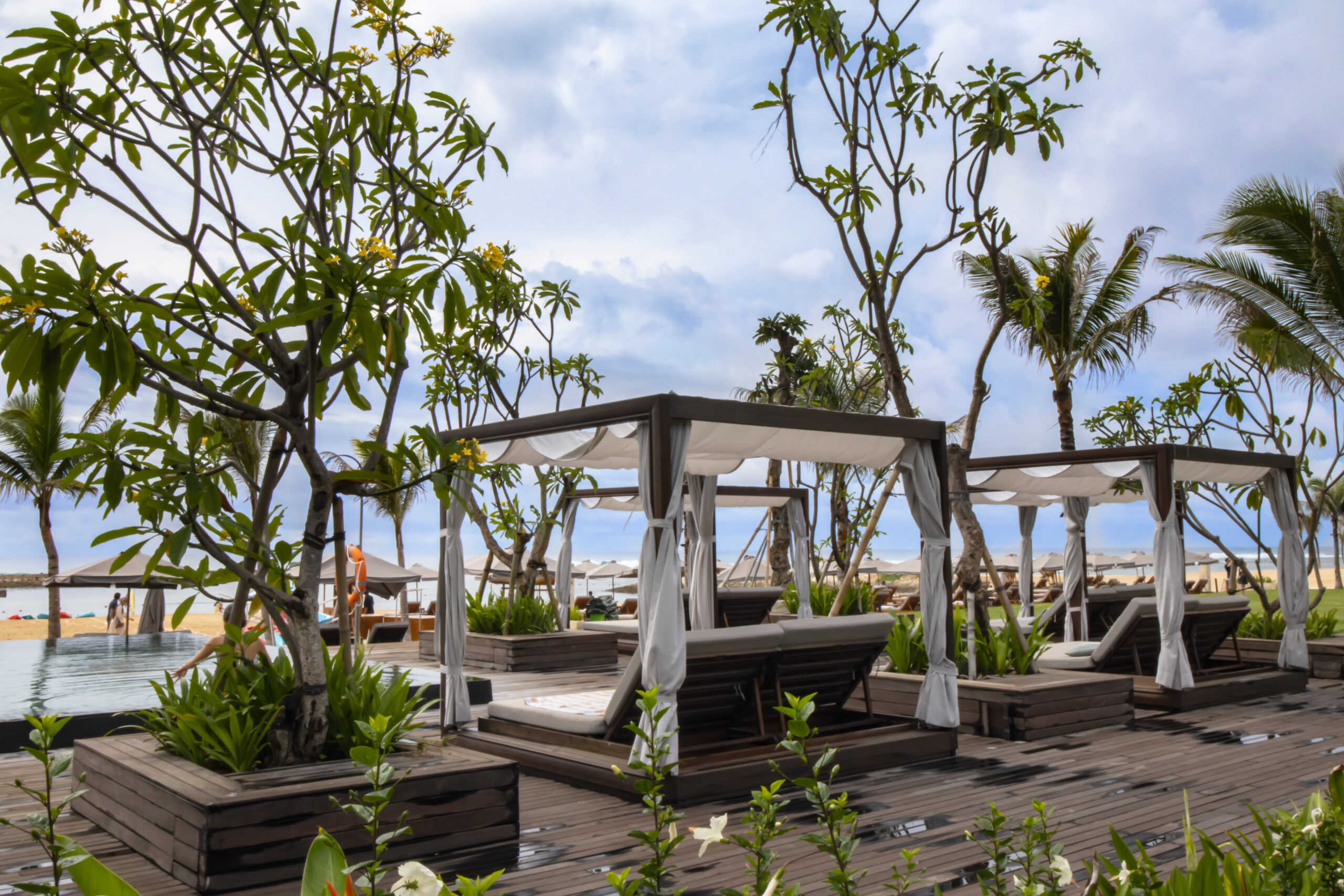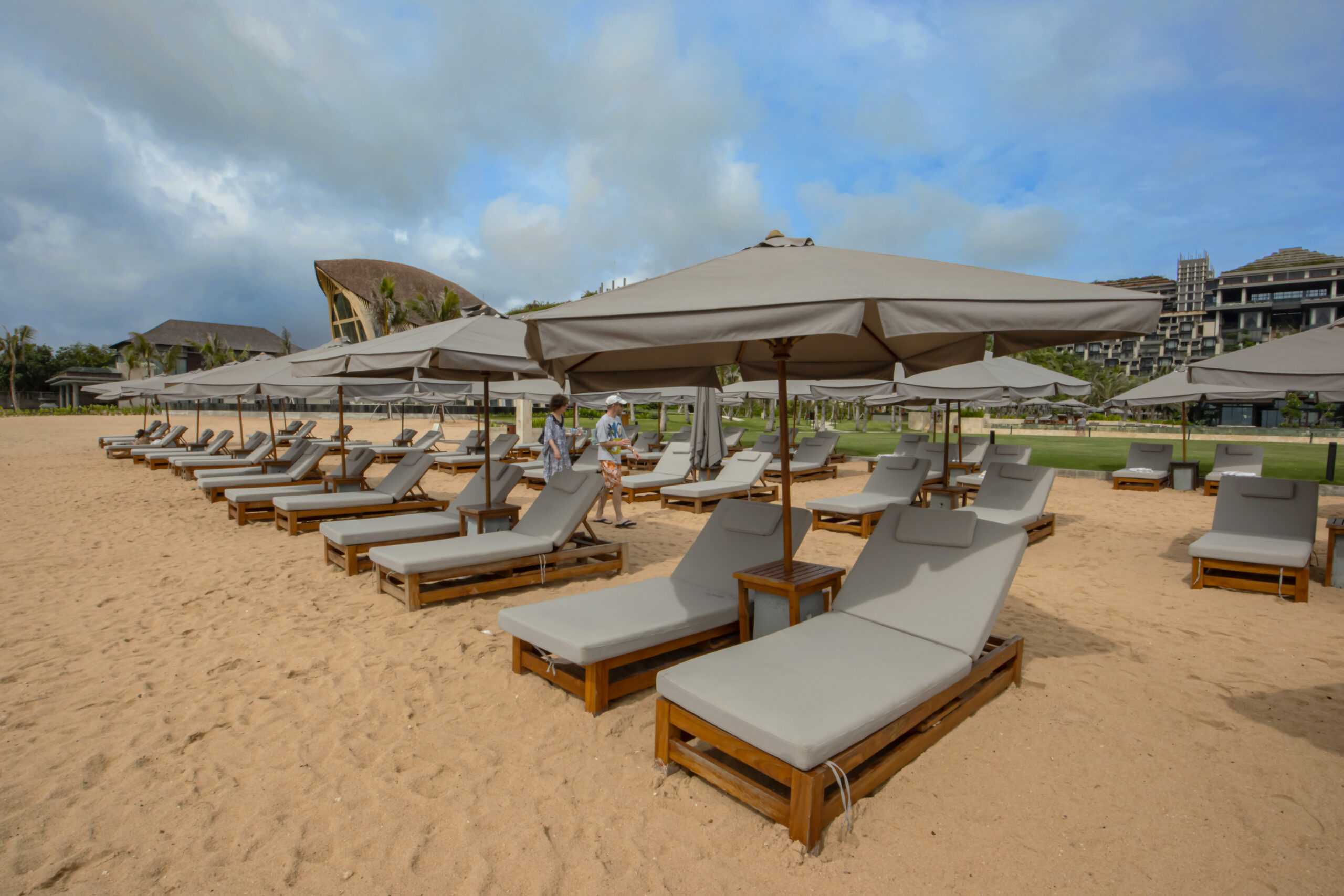 Never Ending Summer
If you love to spend more time at the pool, then this is it for you! Surrounded by tropical gardens with magnificent views of the Indian Ocean, their spectacular 60-metre swimming pool is the perfect place to swim laps or simply to take a refreshing dip at your leisure. If you are traveling with children, don't worry as a children's pool is located adjacent to the main pool.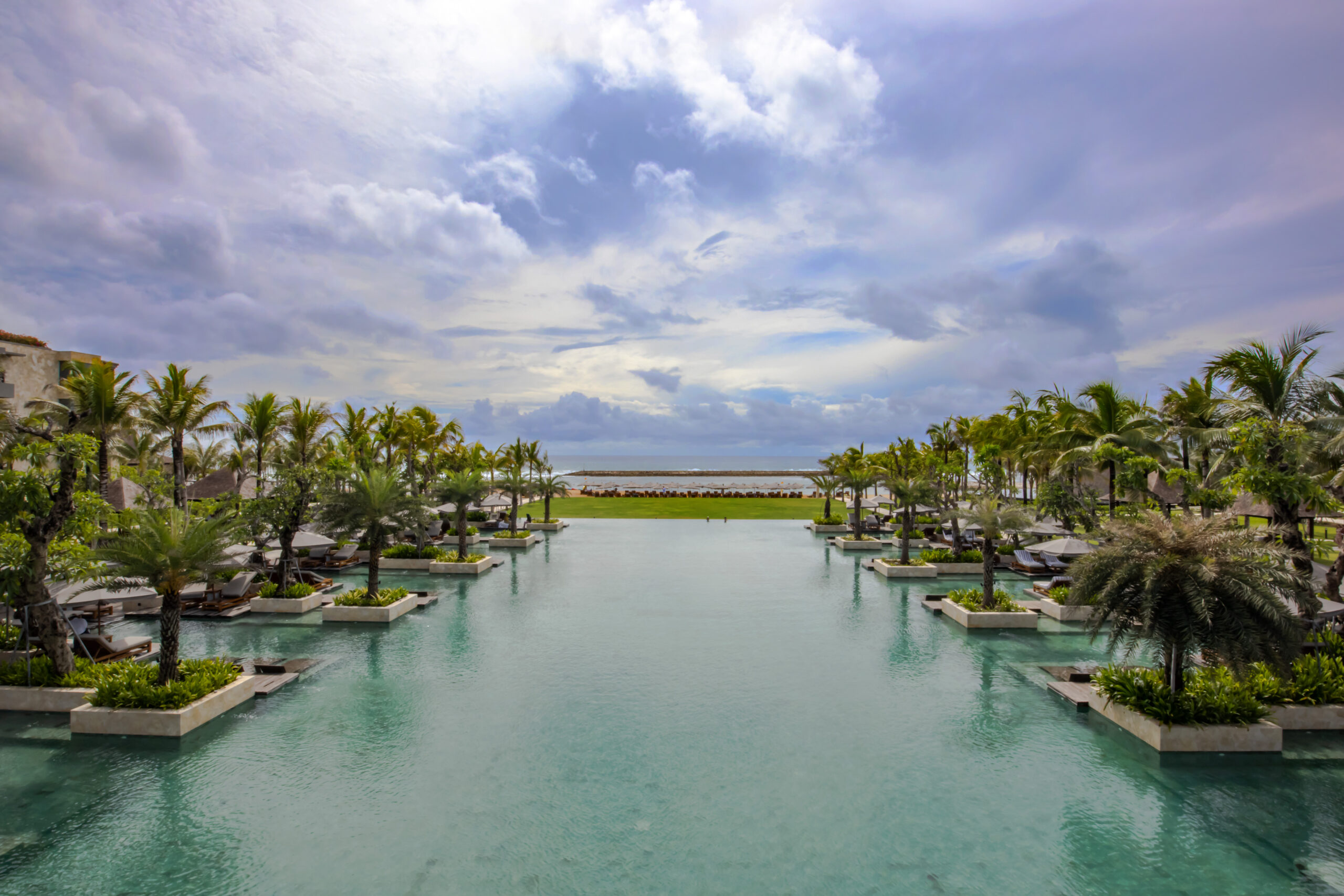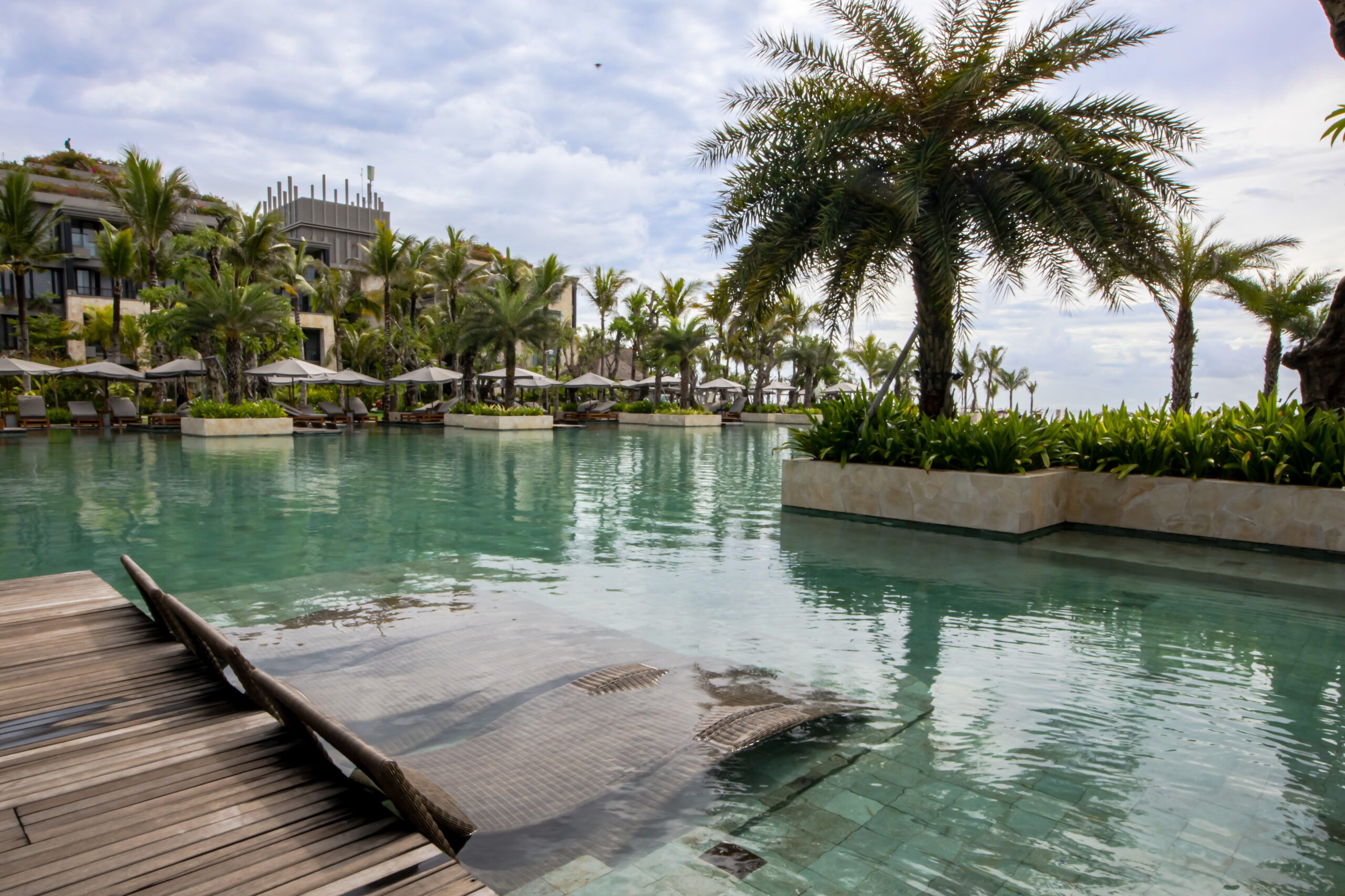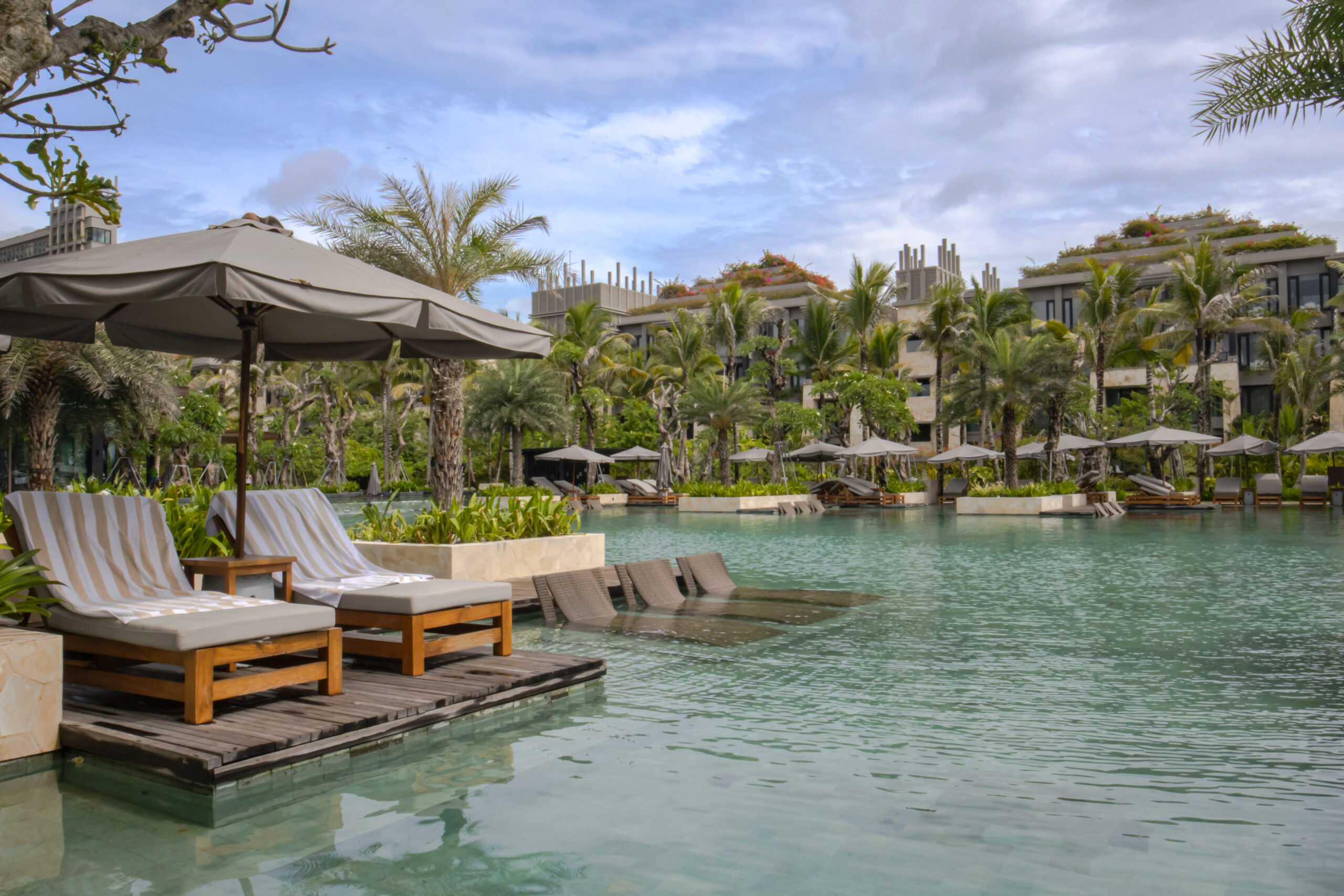 The Ocean Front Apurva Chapel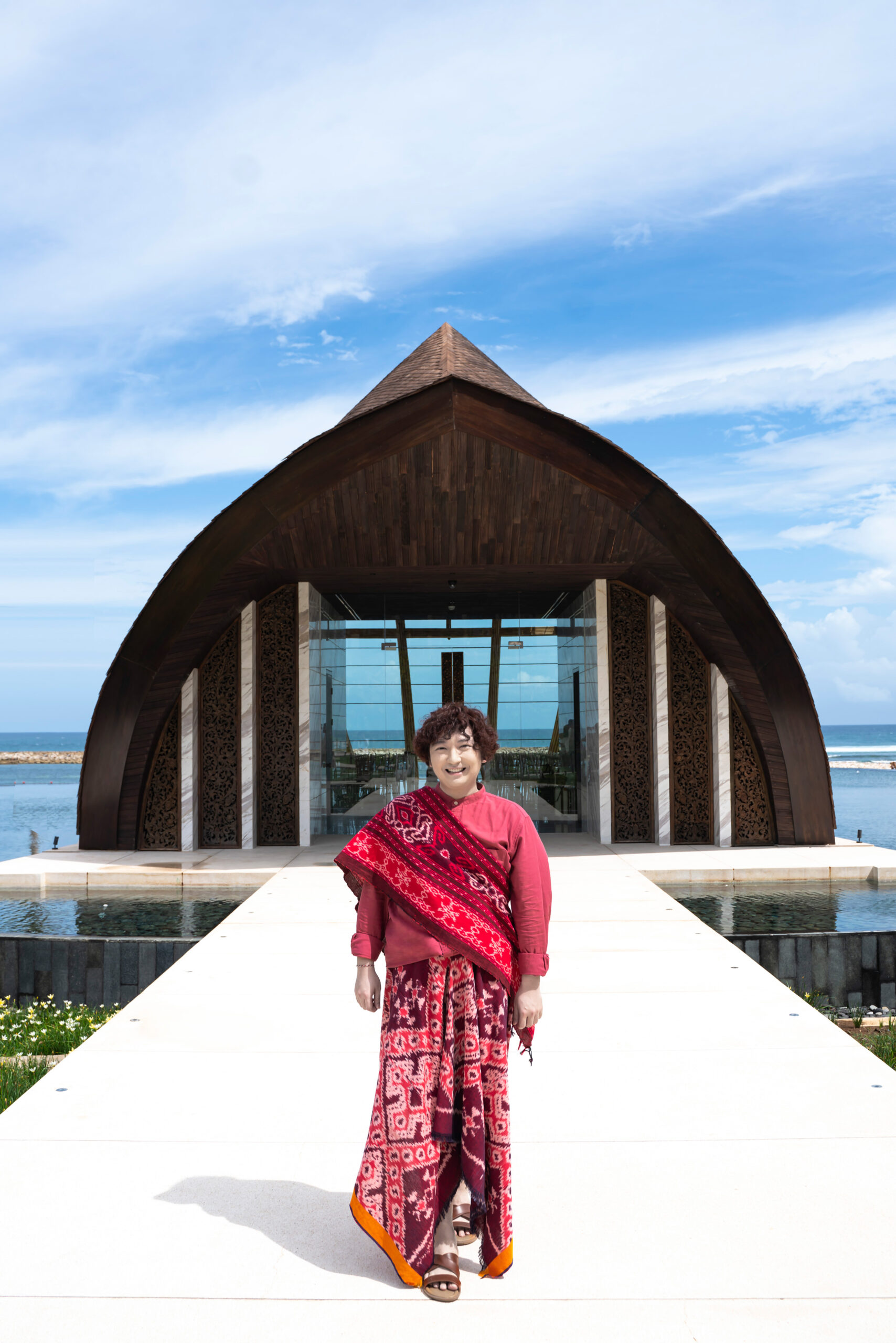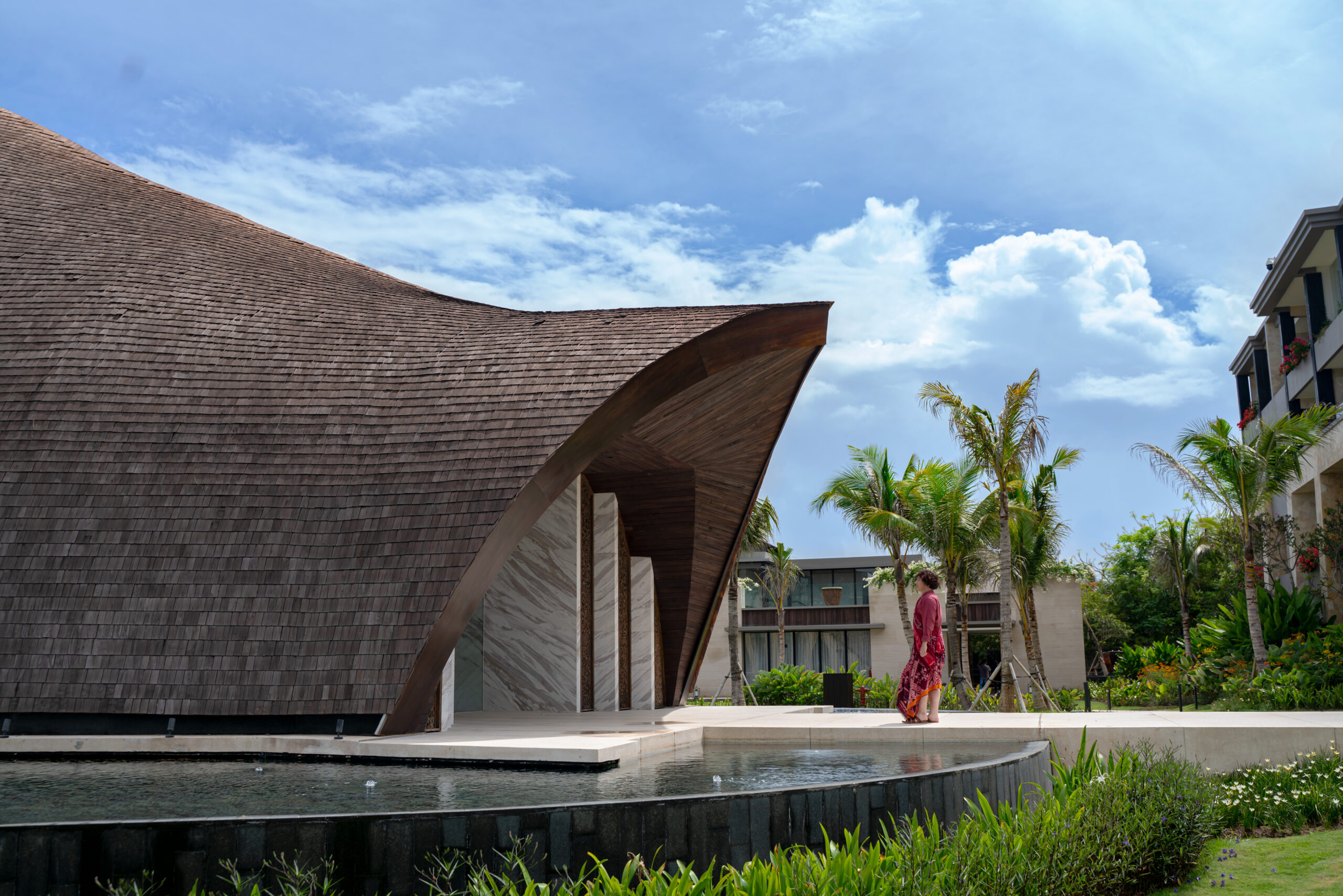 THE OCEAN FRONT Apurva Chapel
Well it's not my wedding (yet!) but I also visit their biggest Chapel among the other smaller chapels. This Apurva Chapel can accommodate up to 100 people, with elegant decor and a beautiful oceanfront setting, complete with a lavish expanse of green garden. Perfect for grand celebrations, the chapel is connected to a two-storey, versatile three-bedroom villa, the Nusantara Presidential Villa. Two infinity pools complement the accommodation, conveniently suited for your special day.
The Cultural Experience - Melukat
M E L U K A T
Tho am Indonesian (I know have said this many times!) but it's my first time doing Melukat. As am from Java, this Melukat is not really common. However, I'd love to try as there's always first time isn't it? I did experience Awakening The Chakra Spirit, one of the hotel's experience which consists of a 30-minute chakra yoga and chakra meditation session at the beach-front lawn, followed by this purification ritual (Melukat) at the nearby Geger Temple in the morning.
After the ceremony, I feel very pure & grateful. "In Balinese culture, the Melukat ceremony is an ancestral ritual that protects a person from the forces of evil. Water is a key feature of the sanctuaries, helping to purify the heart and mind."
I will recommend you to book this experience during your stay at Apurva Kempinski Bali. When we travel, I believe cultural experience should be a part of it!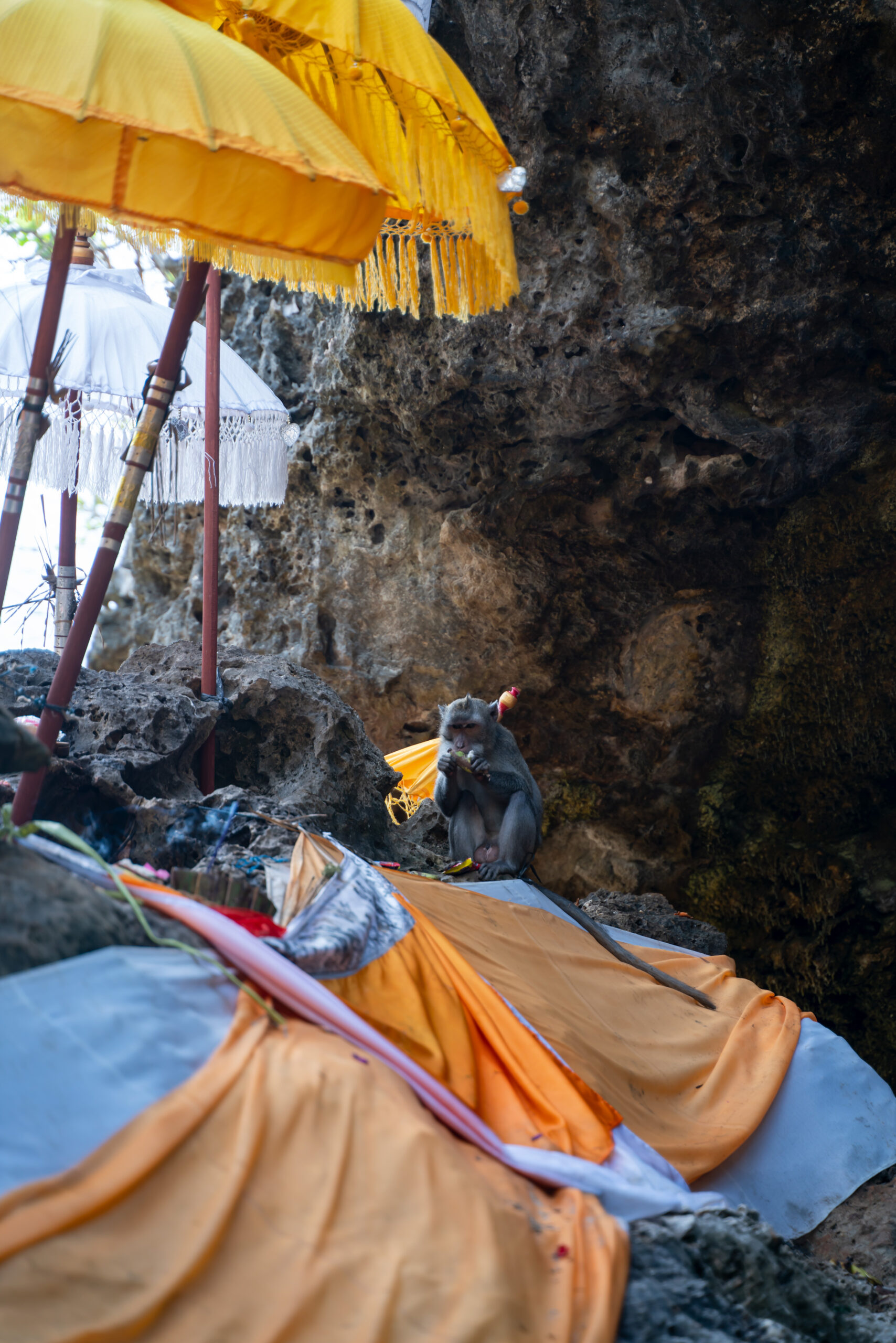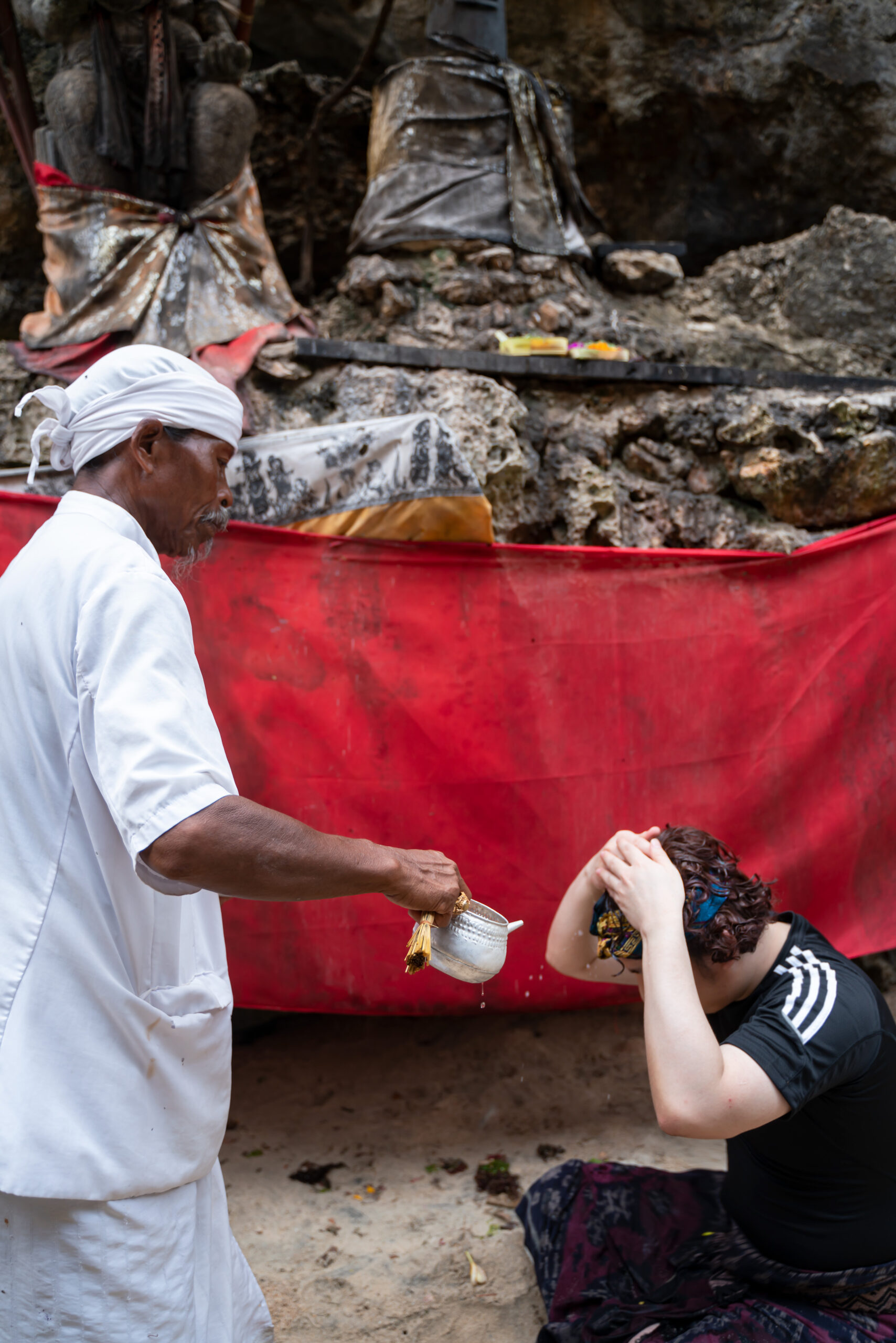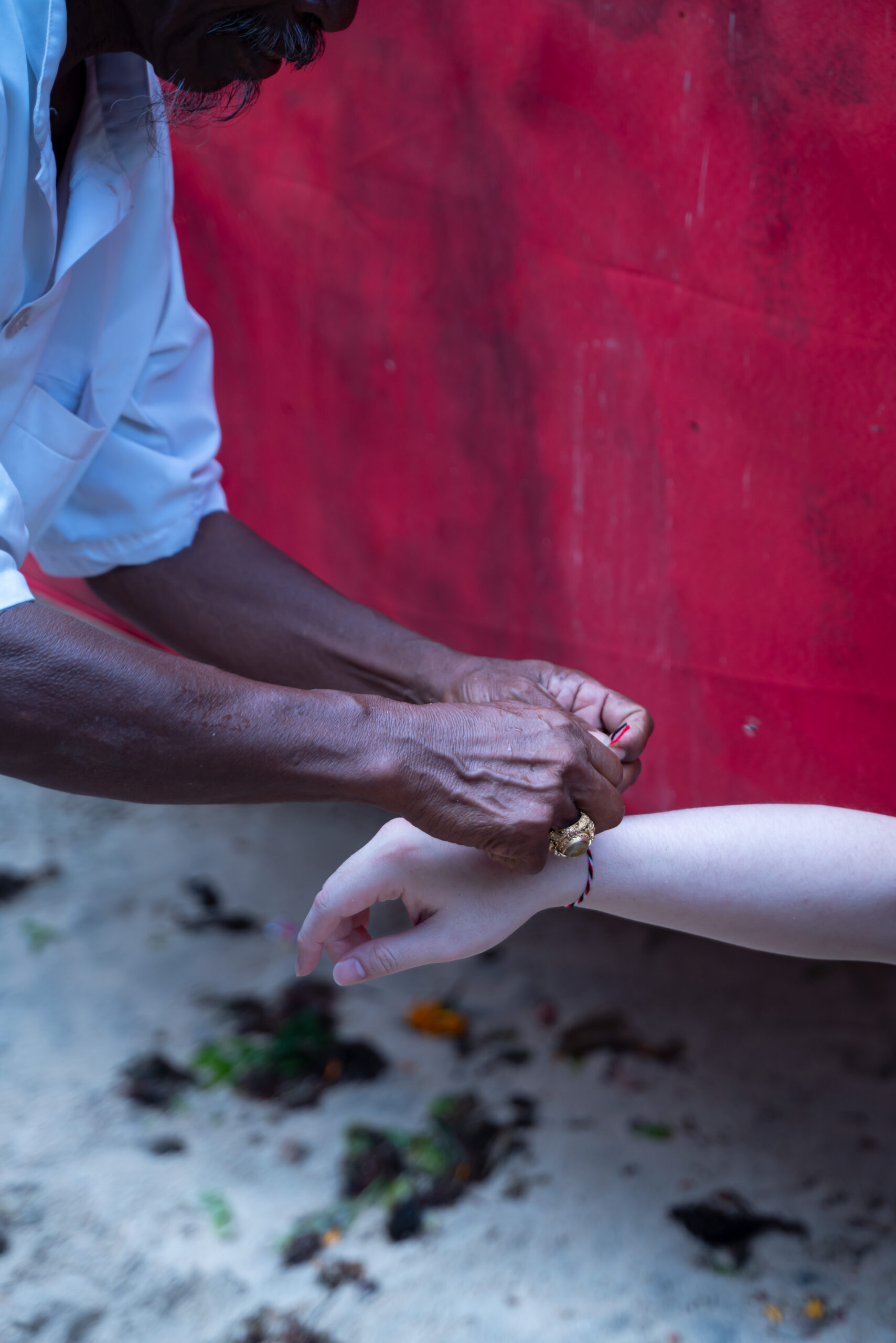 The Cultural Experience - Geger Temple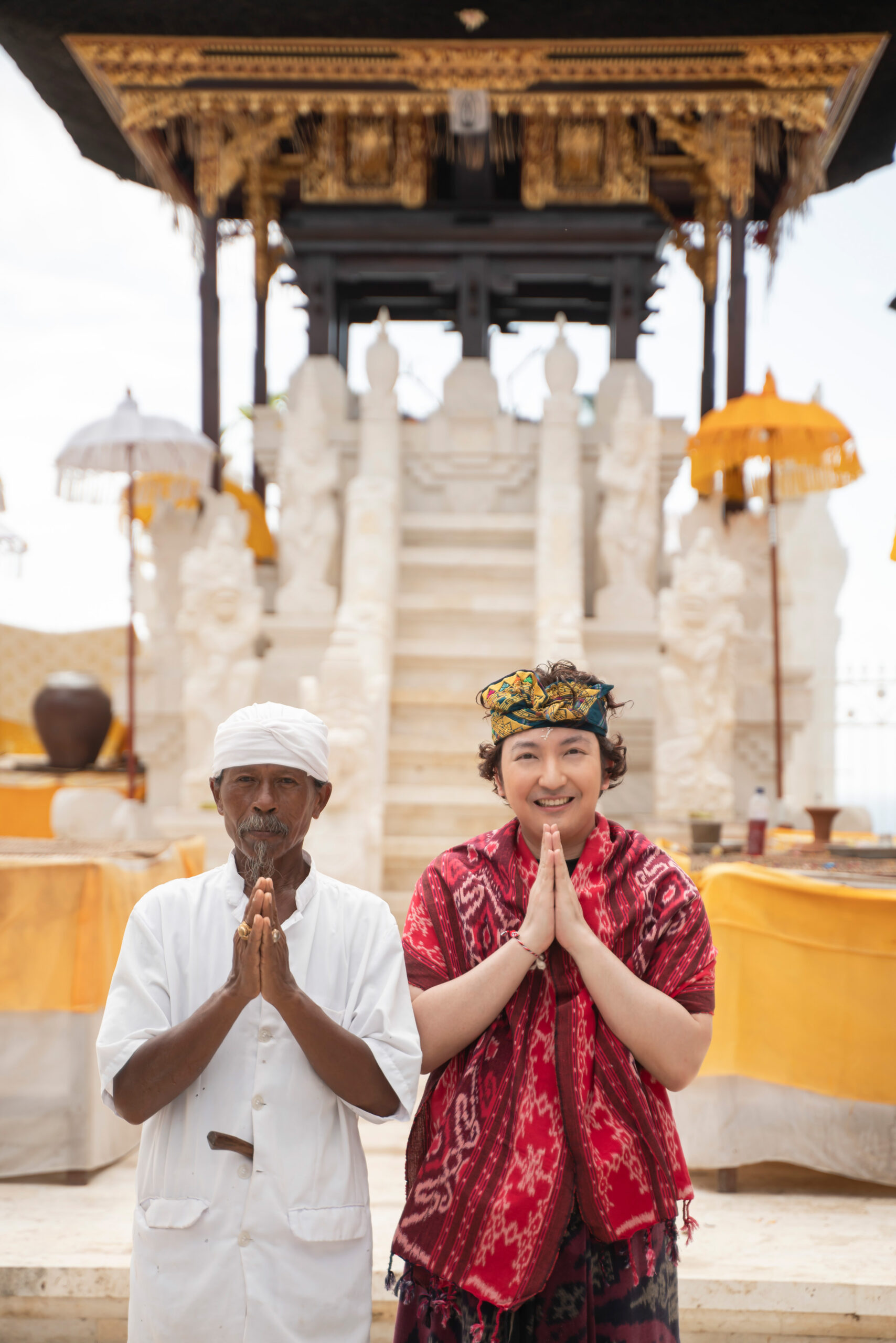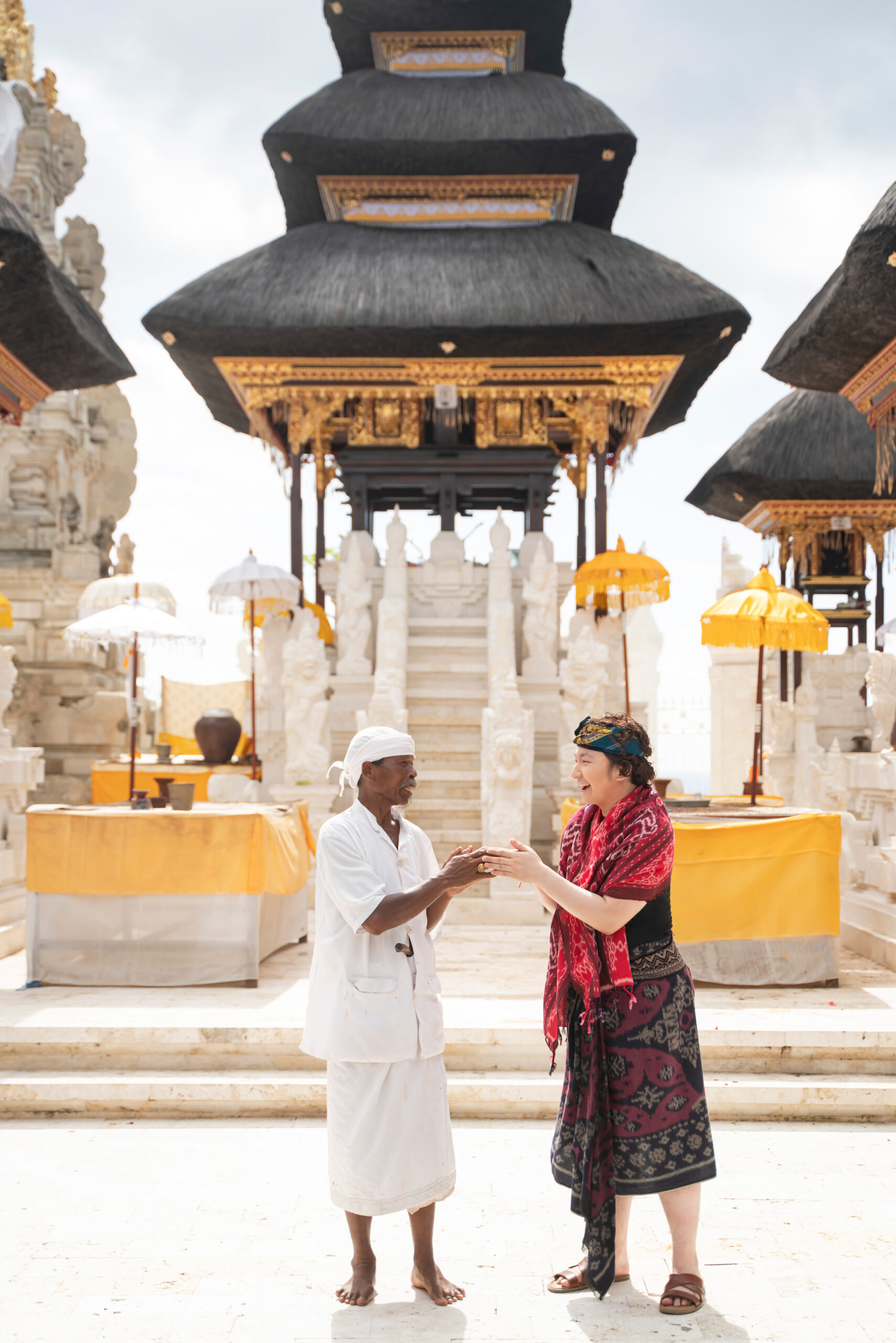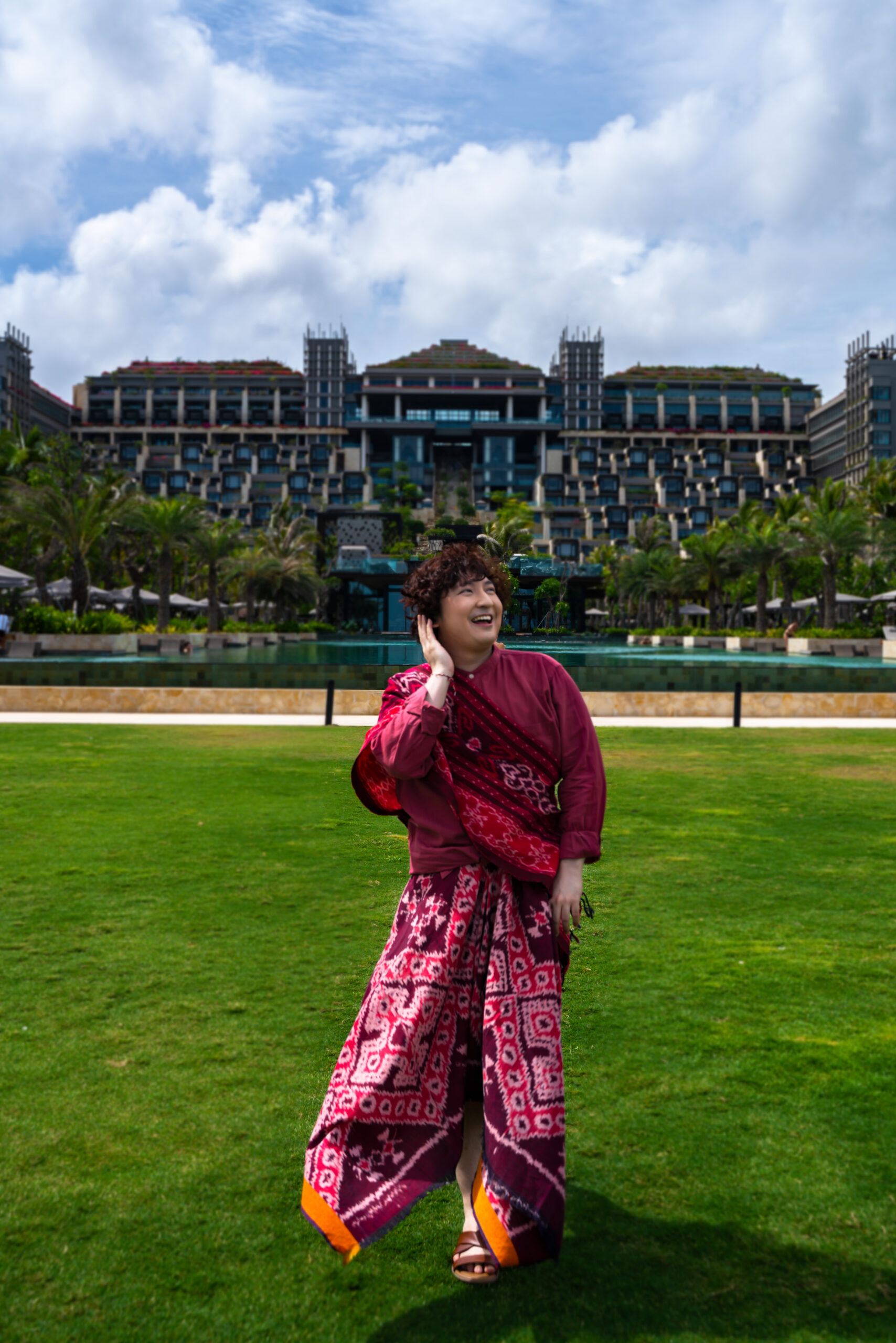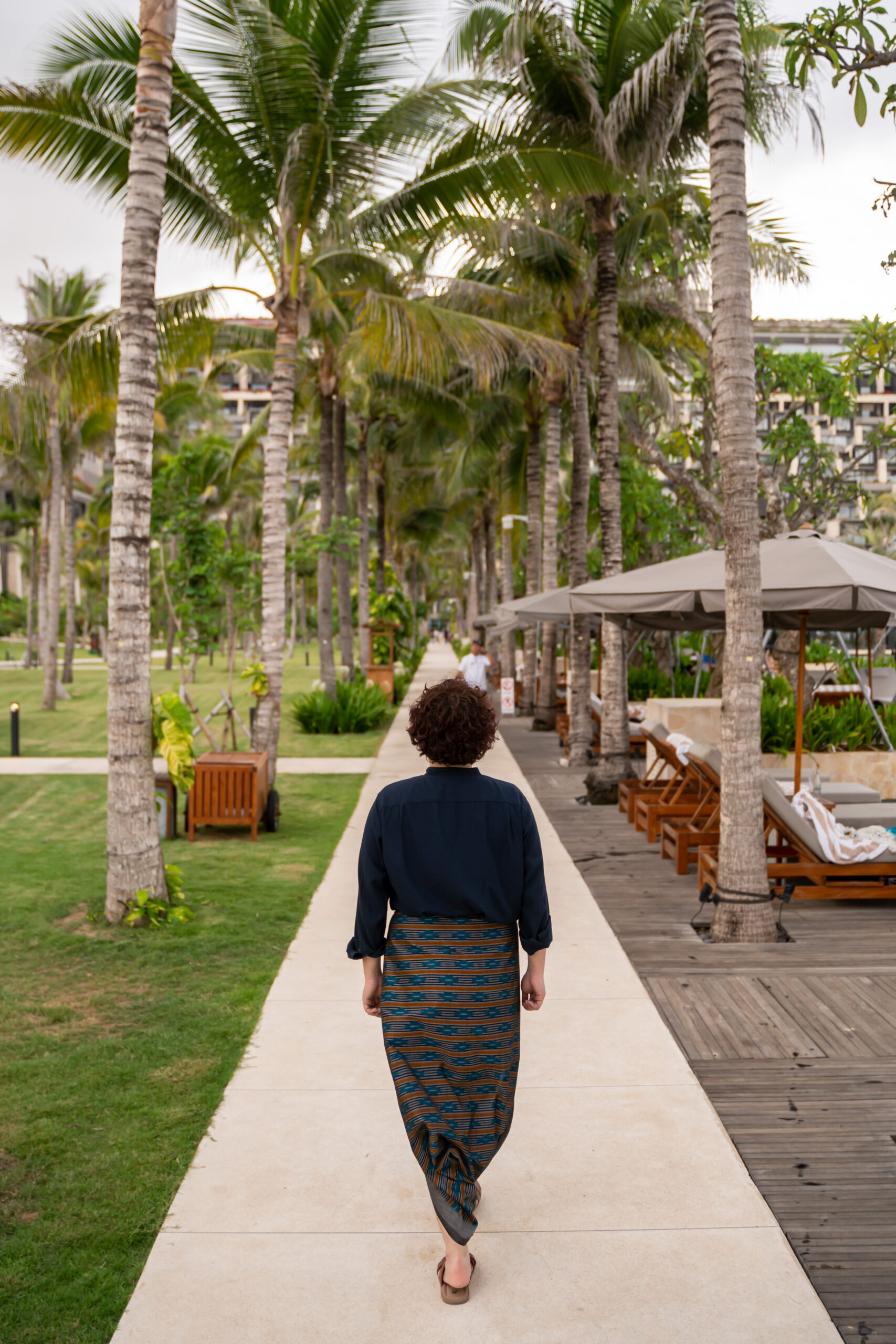 SERENE . SENSATIONAL . UNIQUE . SPECTACULAR . PARADISE
I will definitely recommend everyone to stay here from its first class hospitality to a luxurious haven that captures the essence of Indonesian culture, art and identity. My top 5 reasons (there're so many reasons to stay!) to choose Apurva Kempinski for your next holiday/staycation:
Spectacular Architecture & Interior Design
To be honest, Apurva Kempinski has nailed its architecture design and interior with no doubt. Every corner of this resort is instagrammable!
Unique Spacious Suite with Private Pool
I love privacy, and this suite just give everything that I need witin 100 sq m suite. From flower bath to floating breakfast in the private pool, it's kinda like me time guaranteed! (or if you travel for honeymoon then yes book this room!). You can also have the privilege to hang out at its Exclusive Cliff Lounge for just suite guests.
Sensational Luxury Spa Experience
With no doubt I will also recommend its immersive ocean-facing spa treatments inspired by traditional Balinese healing practices, to promote balance and wellbeing.
Serene Beach & Reef Beach Club
I love to spend my time reading book by the beach (ain't that nerd am promised) and jump into the huge infinity pool in between. The view of Indian Ocean itself is amazing and just can't get enough to see sunset!
Gastronomy Paradise
If you love food (just the same as me), Apurva Kempinski Bali offer S6 restaurants (yes SIX and each of them is unique and amazing!), bars and lounges to soak in the sensational natural setting, with sweeping views and indoor/outdoor dining venues that celebrate regional flavours. If you are a foodie, I will have an upcoming article to share with you The Gastronomy Experience at Apurva Kempinski Bali soon, stay tuned!
Well well, that's my whole three days experience, I hope you enjoy reading this, to help you learn more and inspire you why Apurva Kempinski Bali should be on your next holiday/staycation! ♡ Ciao for now!
I'll recommend you to spend at least 3 nights for your next luxury stay, here's my itinerary below:
Architecture & Design
100%
Gastronomy & Mixology
98%
Special Add On: Luxury Airport Transfer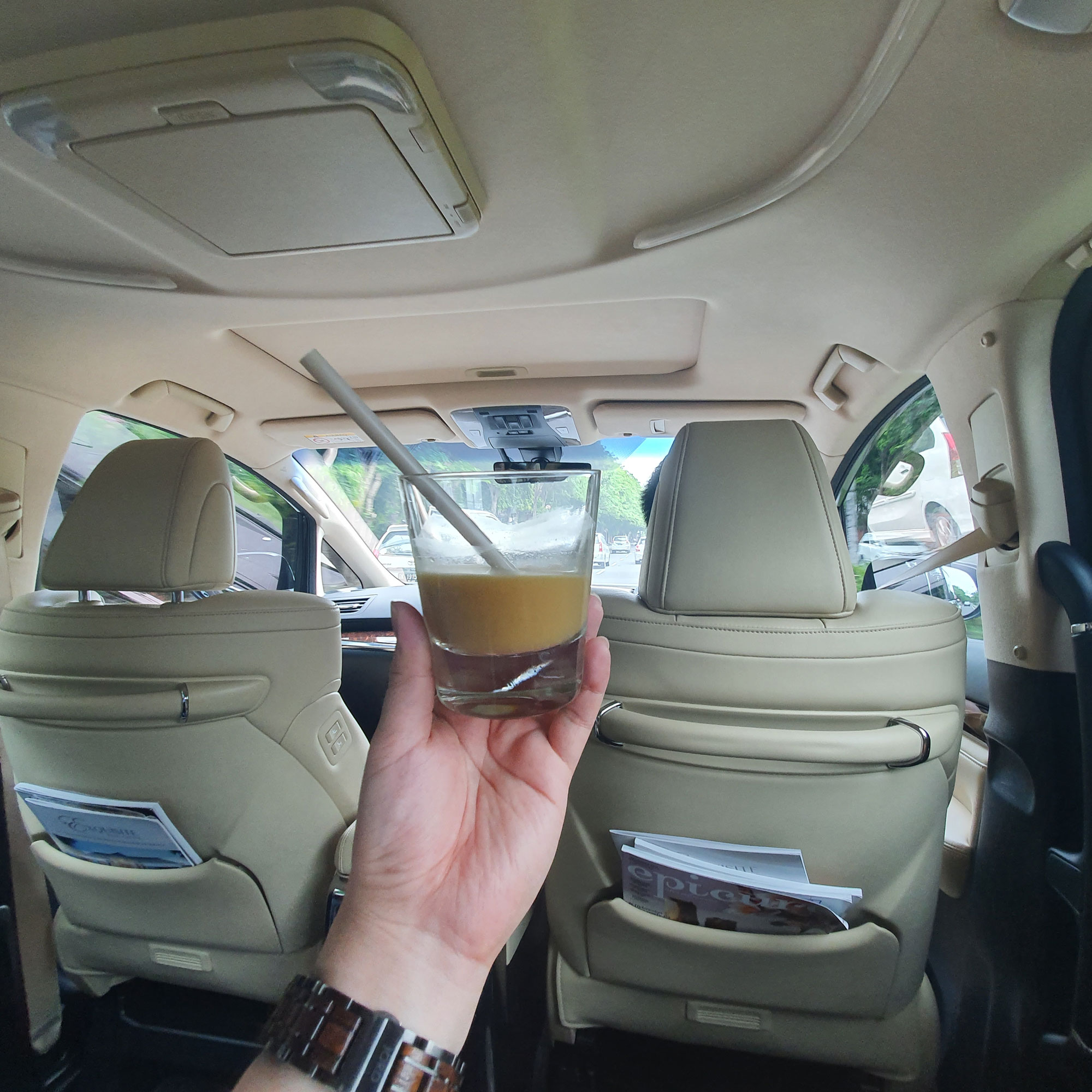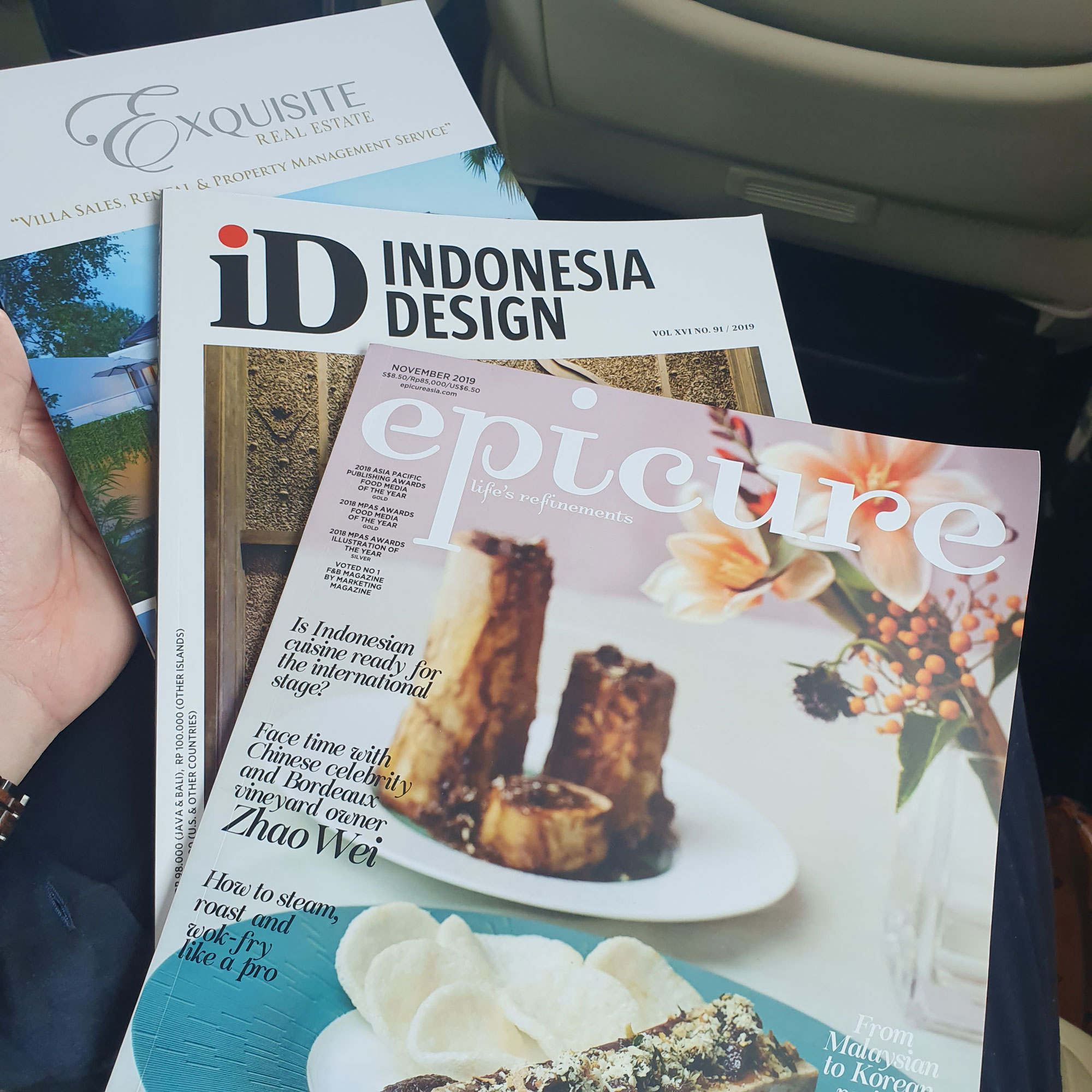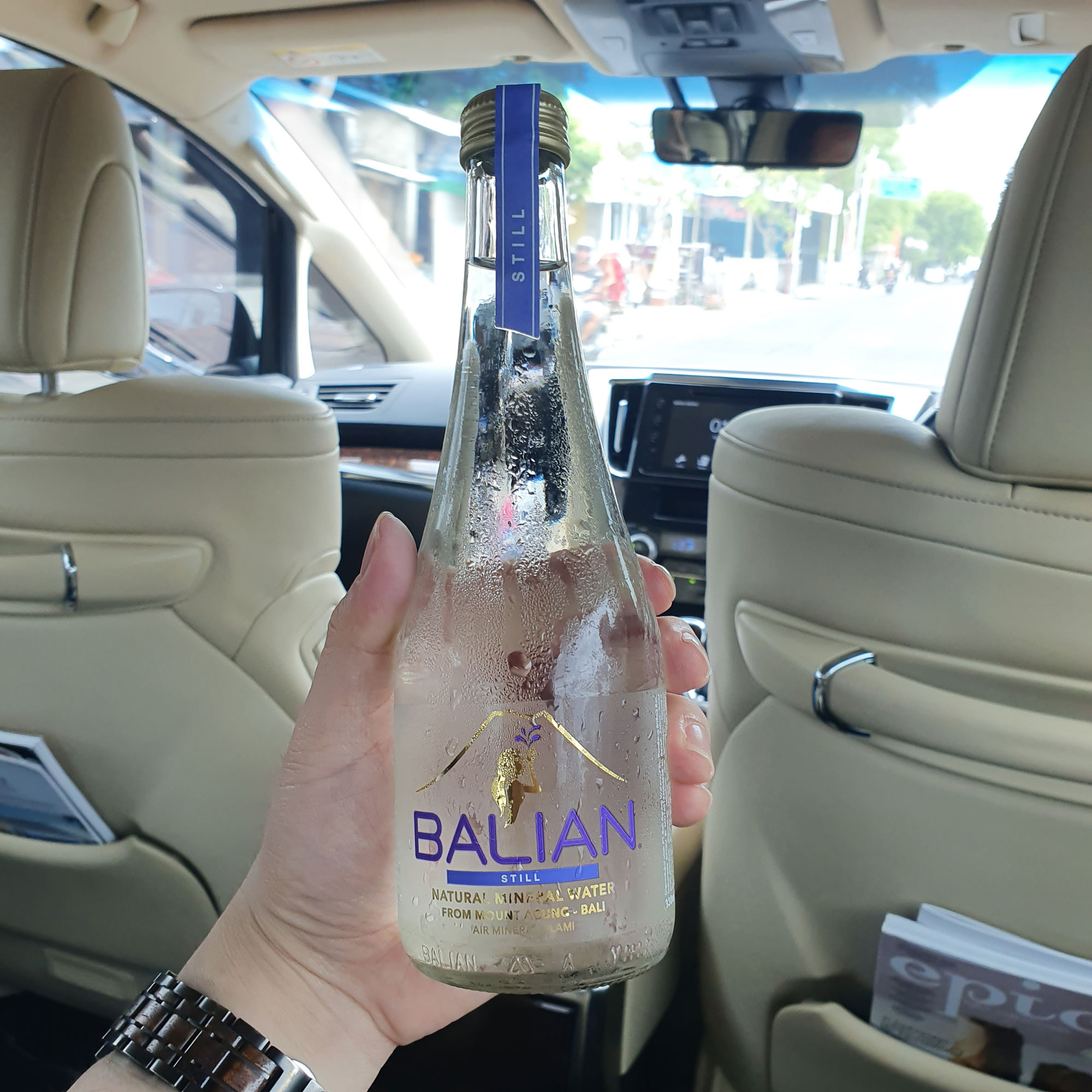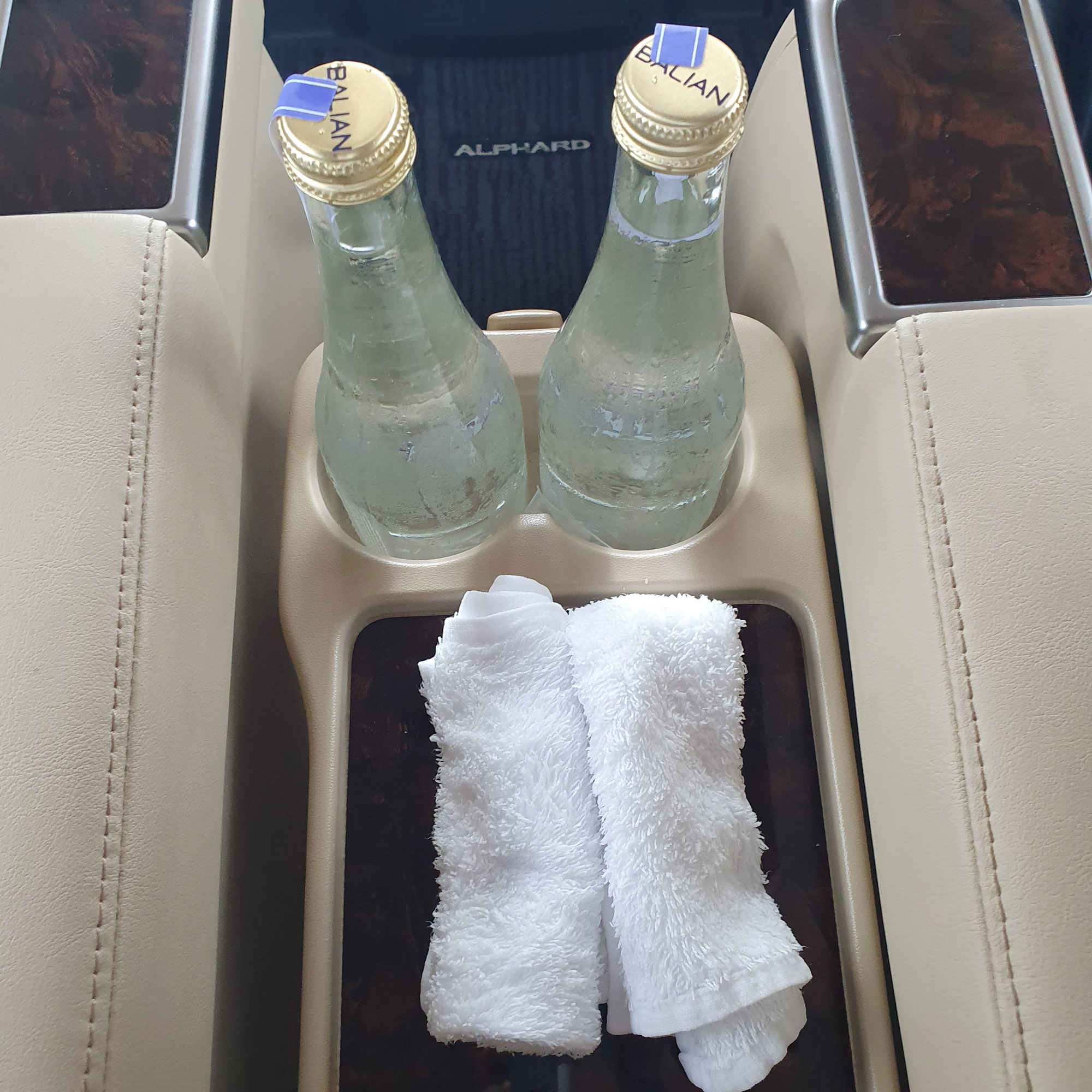 The Apurva Kempinski Bali is perfectly located for business and leisure travellers alike. Just 15 minutes from the Ngurah Rai International Airport, the resort is close to upscale shopping and entertainment options, and the Bali International Convention Centre is a short drive away.
Please contact its concierge team at [email protected] to arrange transfers. They can organise luxury airport transportation facilitated by the hotel team at IDR 1,300,000 ++ (e.g. Toyota Alphard) or through a preferred mobility partner at IDR 450,000 ++ (e.g. Toyota Innova)
Grazie e ci vediamo presto! ciao ciao