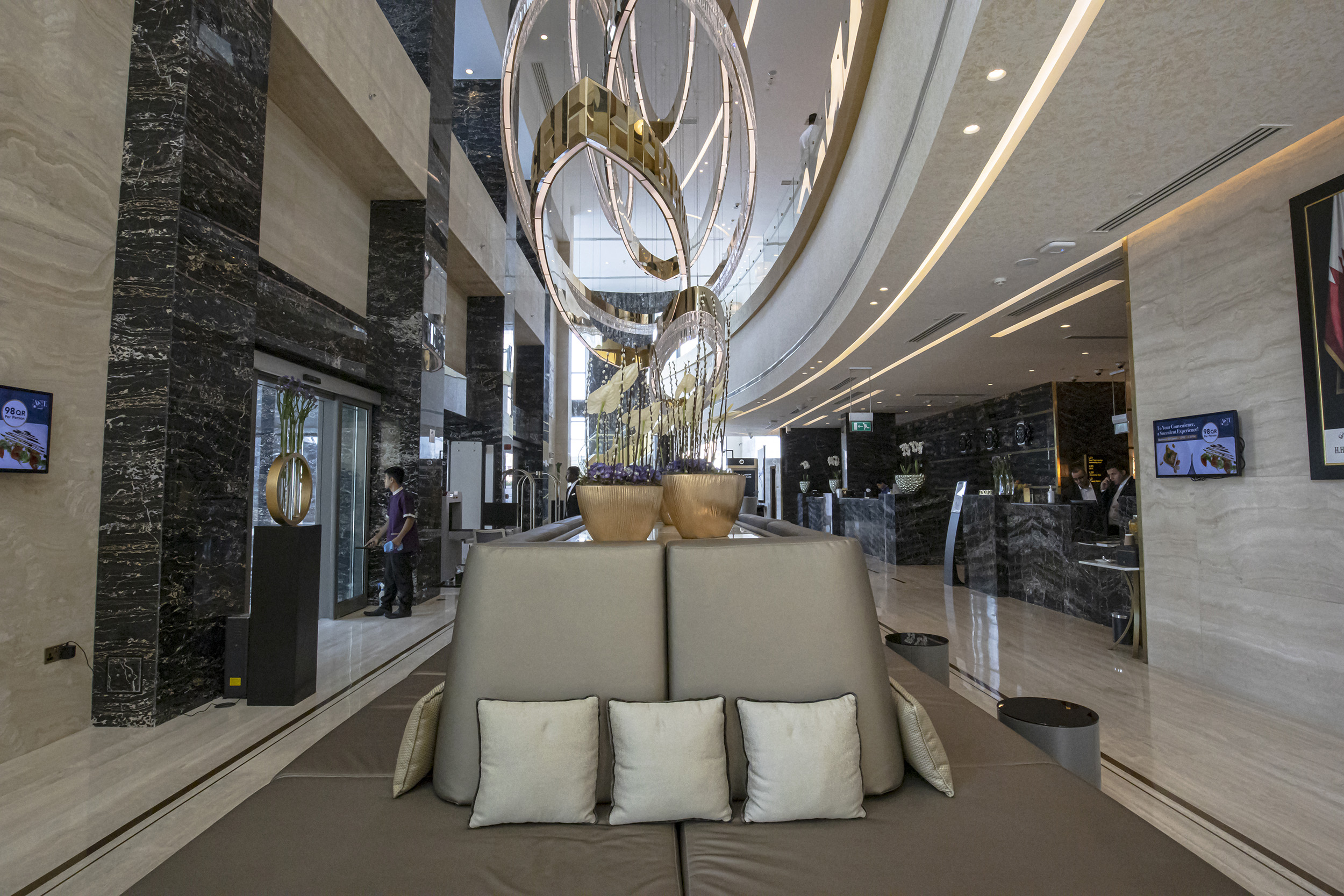 As soon as I walked into the lobby, I saw the genuine smiles from the staff and straight away, it reminded me when I was in Bangkok where people are so warm and welcoming. Yes, this is Dusit Doha, a five-star hotel where Royal Thai Hospitality is known for its best.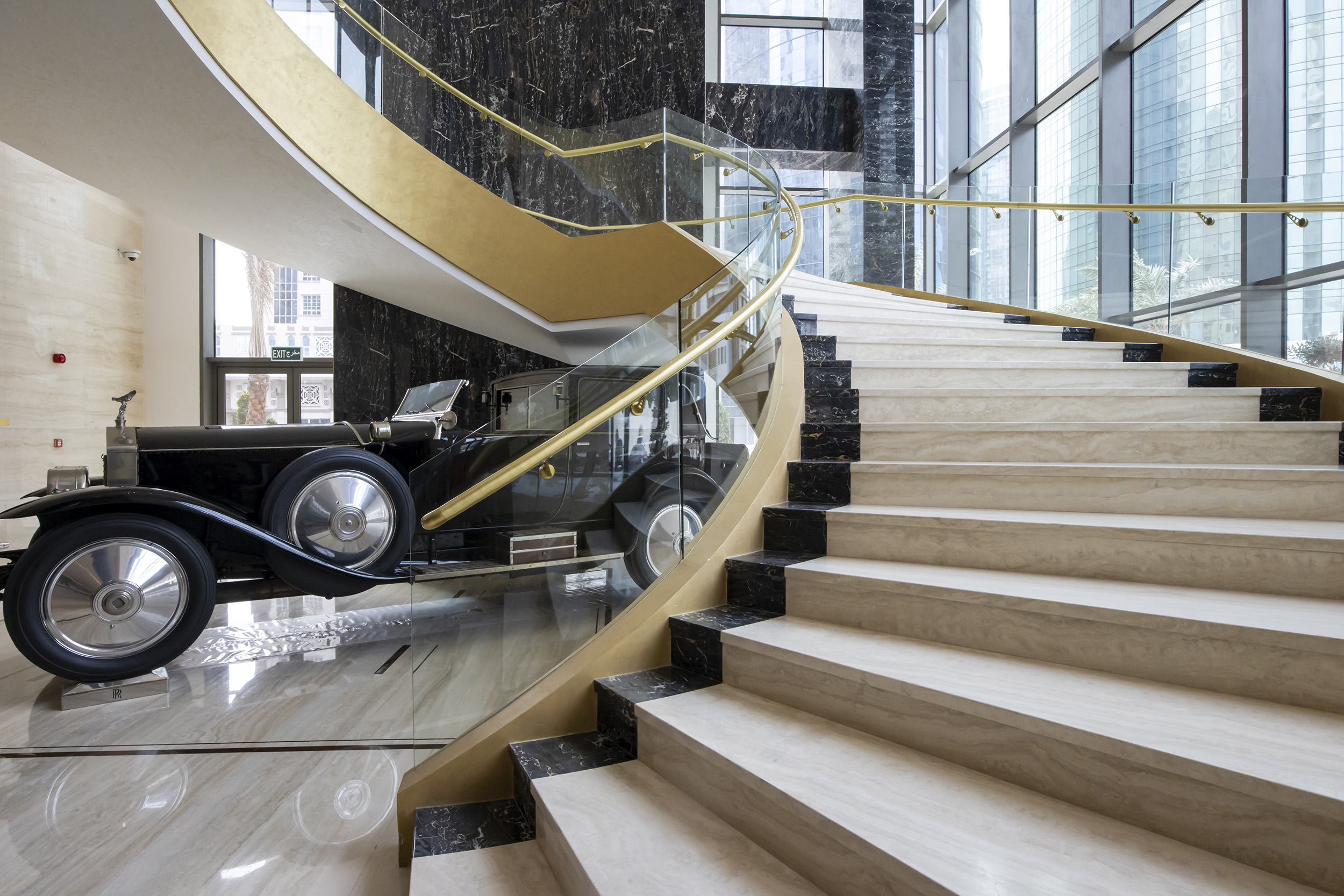 The lobby is grand with beautiful chandelier, luxurious sofa and this huge car by the stairways, just amazing first interior design!
The Architecture & Interior Design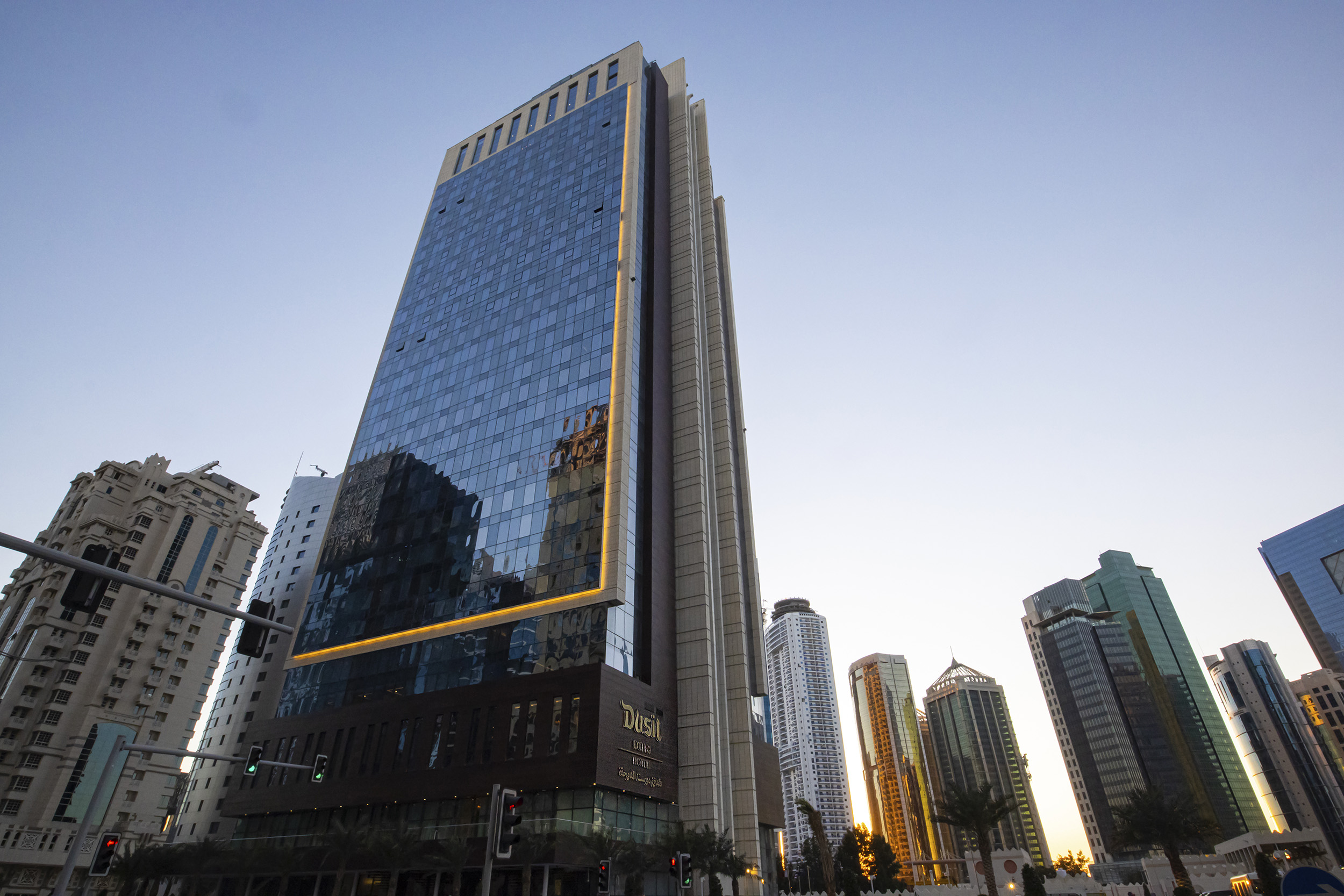 West Bay, Doha is known for its skyscrapers, and Dusit Doha is one of them. From its majestic architecture, it shows the modern architecture by its clear glass. You can see the bright reflection of the sky and oh at night it will light up!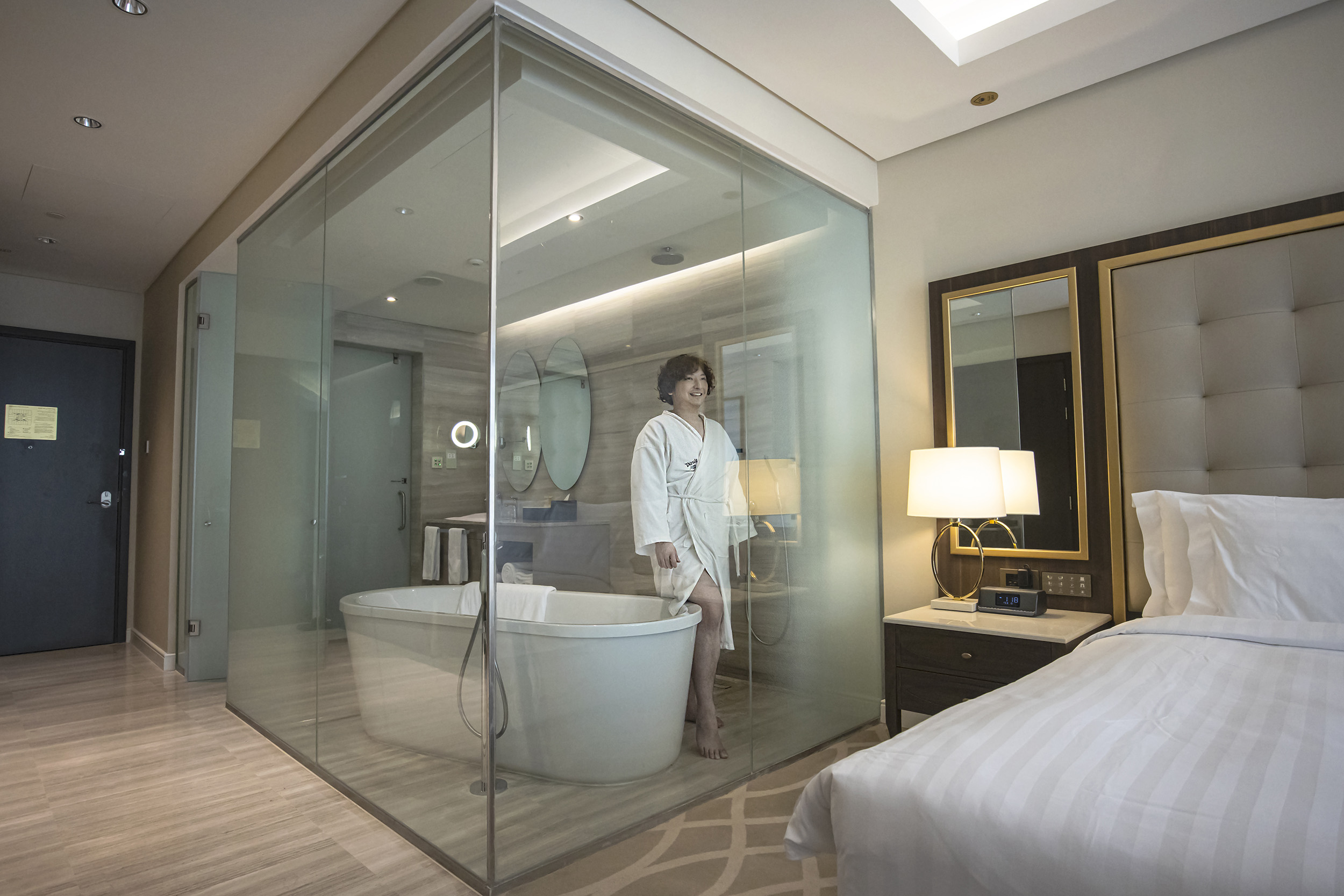 Bedroom
With 357 guest rooms, suites and apartment, all are designed with modern elegance and comfort. I was lucky to experience their King Room on the 10th floor. With comfortable living spaces featuring dramatic floor-to-ceiling windows, you can enjoy the incredible city views and beautiful desert sunlight. It is not just giving me a very relaxing ambience but also featuring a seamless technology room control.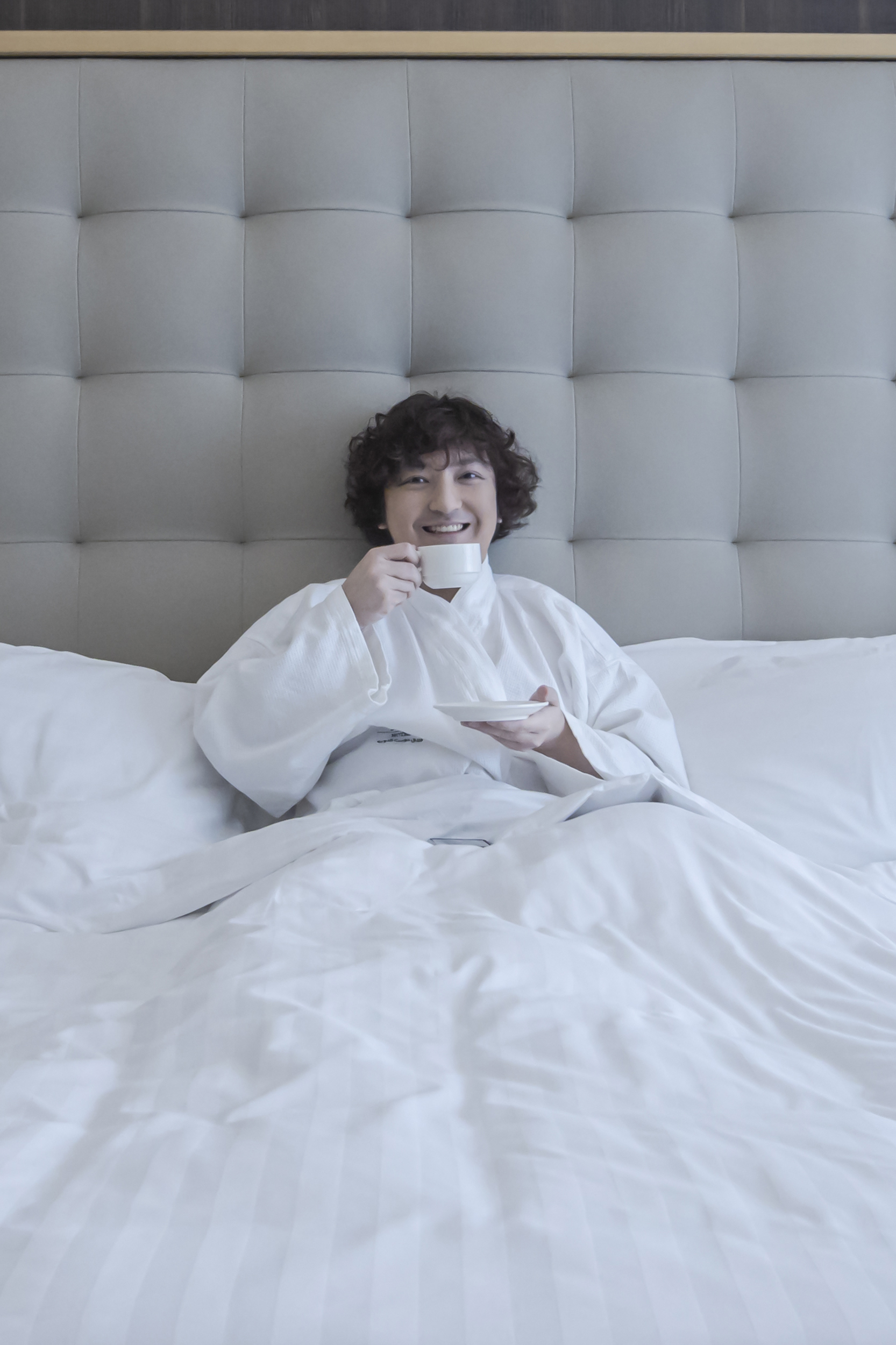 Bathroom
Their bathroom is one of my favourites! With no wall, just glass designed led, the bathroom brings the uniqueness to the room. With curtain control, you can also adjust your privacy at your convenience. The separate bathtub and rainfall shower just gave me what I needed, oh yes and a separate toilet!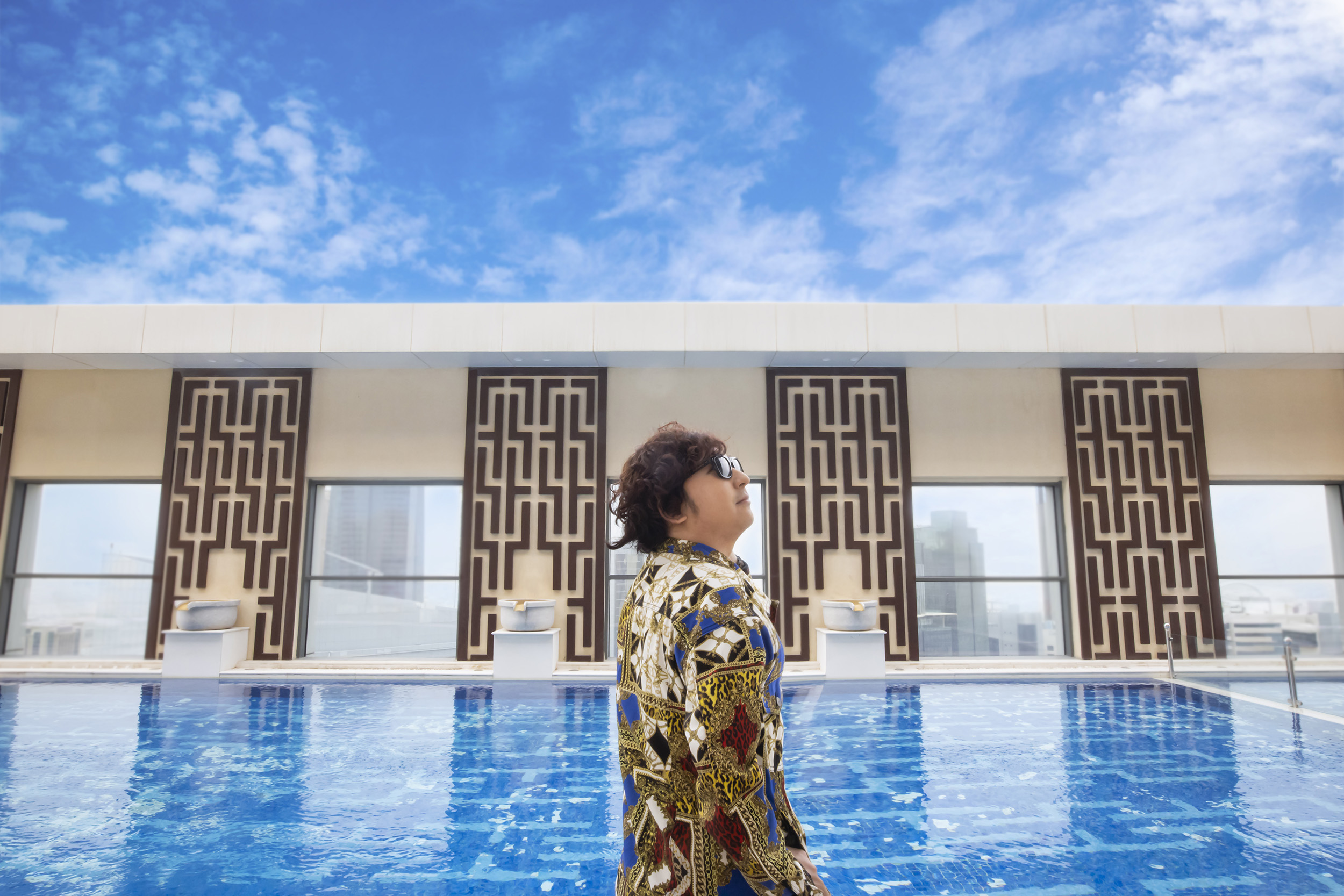 A rooftop pool is located at level 31 where the rooftop sundeck area, you can enjoy Doha City landscape. Children's pool is also available for a family's comfort during their stay.
Stay fit during your stay with its fully-equipped fitness centre at level 30.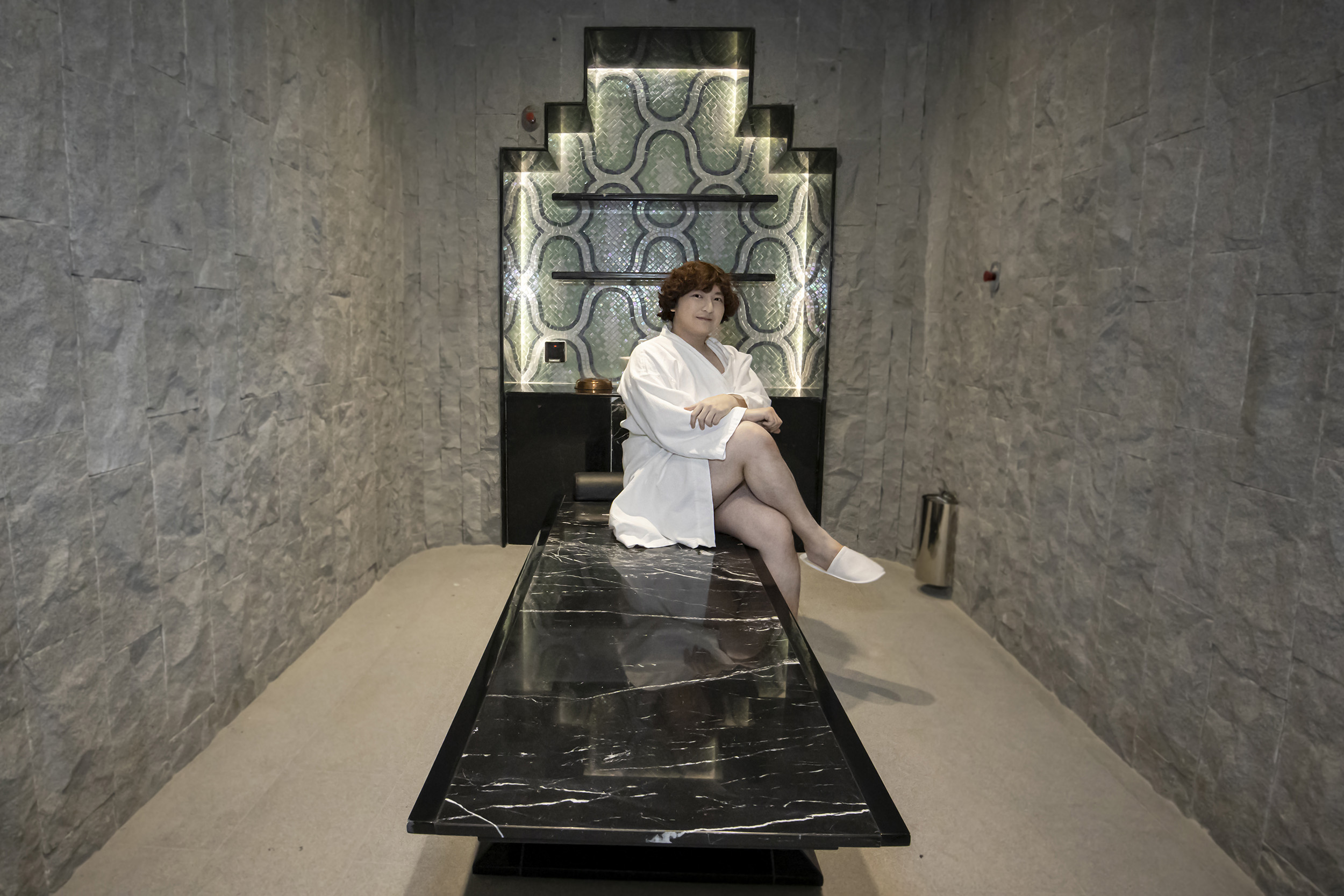 Located at level 29, the exceptional Devarna Spa will bring you to ZEN. It has two areas dedicated for male and female, with 17 treatment rooms and VIP Suites for solo and couple's treatments.
Devarana Spa with panoramic views, offers a unique selection of signature #spa treatments that will give you the ultimate pampering experience from facials to body therapies, including:
1. 𝙃𝙖𝙢𝙢𝙖𝙢 𝙎𝙥𝙖
2. 𝘽𝙖𝙩𝙝𝙞𝙣𝙜 𝙧𝙞𝙩𝙪𝙖𝙡𝙨 𝙬𝙞𝙩𝙝𝙞𝙣 𝙞𝙩𝙨 𝙨𝙪𝙞𝙩𝙚 𝙤𝙧 𝙘𝙤𝙪𝙥𝙡𝙚 𝙧𝙤𝙤𝙢
3. 𝙅𝙖𝙘𝙪𝙯𝙯𝙞
4. 𝙎𝙩𝙚𝙖𝙢 𝙍𝙤𝙤𝙢
5. 𝙎𝙖𝙪𝙣𝙖 𝙍𝙤𝙤𝙢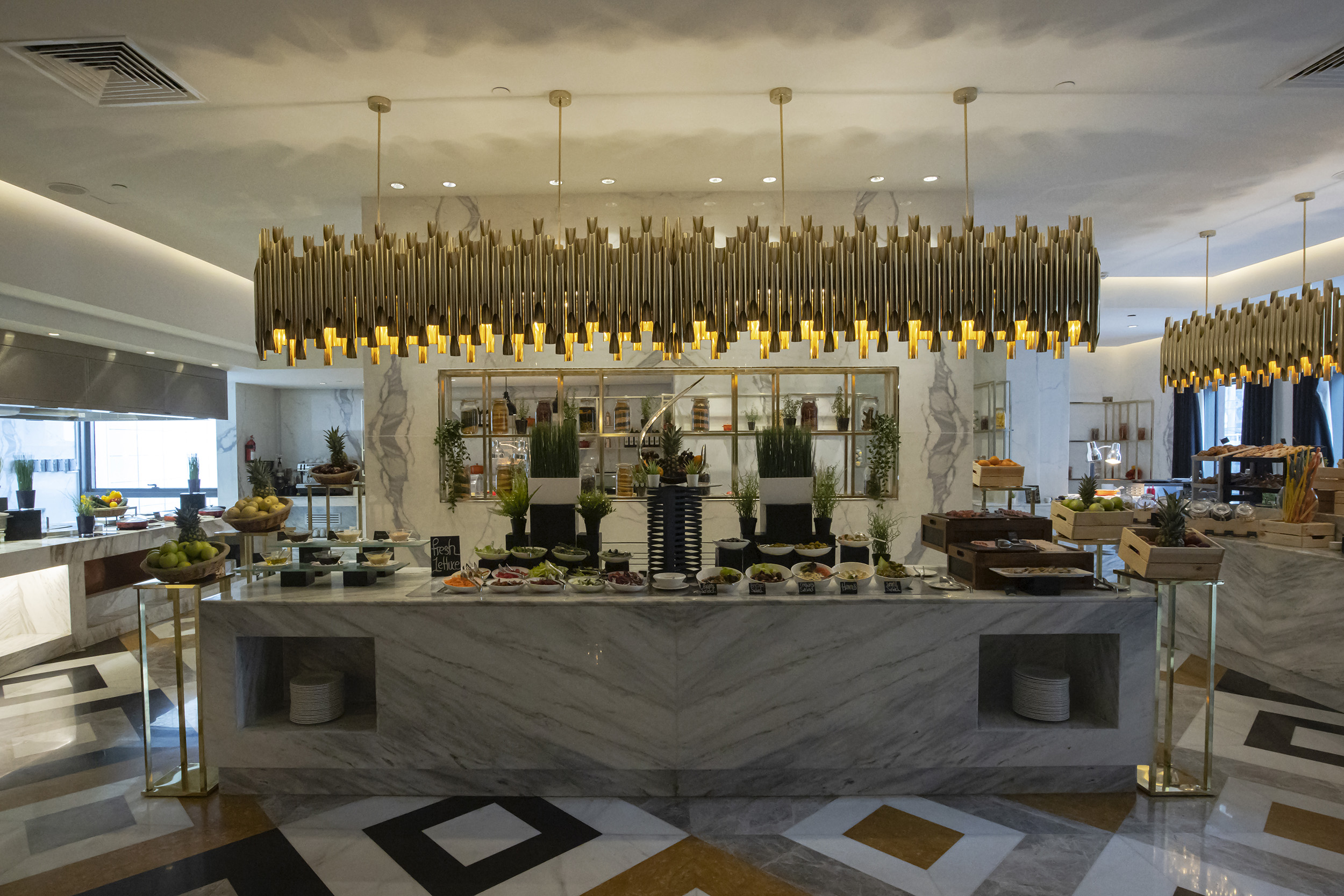 Taste Restaurant at second floor will offer breakfast with lots of diverse cuisine.
I was lucky that during my stay it was National Sports Day and Dusit Doha had this healthy corner!
𝓡𝓸𝔂𝓪𝓵 𝓣𝓱𝓪𝓲 𝓒𝓾𝓲𝓼𝓲𝓷𝓮 𝓪𝓽 𝓑𝓮𝓷𝓳𝓪𝓻𝓸𝓷𝓰 𝓓𝓸𝓱𝓪
What an incredible #finedining experience at Benjarong, which means "five colours" a unique Thai porcelain renowned for its intricate patterns 🇹🇭 The cuisine represents "five flavours" bitter, salty, sweet, sour, and hot 🔥 
The interior design is luxurious with one private room attached for your personal event. Early booking is highly recommended.
Starter
𝙋𝙤𝙧𝙥𝙞𝙖 𝙎𝙤𝙙 𝙋𝙤𝙤 𝙎𝙤𝙣𝙜 𝙆𝙧𝙪𝙚𝙣𝙜
Jumbo lump crab, fresh summer roll, crispy shallot, mint, sweet basil, cucumber, carrot, sweet and sour mango chilli sauce.
𝙂𝙤𝙤𝙣𝙜 𝙏𝙤𝙧𝙙 𝙎𝙤𝙣𝙜 𝙆𝙖𝙨𝙖𝙙
Deep fried crispy prawn wrapped with silk thread and prawn spring roll, served with pineapple chilli sauce.
𝙔𝙪𝙢 𝙎𝙤𝙢 𝙊 𝙉𝙖𝙠𝙤𝙧𝙣𝙘𝙝𝙖𝙞𝙨𝙧𝙞 𝙂𝙤𝙤𝙣𝙜 𝙎𝙤𝙙
Traditional Thai pomelo salad with prawns, desiccated coconut, roasted peanut and fried shallot.
Mains
𝙋𝙝𝙖𝙙 𝙏𝙝𝙖𝙞 𝙂𝙤𝙤𝙣𝙜 𝘽𝙚𝙣𝙟𝙖𝙧𝙤𝙣𝙜
Stir-fried Chantaburi rice noodle with prawn, Benjarong tamarind sauce, green chive and bean sprout.
𝙆𝙝𝙖𝙤 𝙋𝙝𝙖𝙙 𝙋𝙤𝙤 𝙆𝙝𝙖𝙞 𝙆𝙧𝙤𝙗
Jumbo lump crab fried organic rice, fluffy Thai omelette, tomatoes, onion and lime.
𝙎𝙚𝙚𝙠𝙧𝙤𝙣𝙜 𝙉𝙪𝙖 𝙏𝙪𝙣 𝙆𝙧𝙪𝙚𝙣𝙜 𝙏𝙝𝙚𝙙 𝙇𝙖𝙚 𝙔𝙤𝙙𝙥𝙖𝙠
24-hours braised beef rib with five-spice, young kale and Thai spicy & sour sauce.
𝙋𝙡𝙖 𝙆𝙧𝙖𝙥𝙤𝙣𝙜 𝙏𝙝𝙤𝙙 𝙎𝙖𝙪𝙘𝙚 𝙎𝙖𝙢 𝙍𝙤𝙨 𝙇𝙚𝙖 𝙉𝙤𝙧 𝙈𝙖𝙞 𝙁𝙖𝙧𝙖𝙣𝙜
Fried sea bass fillet with three flavours sauce, grilled pineapple, asparagus and crispy basil.
𝙂𝙤𝙤𝙣𝙜 𝙇𝙖𝙞 𝙎𝙚𝙪𝙖 𝙔𝙖𝙣𝙜 𝙉𝙖𝙢 𝙋𝙡𝙖 𝙒𝙖𝙣 𝙇𝙖𝙚 𝙉𝙖𝙢 𝙅𝙞𝙢 𝙎𝙖𝙗
Grilled tiger prawns served with tamarind shallot sauce and Thai seafood sauce.pple chilli sauce.
𝙔𝙪𝙢 𝙎𝙤𝙢 𝙊 𝙉𝙖𝙠𝙤𝙧𝙣𝙘𝙝𝙖𝙞𝙨𝙧𝙞 𝙂𝙤𝙤𝙣𝙜 𝙎𝙤𝙙
Traditional Thai pomelo salad with prawns, desiccated coconut, roasted peanut and fried shallot.
Dessert
𝙏𝙪𝙗 𝙏𝙞𝙢 𝙎𝙞𝙖𝙢 𝙈𝙖 𝙋𝙧𝙖𝙬 𝙊𝙧𝙣
Red and green ruby in syrup, served with crushed ice and young coconut.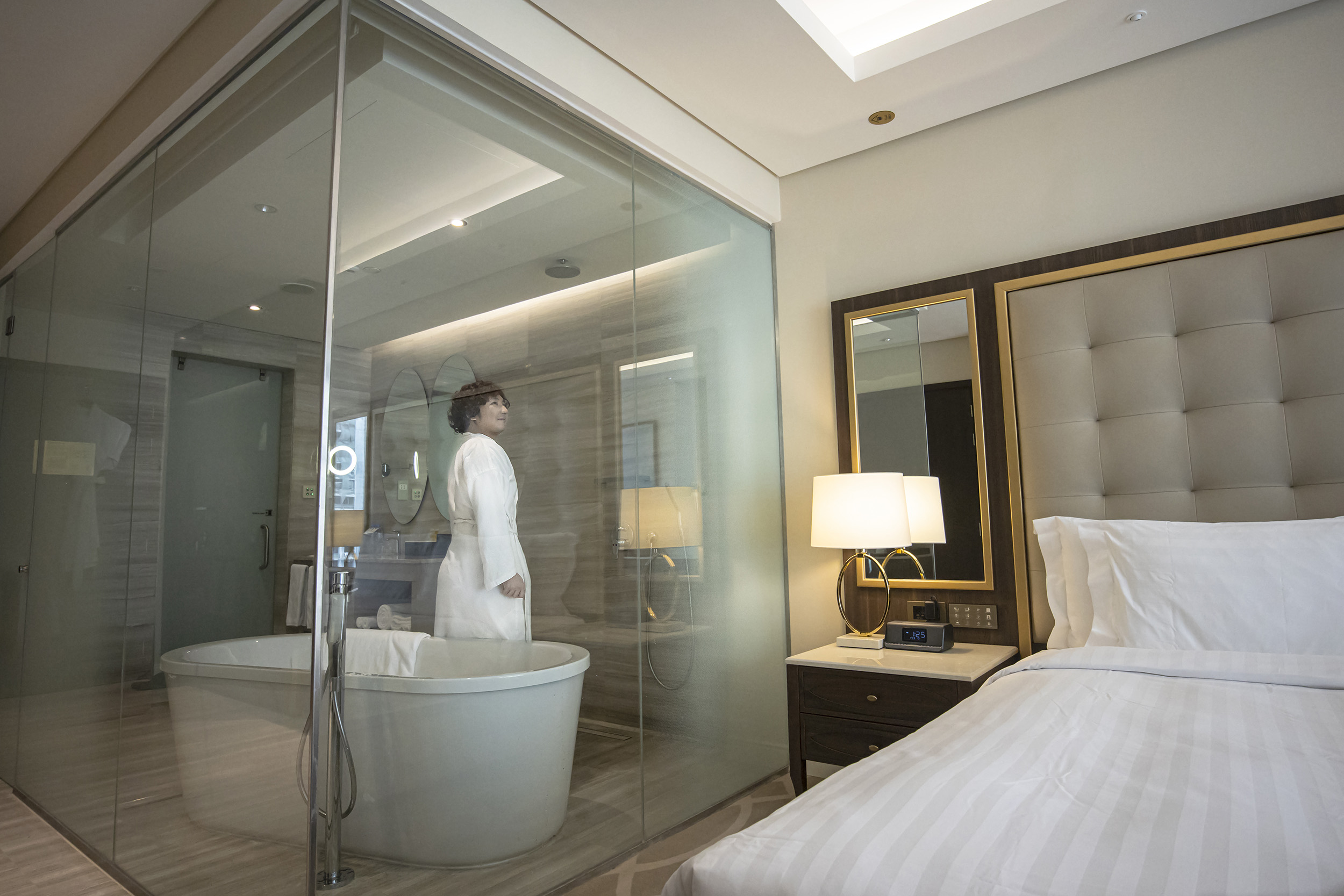 𝓣𝓱𝓮 𝓜𝓪𝓳𝓮𝓼𝓽𝓲𝓬 𝓖𝓻𝓪𝓷𝓭𝓮𝓾𝓻 𝓸𝓯 𝓡𝓸𝔂𝓪𝓵 𝓣𝓱𝓪𝓲 𝓗𝓸𝓼𝓹𝓲𝓽𝓪𝓵𝓲𝓽𝔂
As a five star #luxurious #hotel in the heart of West Bay, 🇶🇦 I am mesmerised by its genuine warmth service from check-in to check out 🔑 I truly enjoyed my stay at their beautiful Superior King Room 💜 From a sensational #gastronomy experience at Benjarong 🤤 to The beautiful relaxing Devarana #Spa💆‍♂️ Overall My stay was exceptional #TravelWithMalachi 5 reasons you should stay @dusitdohahotel next visit to #Doha
1. 𝙄𝙘𝙤𝙣𝙞𝙘 𝙆𝙞𝙣𝙜 𝙍𝙤𝙤𝙢
A beautiful life inspired room with a king-sized bed, floor to ceiling windows, panoramic city view and spacious bathroom with separate rain shower 🚿 and bathtub 🛁
2. 𝘼𝙪𝙩𝙝𝙚𝙣𝙩𝙞𝙘 𝙏𝙝𝙖𝙞 𝙂𝙖𝙨𝙩𝙧𝙤𝙣𝙤𝙢𝙮 𝙀𝙭𝙥𝙚𝙧𝙞𝙚𝙣𝙘𝙚
The Benjarong offer memorable dining experience with recipes passed down over generations straight from Royal #Thailand cuisine
3. 𝙇𝙪𝙭𝙪𝙧𝙞𝙤𝙪𝙨 𝙎𝙥𝙖
Located at 29th floor the spa is divided into male and female sections with 17 treatment rooms and VIP suites. They also have an incredible Hammam Spa 🧖‍♀️ 🧖‍♂️ 
4. 𝙍𝙤𝙤𝙛𝙩𝙤𝙥 𝙎𝙬𝙞𝙢𝙢𝙞𝙣𝙜 𝙋𝙤𝙤𝙡
With panoramic city view, you can enjoy its vast pool 🏊‍♂️ at 31st floor with rooftop subsections area ☀️ 
5. 𝙁𝙞𝙩𝙣𝙚𝙨𝙨 𝘾𝙚𝙣𝙩𝙧𝙚
Stay healthy during your stay with its fitness centre located at 30th floor 💪I was lucky to join their Zumba class during Qatar Sports Day!🕺🏻 Thank you to everyone for such a gracious #Thai hospitality 😘
Well well, that's my whole three days experience, I hope you enjoy this article! I will genuinely recommend Dusit Doha Hotel for your next holiday/staycation! ♡ Ciao for now!
Architecture & Design
100%
Gastronomy & Mixology
95%