I was very lucky to be onboard with SQ 322 Singapore – London on 31 July 2019. This 13 hours incredible experience with its latest A380 Business Class on the Upper Deck and I was escorted to my window seat by the friendly cabin crew. The seat is very wide and semi private, the 1-2-1 configuration works classic.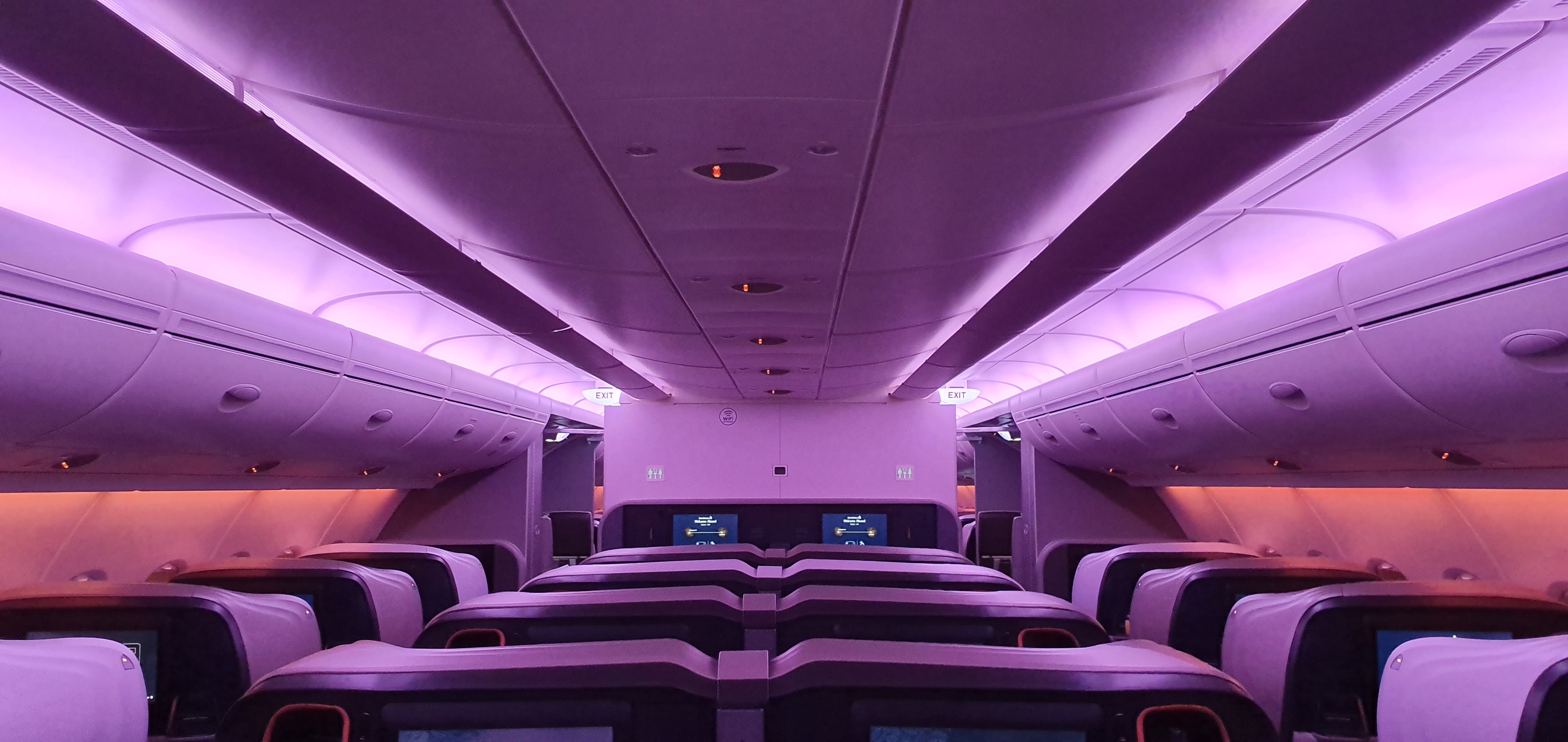 Pre-Flight – SilverKris Lounge at Changi Airport
I was waiting at SilverKris Lounge at Terminal 3, where is located one floor above the duty-free shops in the main area. This SilverKris Lounge is only accessible to passengers flying out of Changi in First or Business Class on SQ or one of SQ's partner airlines.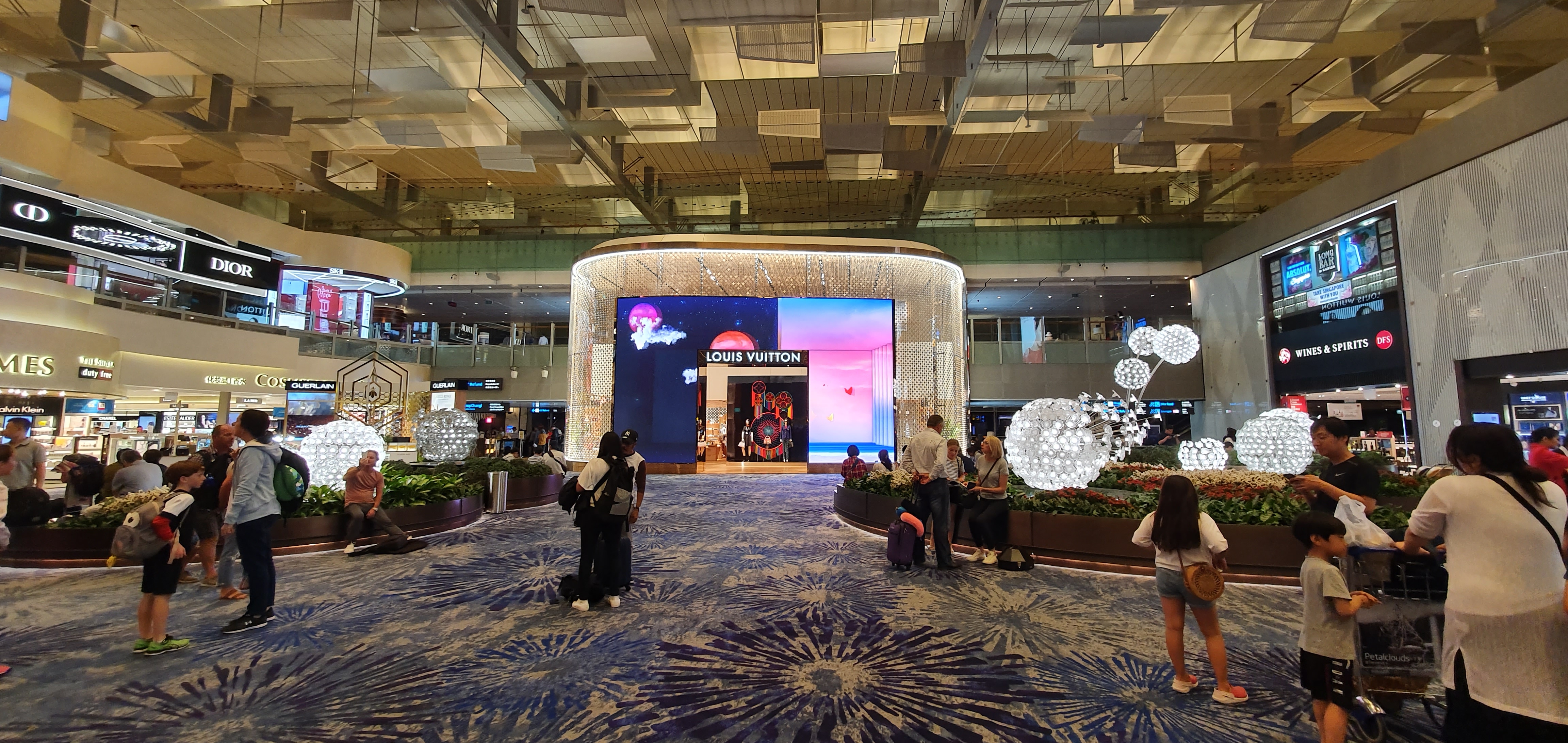 This SilverKris Lounge is not only the largest lounge at Changi but also one of the largest lounge in the world. There are multiple seating areas, with a large variety of seats, including leather arm chairs, couches and bar stools, with power ports at some (but not all) seats.
The massive buffet area offers a great selection of cold and hot food, including salad, pastries, cakes, pastas, curries, dim sums, soups, local Singaporean & Indonesian dishes. It also features massive chillers where you can help yourself to get beers and soft drinks, as well as coffee machines and wide selection of teas. There is also some separate bar area with different wines, liquor, beers, soft drinks, coffee and tea. The SQ SilverKris Lounge also features work stations, showers and a ticketing help desk.
Experience
The entire upper deck was reserved for Business Class, I got the window seat 21K with spacious room to store my things. At the same time, the seat that seamlessly reclines into a bed. And sculpted wings that support you while lounging, then flatten for the perfect night's rest. This Business Class just located behind the First Class – and another smaller Business Class Cabin at the rear.
One seat, multiple stowage compartments.
The Safety Video
Award Winning Meals
Menus, magazines and instruction card were stored on the rear compartment, along with with a pair of slippers and eyeshades.
The menu has a concept of "From Farm To Plane" features selected dishes that are prepared with social responsibility and sustainability in mind. For supper I had the Seafood Hor Fun, a popular local fare dish. Indeed taste amazing! #DineWithMalachi
A world class meal deserves an equally peerless setting, served on the finest porcelain from Narumi.
Features, Lavatory, Entertainment & Bedding
The seat has enough room to place a small bag under the foot rest, storage compartments are fairly limited. There's plenty of exposed storage space though thanks to the oversized side tables. There's a power outlet and a high-wattage USB port, along with a credit card reader that may eventually be used for duty-free purchases.
Business Class doesn't offer kits therefore items are available in the lavatories, including toothbrushes and shaving kits, eye masks and ear plugs could be requested from the crew.
Then rejuvenate yourself mid-flight with an inspired selection of toiletries from Penhaligon's
The in-flight entertainment front, this system is a huge step up from what I'll find on the older A380s. The noise-canceling headphones are nice and comfortable to wear! This IFE feature is the ability to link the system with your KrisWorld account, which allows you to pre-select films, access additional content and even save your place in a movie or TV show, so you can pick up right where you left off on a future flight. You can control content either directly on the main screen, the App or via the wired touchscreen remote. The new A380 also offers much-improved Wi-Fi, which you can purchase directly.
An 18" touchscreen monitor in high definition paired with noise-cancelling headphones
I am so mesmerised to enjoy this high-end bedding, including a mattress cover, comforter and two pillows! The Singapore Girl help me prepare the be and I found out the bedding to be very comfortable.
Handstitched full grain leather by Poltrona Frau. A seat that seamlessly reclines into a bed.
The Next Day
Good morning world! To be honest I woke up because of the delicious smell of Nasi Lemak! I should say my favourite breakfast on board, and indeed I did have a good night sleep!
I also got three surprises, the first one was Singapore-branded teddy bears were gifted to me, they are very cute! The second was the Priority Boarding Card (save my life, at my arrival there was no queue with this!) and the other one I got an extra dessert, the crispy waffle with cherry-berry compote, yum delicious!
Overall Experience
All cabin crews who assisted me did their best to serve all passengers on board, especially Poh Vit May was very kind, care and elegant in Sarong Kebaya style, a true symbol of Singapore Girl Hospitality. During my 13hrs journey, I should say it is the best inflight experience compared to other airlines I've taken previously.
Overall Singapore Airlines new A380, from the luxury cabin seat that turns into a flat-seat comfy bed at night, to latest inflight entertainment system. Not forget to mention the meal was very tasty especially Seafood Hor Fun and Nasi Lemak And Ofcourse along with infamous Singapore Sling!
Although just a small suggestion that I thought it would be good to have amenity kits in a bag, as I was wondering where to find them at first! The cleanliness and hygiene in lavatory and all business cabin area were impressive!
In summary, as a KrisFlyer Member myself, I am very satisfied with this warm, welcoming comforting experience from Singapore Airline SQ 322 the new A380. Indeed the service was second to none. #TravelWithMalachi